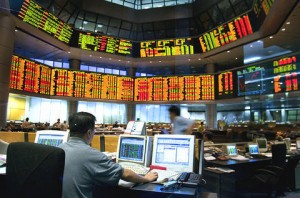 By Chris Becker
Another volatile day on Asian markets, with both bulls and bears exchanging places. The ASX200 saw the  usual blessing of unicorns gunned down throughout the afternoon, barely closing in the green, up only 1 point to 4044 points, continuing to have a peek just above the short term support of recent weeks, as seen in the chart below (also marked are my medium term system short/tight signals, plus the KC Signal from 1st May that signalled a possible top):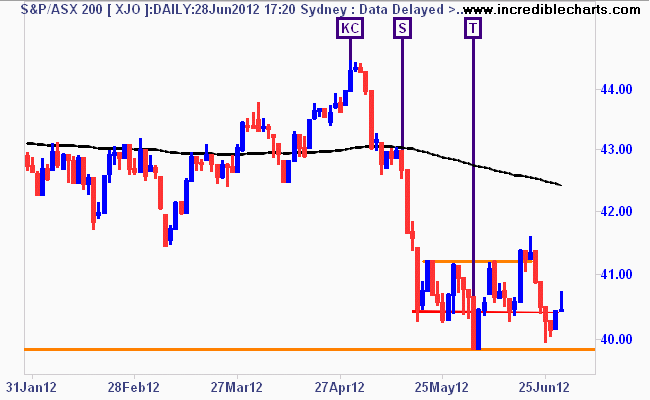 The window dressing at the end of the financial year continues, as do the battalions of brokers hunching in corners in the fetal position repeating "there's no place like 4000, there's no place like 4000″….
Note in the chart above the very long tail above today's candlestick, showing lots of intraday selling. This was more likely due to the continued divergence in other Asian equity markets, with the Nikkei 225 up a stonking 1.6%, but the Chinese markets were hammered, with the Hang Seng down 0.8% and mainland Chinese markets all down similarly, with the  Shanghai Comp finishing down nearly 1% at 2195 points.
On currency markets, the Aussie is suddenly reversed, losing almost 60 bips in as many minutes, now down to 1.0067 whilst the Euro/USD cross fell even further, down almost 100 bips instantly, at 1.2424 as the next Euro conference/fest/meeting/gabbing gets underway.
Looks like it was the German unemployment print which jumped in June to 6.8% that did the damage.
Obviously, the US Dollar Index (DXY) has recorded a big gain (the Euro makes up 57% of the index) now back to the 82.8 level, whilst my preferred hedge amongst all this volatility – short EURAUD – remains well in the money and continuning to fall, now at 1.2360, seemingly on its way to my 1.22 target: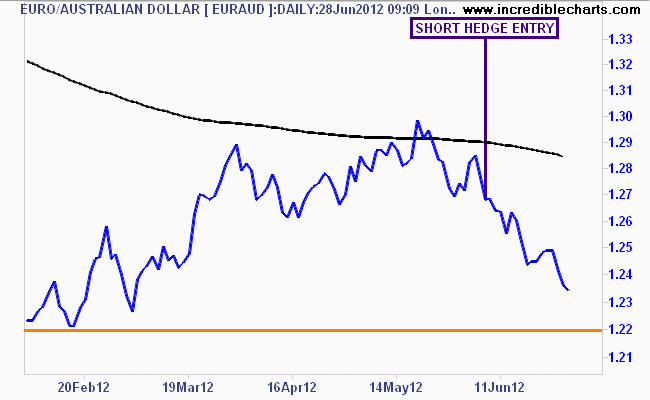 Gold is proving reluctant to move either way, but has slipped a bit post Asian trade,currently at $1571USD  whilst in AUD terms, gold is steady, now at $1560AUD per ounce after sliding backwards the last couple of days.   
Finally, in the debt markets today,  Aussie 10 year yields were basically unchanged, remaining just  below 3% at 2.96% whilst European bonds have diverged on the open. Spanish and Italian yields are up, taking back last nights opens, (yields up to 6.92% and 6.24% respectively) whilst German bunds have gained solidly
In response, Euro equity markets are seeing strong sell-offs, all down 1% or thereabouts.  Another day in volatility paradise!
Tonight
So we've already seen a surprisingly unemployment print from Germany (6.8% on expectations of holding steady at 6.7% – and last month's print was revised up as well). The Italian PPI print for May was deflationary, slumping 0.3% on consensus of positive 0.1% – now only up 2.2% year on year. Not a good measure for strength in the Italian manufacturing sector…
Italian CPI comes next, then EMU economic sentiment, then final Q1 GDP print for the US before the usual and closely watched weekly jobless claims – which have been ticking up in recent weeks. The consensus crowd are looking for 385K, slightly lower than last week.
Don't miss the updates when my colleague Greg McKenna, who has taken over MacroBusiness Morning, will report overnight market moves and data analysis.
Til then, you can find me on Twitter here and I'll catch you tomorrow afternoon.
Disclaimer: The content on this blog should not be taken as investment advice. All site content, including advertisements, shall not be construed as a recommendation, no matter how much it seems to make sense, to buy or sell any security or financial instrument, or to participate in any particular trading or investment strategy. The authors have no position in any company or advertiser reference unless explicitly specified. Any action that you take as a result of information, analysis, or advertisement on this site is ultimately your responsibility. Consult someone who claims to have a qualification before making any investment decisions.
Latest posts by Chris Becker
(see all)