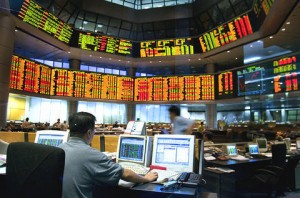 By Chris Becker
As Houses and Holes regaled this morning (and pinched a picture of me getting up – I think my caffeine to blood ratio is off the charts at the moment), the ASX200 slumped on the open falling 1% and fell below 4000 points (3993 was the low) before the inevitable bargain hunters/bottom pickers/revert to mean traders stepped in and bid the bourse back. However, it still closed down 0.5% today to 4027 points, just below support in recent weeks, as seen in the chart below: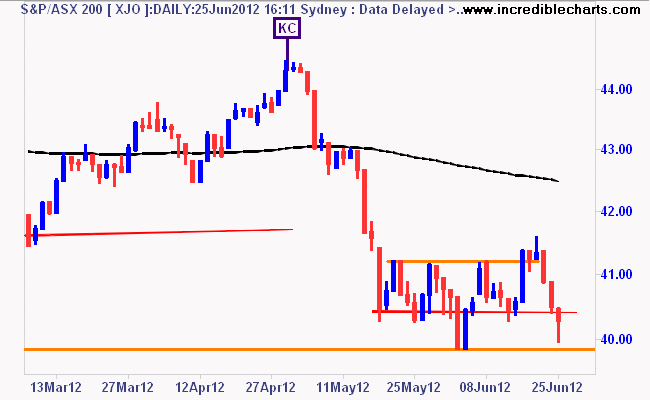 Excuse the candles once more, but let's stick our finger in the wind and gauge if that incy wincy little tail on today's candle – bouncing off "terminal" support at the lower orange horizontal line, is a good omen of "this is the bottom, back up the truck", or just noise. You be the judge – but I did say on Friday
"if the market falls below 4025 points – the intraday lows of recent weeks – the next level down will likely be 4000 or so."
Here's the weekly chart to put that call into perspective, where there is strong support at 3900 points, but below that, daylight: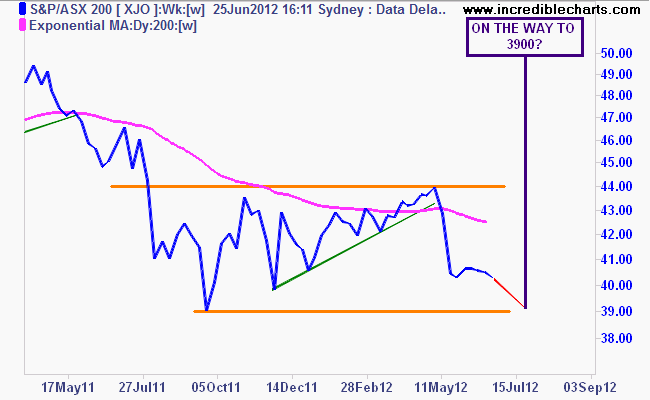 I hinted on Friday that this market is "only for the brave" and that I have an indicator of my own construction (I use it for risk management mainly – trying to come up with a name however…)  that is telling me to step aside if I'm after capital gains, even long term ones.  Current market conditions continue to look just like the 1988 to 1993 and for those who remember it, the 1970 to 1975 bear market. Not a time to be overweight stocks, in my opinion – or benchmarking yourself to an index. Its a stock picker's delight however! More on that and what's going on with Trading Week later.
In other Asian markets, the Nikkei 225 was down 0.7%, the Hang Seng is currently flat, down just a few points whilst the mainland Chinese markets are getting hammered with the  Shanghai Comp down 1.4% to 2228 points – is it on its way to its bear market low?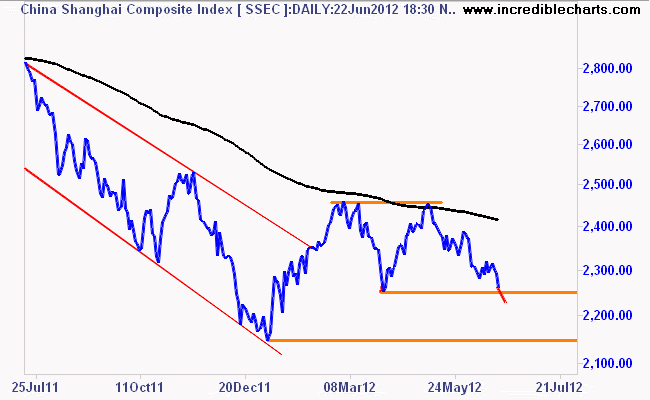 On currency markets, the Aussie is down nearly half a cent against the USD, flirting with parity once more at 1.0019 as risk comes off  whilst the Euro/USD cross is falling even further, down to 1.25 again. The US Dollar Index (DXY) is moving up nicely as a result, now past82.4 points after rising nearly a full point on Thursday. Hope you've got some USD ETF in your portfolio?
Gold is proving resilient, on a currency basis, up to $1572USD an ounce after its kinghit from late last week, and in AUD terms gold is also rising, now at $1569AUD per ounce up almost $8 an ounce. 
Finally, in the debt markets today,  Aussie 10 year yields fell 4 basis points to remain just above 3%, whilst European bonds have diverged again at the open, with Spanish and Italian bonds sold off and everyone running home to Wilhelm. To be a fly on the wall in our weekly MA/MB meeting this morning talking about the Germans – even our most optimistic has had it with the Krauts!
Tonight
Dataflow tonight is pretty light on, just the Chicago Fed national activity index for May. As of tomorrow morning, my colleague Greg McKenna will be taking over MacroBusiness Morning, providing you with the best wrap of overnight market events, data releases and the general vibe of what's going on. There's no-one better plugged in to this than Deus Forex Machina! I will continue to cover Asian markets, and in particular Australian shares in this wrap each afternoon.
Til then, you can find me on Twitter here and I'll catch you tomorrow afternoon.
Disclaimer: The content on this blog should not be taken as investment advice. All site content, including advertisements, shall not be construed as a recommendation, no matter how much it seems to make sense, to buy or sell any security or financial instrument, or to participate in any particular trading or investment strategy. The authors have no position in any company or advertiser reference unless explicitly specified. Any action that you take as a result of information, analysis, or advertisement on this site is ultimately your responsibility. Consult someone who claims to have a qualification before making any investment decisions.
Latest posts by Chris Becker
(see all)