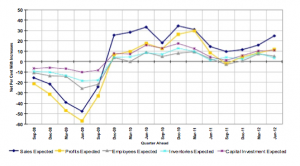 From today's Dun and Bradstreet National Business Expectations Survey:
Concern over the consistently high Australian dollar has risen significantly among local businesses, particularly those in retail and manufacturing, according to the latestDun & Bradstreet National Business Expectations Survey.

More than a third of businesses, up nearly 40 per cent on last month, expect the high exchange rate to have a negative impact on their operations in the June quarter.

The survey also finds that while overall sales and profit expectations remain elevated, anticipated employment levels have declined from levels at the start of the year.

According to Dun & Bradstreet CEO, Gareth Jones, businesses continue to remain cautious in response to increasingly conservative consumers and the maintenance of a relatively high local currency.

"This caution amongst businesses is increasingly being seen through a focus on consolidation rather than growth," Mr Jones said.

"Small businesses in particular appear to be focussed on maintaining profitability and cash flow by improving margins through, for example, parin back operational costs rather than looking to grow operations through greater investment and expansion of their workforce."

"Clearly, the pressure of a sustained high in the Australian dollar is starting to bite for main street businesses."

Concern over the dollar grew noticeably among retailers, rising 12 percentage points to reach 37 per cent during February. Retailers also downgraded profit expectations, with more than half anticipating slowing demand in the year ahead.

This comes amid continued gloom over competition from online sellers, with nearly half of all retailers expecting internet competitors will have an adverse effect on their operations.

"Consumers are increasingly savvy and adept at seeking out cheaper alternatives. Businesses need to adapt quickly or risk losing customers overseas," Mr Jones said.
There's not much doubt about manufacturing declining at the hands of the high dollar. However, the retail Dutch disease meme is less certain. The recent NAB study of retail trends did not show online purchases as a large issue. An earlier CBA study showed more of a trend, but it was still minor. These are hard evidence studies of credit card activity, not a survey.
The case for retail suffering from Dutch disease, as opposed to the generally weak demand for credit and weak house prices, is not yet made.
David Llewellyn-Smith is Chief Strategist at the MB Fund and MB Super. David is the founding publisher and editor of MacroBusiness and was the founding publisher and global economy editor of The Diplomat, the Asia Pacific's leading geo-politics and economics portal.

He is also a former gold trader and economic commentator at The Sydney Morning Herald, The Age, the ABC and Business Spectator. He is the co-author of The Great Crash of 2008 with Ross Garnaut and was the editor of the second Garnaut Climate Change Review.
Latest posts by Houses and Holes (see all)