NAB has released a fascinating study of online retail and the findings much blow up the "retail as tradable goods sector" meme. NAB has taken its merchant facility data and scaled it up using census measures to draw the following conclusions:
The data presents the scope of the online retail  environment. At $10.5 billion, online represented  4.9% of traditional retail spending in 2011 and is  growing at a rate of 29% per annum, compared  with traditional retail sales growth of 2.5%. Although domestic retailers hold three-quarters of online market share, sales growth favours international retailers; for the full year, international sales grew by 40%, while domestic sales increased by 25%.
CBA did a similar analysis last year in which the findings were similar, though the geographic splits were very different:
We estimate retail online spending at $9.5b in 2010
Domestic spending accounts for $5.3b and international spending $4.2b
Online retail spending is estimated to represent 3.8% of total retail spending and 5.2% of discretionary retail spending.
So, we have similar levels of spend, pretty low at below 2% of total retail sales notwithstanding the higher growth rates. But the all important dimension of offshore retail sales – which are dollar dependent – is quite different with NAB seeing sales very much dominated by local online retailers: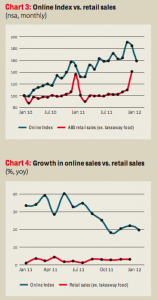 Moreover, as you can see, the growth rate of online retail slowed significantly through the middle of 2011, just as it was supposed to be finishing off bricks and mortar:
In 2011 there was a notable slowdown in the growth of online spending across the second half of the year, with the year-on-year growth rate pulling back to around 20% by year end (Chart 1). In contrast, the growth rate for traditional retail sales has remained more stable, but averaged around 2.5%.
This is surely some more evidence that the retail slowdown is structural in nature, not a part of the shift of retail into a tradable goods sector. It's not quite that simple, however, with the NAB data also indicating that international online sales took of in late 2010 as the dollar approached parity. More recently, growth rates have been converging.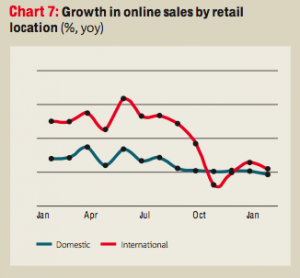 This is a novel report, well worth your time.