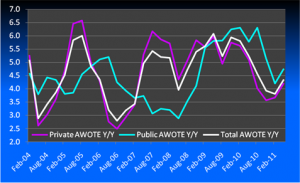 ABS average weekly earnings is out and shows wage pressures in the pipeline in the first half of the year. As you can see from the chart above wages appear to be bouncing off the bottom.
The RBA would not like this. In the below table, green is at or below the national average and red is above. Three subs sets of employment are having a shocker but the other 15 subsets are doing quite well in terms of wage rises as viewed by yoy moves.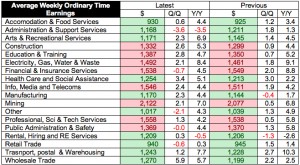 Looking forward, other indicators of wages don't support this data – the more recent June Labour Price Index showed diminishing pressures yesterday, as did the August Melbourne Institute Wages Report and both were reenforced by July unemployment figures from the ABS and  Roy Morgan.  With the prospects for employment deteriorating the outlook for further strong wage increases is fading. Indeed, the majority of industry groupings are seeing a deceleration in yoy growth rates.