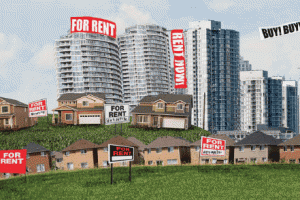 Following on from my recent post, The case against home ownership, Canadian Business last week published a great article. entitled Rental complex, asking why more Canadians don't rent – a question equally applicable to Australians.
At over 2,800 words, it's a long article (but well worth reading). Below are some of the key extracts. Note the clear parallels to the housing situation in Australia.
Over the past decade, as the value of the average Canadian home doubled, and tripled in some areas, rents remained stable or even declined. As a result, it now costs more than twice as much to own that average home as it does to rent it. In May, Ben Rabidoux, an Ontario financial adviser (and an unapologetic renter) who runs the Economic Analyst blog, illustrated the unprecedented gap that's opened between the cost of renting and owning with a series of fever graphs charting rents and housing prices in seven cities across the country. The lines track more or less in sync until a decade ago, when they diverge as home prices shoot toward the stratosphere, the gap growing wider with each year, like huge jaws swallowing homeowners' retirement savings and vacation budgets and pushing them further into debt.
Below are some of the charts from the article extracted from Ben Rabidoux's blog: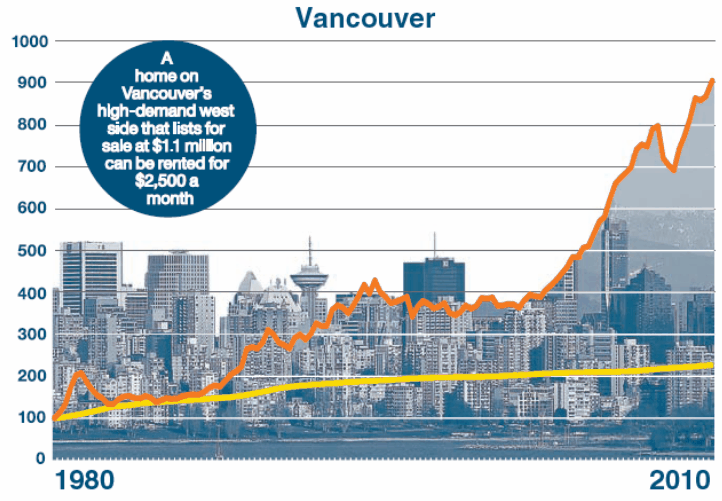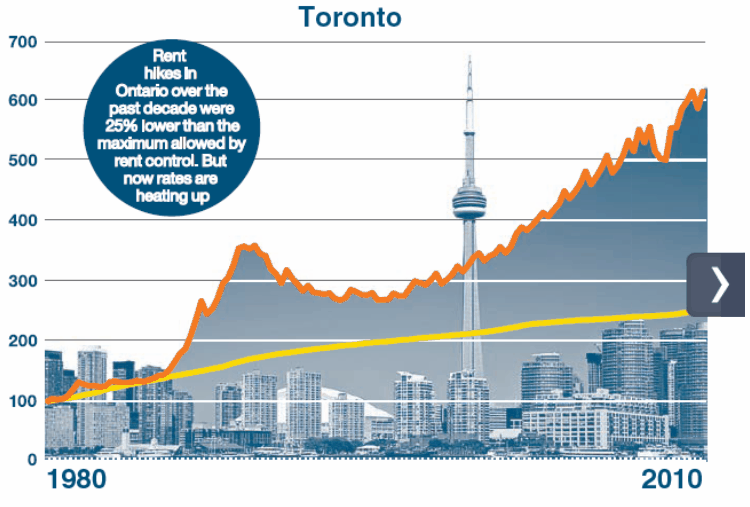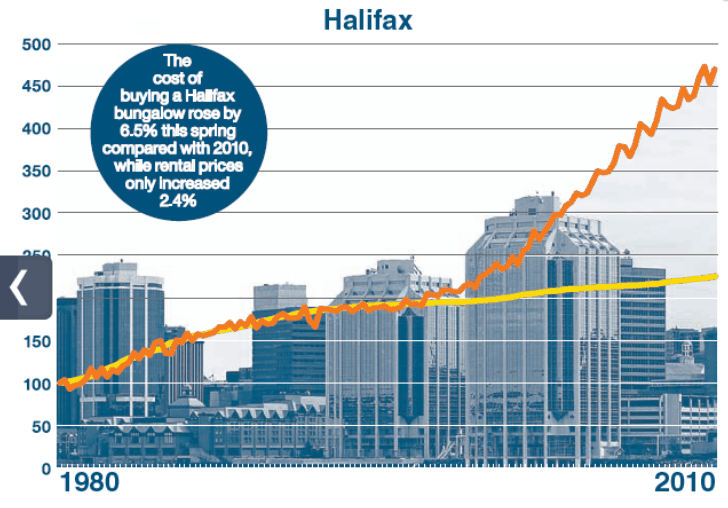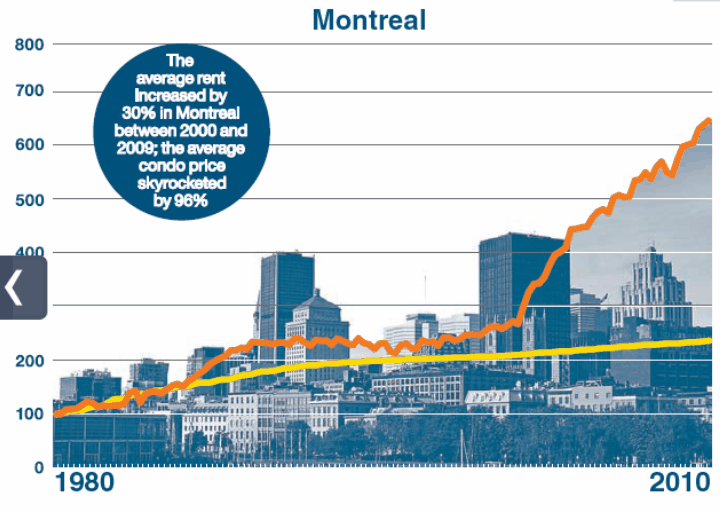 Back to the article.
Even before the recent run-up, renting suffered under the perception it's money thrown away that could be put toward building equity—a myth the surging home values have transformed into a near religion. Fed by this belief, Canada's home ownership rate rose to eclipse most other rich nations', up almost 10% since 2000. Today, two-thirds of households live in privately owned homes, rising to 70% in Vancouver and 74% in Calgary. In New York, Paris or San Francisco, that proportion is closer to a third. In fact, in much of Europe, lifelong renting is the socially respectable norm, backed by rent controls and tenant protection laws.

With widespread warnings that we're approaching the peak of the housing boom, with Canadians more indebted than ever, largely due to their outsize home investments, and with cities like Toronto boasting some of the lowest rents among major world centres, why aren't more of us re-examining the math? The reasons are cultural and emotional, backed by ill-conceived public policy. This Canadian Dream is an expensive delusion. There's never been a better time to rent.

Every asset class has standard ways to measure value. For stocks, there's the price-to-earnings ratio; for bonds, there are different yields. For real estate, the typical valuation ratios are price to income (what you can afford to buy) and price or buy to rent (what you could make in cash flow). According to Ed Sollbach, a Desjardins Securities strategist, the buy-rent ratio for the four biggest Canadian cities is currently above 2 —meaning it costs twice as much to buy as to rent the average home—and 3.1 in Vancouver. That ratio, it bears noting, only compares rent to mortgage costs; it doesn't include the various expenses entailed in home ownership—taxes, maintenance, insurance—that can more than double the monthly outlay…

While financial gains from home ownership are iffy at best, the opportunity cost is significant. When Alexandre Pestov, a strategic consultant and research associate at York University's Schulich School of Business, compared buying a two-bedroom Toronto condominium to renting it over the past 25 years, he found that the renter ended up $600,000 richer than the owner if he invested the spare cash in low-risk bonds. Several other studies have reached similar conclusions: renting while you conservatively invest your savings is financially smarter than buying a home…

Still, many people factor in an ownership premium—the amount they'd pay over and above the cost of renting for the freedom, stability and simple bragging rights of having their own place. But it doesn't take a new homeowner long to discover just how large that premium can be in money and time: the constant outlays on maintenance and repairs (at least 1% of the purchase price per year, experts estimate, and as much as 4%), the chores and DIY projects that eat up weekends, the pressure to keep up with the ever-gentrifying Joneses. In fact, studies find that homeowners are no happier than renters and have higher levels of stress, largely due to the financial burden and greater time constraints.

Your lifestyle suffers, your worries mount—and yet, no matter how much data you throw at people, there's an ingrained belief that being a homeowner signifies maturity and that renting connotes instability and transience. Moshe Milevsky, a finance professor at Schulich and one of Canada's best-known home-ownership skeptics, has long argued that for young people with limited means and unrealized career potential, stowing most of their wealth in a single illiquid asset is foolhardy. Today, he thinks just about anyone would be better off renting. "I really wish I could sell my house and rent. Immediately!" he says. "The market is so overvalued. I'd sell to the biggest sucker. But my wife and kids would kill me." That's because, for most of us, financial considerations are only part of the equation. "The decision to purchase a house goes well beyond the practical," says Milevsky. "It's part of people's identity"…

Canadians' attitudes about housing have long been shaped by government policies and the tax system. There is a large discrepancy in taxpayer subsidies for owners and tenants, according to a study released last fall by the FRPO and the Canadian Federation of Apartment Associations (CFAA)… CFAA president John Dickie argues that this situations benefits neither taxpayers nor the economy. "The government should get out of the business of encouraging people to own," he says.

There's a broader economic case for encouraging more people to rent. Aside from consumers' dangerously high levels of debt, having so much money concentrated in housing makes the whole economy less efficient. In his 2010 manifesto Renting the Dream: Housing in America after the Great Reset, University of Toronto professor Richard Florida goes so far as to paint home ownership as a relic of a different time. "Owning your home made sense when people could hope to hold a job for most or all of their lives," he writes. "But in an economy that revolves around mobility and flexibility, a house that can't be sold becomes an economic trap," preventing people from moving to where the jobs are. Studies in both Europe and the U.S. corroborate this argument, showing linkages between high home ownership rates and unemployment.

In the glow of our pride of ownership, we tend to forget that owning your residence is hardly the global norm… In fact, Germany, Europe's economic engine, has the European Union's highest proportion of renters, according London-based property research firm RICS. In Berlin, 90% of residents rent; in Hamburg, the share is 80%. And renters aren't the lower-income contingent: professionals who spend half their earnings on rent are not uncommon. While Germans do want to own, they don't feel pressed to buy when they can't afford to, the way Americans, Canadians and Britons do. The difference can be traced to real estate market trajectories: Over the past decade, while housing bubbles percolated through much of Europe and in North America, home values rose less than 3% in Germany. Renting has no stigma because Germans don't think of home ownership as an investment opportunity of a lifetime.
Readers seeking to better understand the German housing system are advised to read my recent article, How Germany achieved stable and affordable housing. Anyway, back to the Canadian Business article.
European governments are also less in-clined toward home ownership boosterism. In parts of Europe where renters dominate, tax regulations don't favour owners, rents are tightly controlled, unlimited-length leases are common, and supply of attractive apartments is plentiful. As a result, notes Dickie of the CFAA, European renters don't move as often as North Americans…

In the U.S., after the fiasco of George W. Bush's "ownership society," a shift in mentality has already started. Home ownership has experienced the biggest decline in two decades, and the number of renting households has been growing by about 700,000 a year since 2006. In New York, San Francisco and other thriving cities, brokers are reporting sharply rising demand for luxury rentals, as affluent people who could afford to own decide there's no cachet anymore in being a homeowner, and lots of risk. Indeed, in a recent poll, 71% of Americans conceded that renting has advantages over buying.

"Renting has become culturally accepted in the U.S.," says Desjardins strategist Sollbach, who's tracking the market correction. Ironically, this shift is happening at a time when the plunging prices in some regions make buying advantageous. "But Americans have had such dramatic losses that the whole idea of owning has been drummed out of people's minds," he says. "They've gone through a life-death experience." The equity markets have taken notice: the values of American apartment REITs have risen 72% since early 2010…

No one argues that owning a home is, in principle, a bad idea. But today, in this market, renting is a better one. After 12 years of rising real estate, a renter goes against a powerful cultural tide. But even if the housing bubble continues to inflate for months or years to come, it's high time to recalculate the ownership premium we are willing to pay.
What a superb article, with clear parallels to the Australian housing context. In fact, if you substituted the words "Canada" for "Australia", and replaced "Toronto" with "Melbourne" and "Vancouver" with "Sydney", the article would not sound out of place.
I have assembled a comparable set of charts for the Australian market which prove this point  beyond doubt. They will be forthcoming in due course.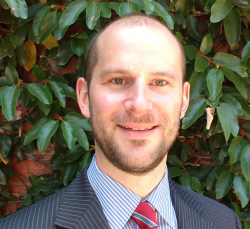 Latest posts by Unconventional Economist
(see all)