Those who keep an eye on the Australian share market could not have helped but have noticed its direction of late – down.  The ASX200 has lost 10% since April, as shown in the graph below.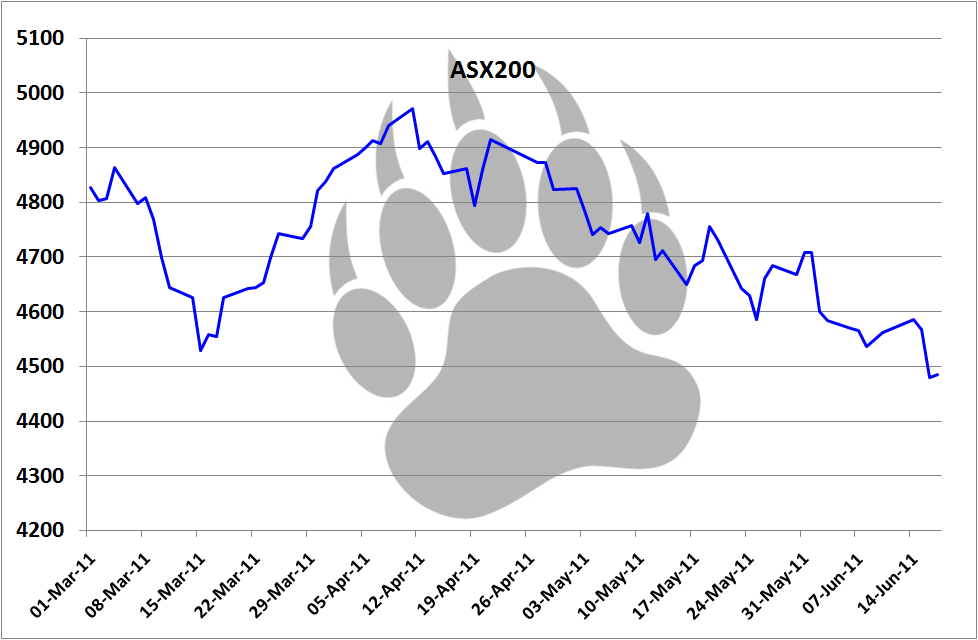 No doubt a number of traders have profited from the correction, with those possessing the best line drawing skills making the fattest profits.  Meanwhile, the value investors have most likely watched the paper value of their holdings drop along with the ASX200.


Investors with no spare cash will need to hold their nerve lest they turn those paper losses into real ones by selling out.  For those who do have some reserve cash, correcting markets can be a fun time indeed.  It's the investing equivalent to the "kid in a candy shop", as the market sells down all companies good, bad and ugly.
The organised value investor should have a list of the good-quality companies they'd like to own at the right price.  And they should watch them like a hawk.  At Empire we have the Empire Index, the composition of which is reviewed every 6 months during the earnings updates season (or more frequently if any major news comes out).
Today I'm going to distil the Index into 10 high-quality companies we are watching very closely as the market drops.   Each of these companies we rank as either Very Good (good ROE, low debt, good management but no competitive advantage) or Wonderful (same as Very Good, but possessing a durable competitive advantage).  Should their shares trade at a decent discount to their value, these are the companies we'd like to be part-owners of.
Note: the ROEs listed are normalised to include franking credits.
1300 Smiles Ltd (Wonderful)
1300 Smiles (ONT) is a combined dental surgery and practice management group, aggregating services to both dentists and patients. Its main business is the acquisition and corporitisation of dental practices, which are traditionally operated by individuals or as small partnerships.  The operations are mainly based in QLD, up and down the major coastal centers (having started in Townsville) although they are progressively expanding south.
Recent reports from those inside the dental industry indicate some practices are experiencing low customer numbers.  This indicates some consumers treat dentistry as a discretionary service, most likely due to its high cost (it is not covered by Medicare).  This may weigh on ONT's future earnings.
Forecast normalised ROE: 53% dropping to 40% over five years, 8.0% reinvested
Estimate value: $3.60
Empire's maximum buy price: $3.30
Blackmores Ltd (Very Good)
Blackmores provides vitamin and mineral supplements and natural skin and hair treatment products throughout Australasia. The company also provides information services and carries out research and development into natural preventative health care.
The collapse of Pan Pharmecuticals in 2003 (following a contamination scandal) reinforced Blackmores' reputation as a trusted supplier of DIY health products.  They have taken full advantage since Pan's collapse, investing heavily in branding, sponsorship and development of new products.  With a greying population and increasing health consciousness amongst consumers, BKL is sitting in a demographic sweet spot.
Forecast normalised ROE: 50% dropping to 40% over 5 years, with 8.0% reinvested
Estimated value: $23.80
Empire's maximum buy price: $20.80
Cabcharge Australia Ltd (Wonderful)
Recently mired in courtroom controversy, Cabcharge (CAB) provides electronic payment systems to a whopping 95% of all taxis, limos and water taxis in Australia. In addition, it also owns many taxi fleets and licenses plus joint ventures with other transport companies.
A recent court ruling against monopolistic behaviour cost CAB approximately $15m, lowering ROE to a forecasted 18% for FY11.  However, the ruling does not change the fact it is an extremely dominant player in a small and highly political industry.
Forecast normalised ROE: 25% dropping to 22% over 5 years, with 4.5% reinvested
Estimated value: $5.00
Empire's maximum buy price: $4.30
Coca-Cola Amatil Ltd (Very Good)
Who doesn't like Coke? Coca-Cola Amatil (CCL) is the Australiasian branch of the Coca-Cola drink giant and one of the largest bottlers of non-alcoholic, ready-to-drink beverages in the Asia-Pacific region.  It is also one of the world's top five Coca-Cola bottlers, employing more than 15,000 people and 700,000 active customers.
Were it not for its high level of debt, Empire would consider CCL to be a Wonderful company.  Nonetheless, there will always be demand for Coca Cola, especially in the developing Asian regions that CCL services.  A company we'd definitely like to own at the right price.
Forecast normalised ROE: 39% dropping to 37% over the next 5 years, with 9.0% reinvested
Estimated value: $11.80
Empire's maximum buy price: $10.30
Cochlear Ltd (Wonderful)
One of Empire Investing's favourite companies, Cochlear Limited (COH) is a manufacturer and marketer of cochlear implants which are used to stimulate impaired hearing.  COH has a 65-70% global market share of implants, with substantial growth potential in developing markets and continued penetration in developed markets.  As far as businesses go, we believe it to be one of the best in Australia with high ROE, great capital management, a history of successful R&D and a globally recognised brand.
Forecast normalised ROE: 48%, dropping to 45% over 5 years, with 13% reinvested
Estimate value: $83.00
Empire's maximum buy price: $76.00
FSA Group Limited (Very Good)
FSA group has been examined on MB recently here and also here.  It is Australia's largest provider of debt agreements to individuals and businesses.  It also offers lending for non-conforming home loans and factoring finance for businesses.
FSA has taken a hammering in the market lately, with the current $0.22 share price trading at a significant discount to its equity per share (or book value) of about $0.32.  If it can maintain past ROEs in the low 20's, then it's a definite value play.
Forecast normalised ROE: 15% over the next five years, with 7.5% reinvested
Estimate value: $0.44
Empire's maximum buy price: $0.34
JB Hi-Fi Ltd (Wonderful)
Another stock recently reviewed at MB, JB Hi-Fi (JBH) is a home entertainment retailer that sells portable music devices, games, music/movies, LCD/Plasma televisions and computers. JBH recently purchased the Clive Anthony's retail group and also announced a share buyback plan of up to 10% of shares on issue.
A contentious pick given it is now the most shorted stock on the market, we believe JBH has the balance sheet and business model to survive the cautious consumer drought.  The impact that online retail will have on its sales will be a defining factor.
Forecast normalised ROE: 80% dropping to 70% over 5 years, with 17% reinvested
Estimate value: $20.37
Empire's maximum buy price: $17.71
Reece Australia Ltd (Wonderful)
Reece (REH) is a supplier of bathroom and plumbing products, plus more specialised industrial products including HVAC, irrigation and trades-related training, servicing both retail and wholesale consumers.  It is well known both inside and outside the plumbing industry for its products and services.
REH has an impressive earnings history, averaging over 27% ROE in the last 5 years.  The GFC barely dented their ROE, whilst their balance sheet is still debt and intangible-asset free.  The biggest foreseeable risk is a major downturn in construction.
In our experience, the market knows the value of Reece and rarely prices it at a decent discount.
Forecast normalised ROE: 28% dropping to 24% over 5 years, with 7.0% reinvested
Estimate value: $21.00
Empire's maximum buy price: $18.30
Seek Ltd (Very Good)
Almost anyone who has applied for a job in Australia in the last 5 years knows about Seek.  It is the number one online job classifieds provider, with close to 60% of the Australian and New Zealand market.  Seek also has two non-employment businesses;  "Seek Commercial" advertises businesses and franchises for sale whilst "Seek Learning" assists jobseekers with career development by providing vocational education in conjunction TAFE institutions and major universities.
Being closely tied to the jobs market, Seek's share prices is inexorably tied to the Australian economy.  If unemployment goes up, Seek's share price will invariably go down.  Nonetheless, Seek's dominance should see it through even a severe downturn and may provide the astute value investor with a prime buying opportunity.
Forecast normalised ROE: 38%, dropping to 30% over 5 years, with 9.0% reinvested
Estimate value: $6.40
Empire's maximum buy price: $5.60
Woolworths Ltd (Wonderful)
One of the two Australian supermarket oligarchs, Woolworths (WOW) core businesses are the operation of supermarkets, retail liquor outlets and petrol stations in Australia and New Zealand. It also operates the Big W discount retail chain and Dick Smith electronic stores.
WOW has a very long term, consistent operational history with positive operating cash flows.  It recently entered into the big-box hardware market and is looking to compete directly with Bunnings Warehouse – a risky venture given the current consumer climate and Bunnings dominance of the retail hardware space.  Nonetheless, WOW is a great business with a dominant market position.
Forecast normalised ROE: 35% over the next 5 years, with 10% reinvested
Estimate value: $30.50
Empire's maximum buy price: $27.50
So there you have it – 10 companies we'll be watching very closely as the market drops and prices move into buy territories.  They all have risks associated with them – some higher than others – but nonetheless we believe these will be the companies that would weather a correction to come out stronger and more profitable on the other side.
Disclosure: The author is a Director of a private investment company (Empire Investing Pty Ltd), which has an interest in some of the businesses mentioned in this article.  The article is not to be taken as investment advice and the views expressed are opinions only.  Readers should seek advice from someone who claims to be qualified before considering allocating capital in any investment.