There seems to be a sudden, concerted push by the government to make it clear to the nation that the rise of China represents a huge opportunity for Australian services exporters. In his recent inaugural speech, new treasury head, Martin Parkinson, argued that the government should embrace this vision to help offset community anxiety about Dutch Disease:
We can highlight how the emergence of major countries in our region will see the gravity of world trade shift closer to our region. The 'tyranny of distance' from major markets that has for so long been a limiting factor on the expansion of Australian business will continue to shift in our favour.

And somewhat related, but less well understood, is the changing world economy will present opportunities for the broader Australian economy from the rise of the Asian middle class — a potentially very large market for our goods and services.
Trade Minister, Craig Emerson, is in China banging out the same message:
Figures released last week for manufacturing activity showed China's economy was beginning to slow, shaking Australia's stock market on the back of warnings about China from the Reserve Bank.

But Dr Emerson — who this week is on his third visit to China in six months — said that rather than focusing on "quarter by quarter movements" in the Chinese economy, Australia should focus on expanding trade relations beyond resources and into the services sector.

"There is a bit of hand-wringing, and it will dip, but from 10 per cent to what is still a very high number (the latest Five Year Plan has set a base line of 8 per cent annual growth). I think that probably people get a bit too anxious about an economic slowdown in China," he said.

Dr Emerson said the focus should be on fresh opportunities for Australian business as China's economy moved to a domestic demand and services model.
Dr Emerson cited the usual suspects – banks, tourism, education – as the great frontiers.
This rhetoric is most welcome, in my view. We've spent 15 years pretending Asia didn't exist, except as some dropping off point for queue-jumping refugees or a port that takes our dirt.
And there is evidence that China is emerging as an export destination for Australian services. Below find a table of Australia's services exports for the past three years: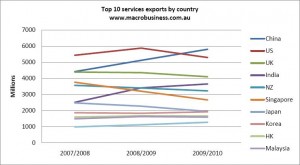 China is now our number one services export destination. DFAT does not provide a break-up of the services trade by sector but in general, in 2009/2010, tourism and education made up 63% of the total $52.7 billion. At $18.5 billion, education made up 35%.
For China, the mix must different because Dr Emerson reckons half of last year's total $6 billion was in tourism. An alternative explanation is that Dr Emerson is including Hong Kong figures.
Anyway, China is growing strongly as a services export market. Sadly, that growth has so far only managed to offset big declines in other markets with Australia's overall service export levels up 5% in three years, well behind other exports and miles behind nominal GDP, showing that the sector is shrinking in proportion to the rest of the economy.
Fact is, that despite the upbeat rhetoric and clear growth in China, the contribution of Australia services exports to growth is shrinking. And let's not forget that the figures I'm using do not include the last year, when the Australian dollar really strapped on the afterburners.
So, does it matter?
I think that it's probably true, at least in theory, that the services sectors are better placed to weather Dutch Disease than manufacturing. Service industries are based on people and you can always rehire when the dollar falls and business returns. I'm not saying it's easy but perhaps easier than having to rebuild a factory that has fled to a competitor in Vietnam.
But here we also run into the real problem. If service industries are about people-to-people links, then you need to understand who you're dealing with, not to mention speak their language.
And that's going backwards:
Major media has reported an "alarming" 22% decline in the number of Australian students studying Chinese, Indonesian, Japanese or Korean from kindergarten to year 12 between 2000 and 2008.

According to the Asia Education Foundation, the drop is "far worse than feared."

University of Melbourne Asia Link chief executive, Jenny McGregor, confirmed that Asian languages and history appear to be falling out of favour among Australian students. In 2009, a mere 2% of year 12 history students chose to focus on our closest neighbours – compared to 65% and 19% studying German and Russian history respectively. Worryingly, only 250 Australian students with non-Chinese heritage chose to study Mandarin – the most widely-spoken language in the world.
I repeat. 250 honky students chose to study Mandarin in 2009. If the boom does come, the rest of us may have to suffer higher interest rates because those 250 kids are going to demand astronomical wages.
The collapse in Asian language learning is largely but not only the result of pulled funding. It is also 15 years of Liberal and more recently Labor governments that have bashed any curiosity in our neighbourhood with Don Bradman and other myths.
That's why the swing in rhetoric is welcome, though it's pretty paltry so far. If Labor is serious about this it needs a vision, not necessarily so grand and politically poisonous as Keating's "Asian engagement". But something a bit more serious than the odd throwaway line.
And until that vision is backed up by some renewal of funding for Asian studies, that's all it will be.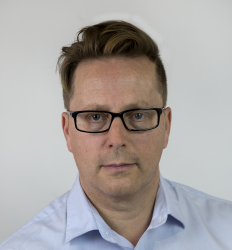 Latest posts by David Llewellyn-Smith
(see all)