I noted on Friday how all indicators of housing construction have collapsed.
In particular, dwelling approvals, commencements, and completions have fallen to around decade lows at the same time as Australia's population is expanding at a record rate: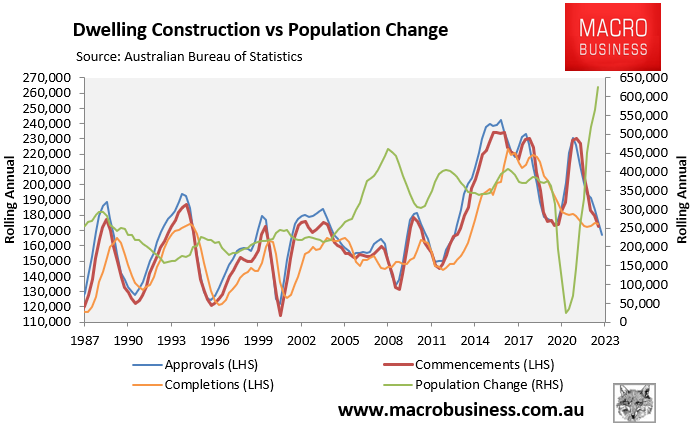 For example, only 164,000 dwelling were approved for construction in the year to September, which is 76,000 below the Albanese government's housing target, which requires 240,000 new homes to be constructed for five consecutive years.
Advertisement
Loans for the purchase of new homes and construction are also tracking near decade lows, according to the ABS: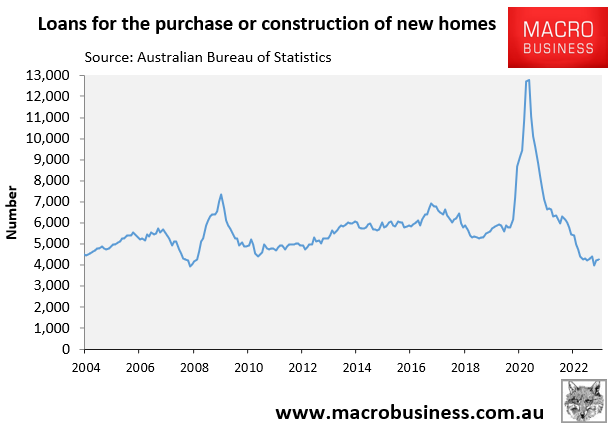 The rapid fire interest rate increases from the RBA are adding to the pain by curbing new home buyer demand (because of reduced borrowing capacity) as well as creating financial difficulty for home builders.
Advertisement
"Increased rates makes it more difficult for borrowers to purchase property, including land, and obtain finance for building, putting more strain on the already challenging construction industry", noted WCT Advisory managing partner, Andrew Weatherley, this month.
Stephen Miles, Commercial Property Editor at The Age, noted that soaring interest rates have caused land sales across Melbourne and Geelong to fall by 6% in the September quarter, despite builders offering discounts of 5% to 10% off land sticker prices, along with price cuts on new homes.
"There is substantial unsold developer stock on market, and the numbers continue to grow. This, coupled with existing stock from previous buyers selling land they can no longer build on due to difficulties in obtaining finance for construction, has kept lot prices in check", noted RPM's national managing director project marketing Luke Kelly.
Advertisement
The Albanese government set a lofty five-year target of building 1.2 million homes, which Australia has no chance of achieving.
The record for the most dwellings constructed in a single year in Australia was 223,500 in 2017. And this was accomplished with rock-bottom interest rates.
It will be impossible to construct 240,000 homes for five consecutive years under prevailing economic conditions, namely: high interest rates, widespread builder collapses, elevated material costs, and widespread labour shortages.
Advertisement
As a result, the nation's rental vacancy rate is likely to fall to fresh lows: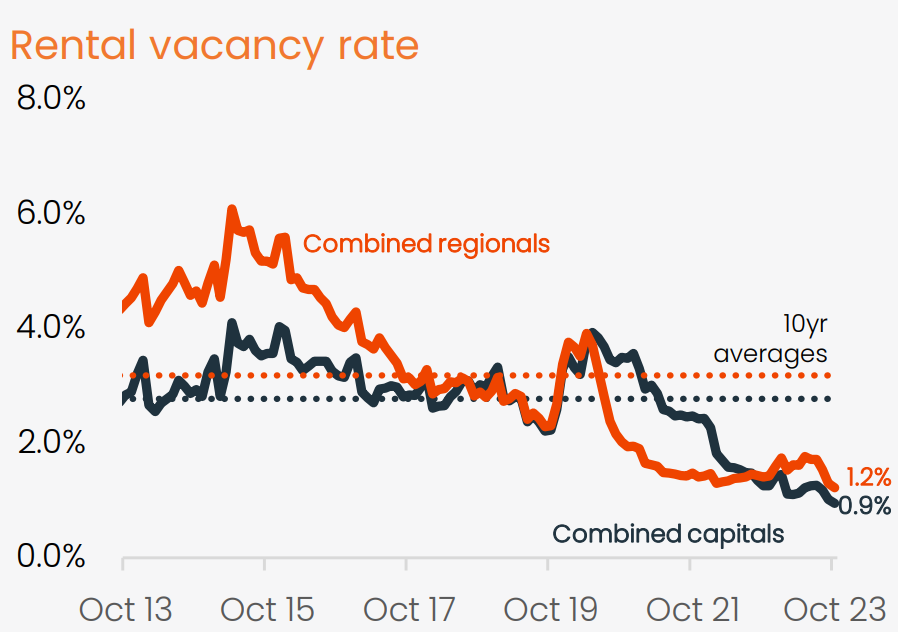 Source: CoreLogic
Advertisement
Without a substantial reduction in net overseas migration, Australia's housing shortage will intensify, causing further strong rental inflation and an increased number of Australians being forced to live in shared housing or experiencing homelessness.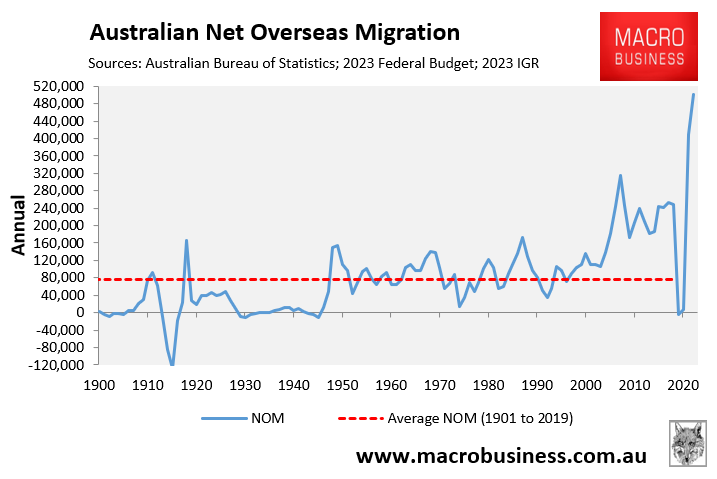 In order to prevent a full-scale housing catastrophe, immigration must be drastically reduced to a level where supply and demand are brought back into equilibrium.