Australia's rental crisis is worsening by the day amid the tidal wave of migrants flooding into Australia.
Around 500,000 net overseas migrants landed in Australia in 2022-23, with monthly visa data pointing to further strengthening over the September quarter: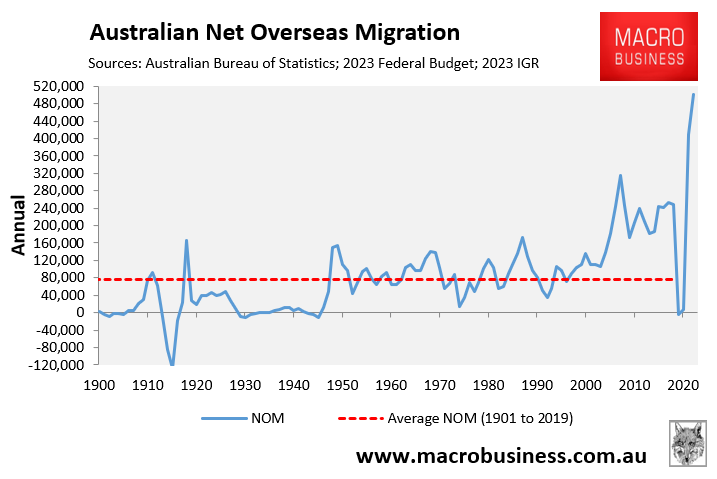 The impact on Australia's rental market has been devastating, with the number of homes listed for rent collapsing to around half normal levels:
Advertisement
In turn, the combined capital city vacancy rate has tumbled to a record low 0.9%:
Advertisement
The rental market deterioration was attributed by PropTrack to the unprecedented resurgence in net overseas migration. PropTrack also cautioned that tenants' plight will worsen amid record high immigration levels:
"The volume of stock available for rent remains at historic lows, as do rental vacancy rates. Properties are leasing quickly and demand for rental accommodation remains elevated after rising over the past year".
"The rapid rate of migration to Australia is exacerbating competition for rentals, with the majority of arrivals not owning property".
"From here, we expect rents will continue to climb in the major capital cities due to persistent low supply and strong demand which is being exacerbated by the rapid rate of population growth".
Recent analysis from National Shelter showed that homelessness across Australia increased by 50% between 2020 and 2022, whereas there was a doubling of people living in "improvised homes, tents and rough sleeping":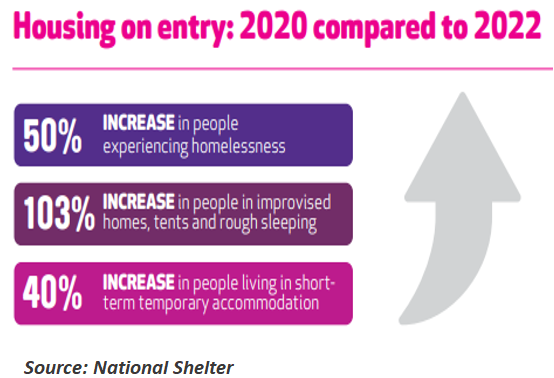 Advertisement
The figures will have worsened further in 2023 given the severe tightening in the nation's rental markets.
Not surprisingly, then, Australia is witnessing the emergence of 'tent cities' across Australia:
"Wentworth Park is just one of many Sydney sites rough sleepers call home…
Advertisement
"Earlier this year the City of Sydney reported a 23 per cent increase in the number of individuals sleeping rough on inner-city streets"…
"Crisis and temporary accommodation facilities are almost at full capacity, with 93 per cent occupancy, signalling a shortage of available beds"…
"It's estimated that statewide, 120,000 people sleep rough, while 57,550 applicants eagerly await social housing as of September 2023″…
"While some form a small fraction of the some-58,000 applicants currently waiting for social housing in New South Wales, Ms Morris said there is a section of the campers who are not Australian citizens – and are there due to their ineligibility".
"She estimates roughly half of the current population are immigrants"…
The rental crisis is being fueled by the Albanese government's unprecedented immigration program and shows no signs of abating.
The first best solution is to reduce net overseas migration to a level that is below the country's capacity to construct additional housing and infrastructure.
Otherwise, the housing crisis will continue to deteriorate, forcing more people into rough sleeping and homelessness.