Australia's rental crisis continues to worsen thanks to the Albanese government's record immigration program, which saw around 500,000 net overseas migrants land in the country in 2022-23: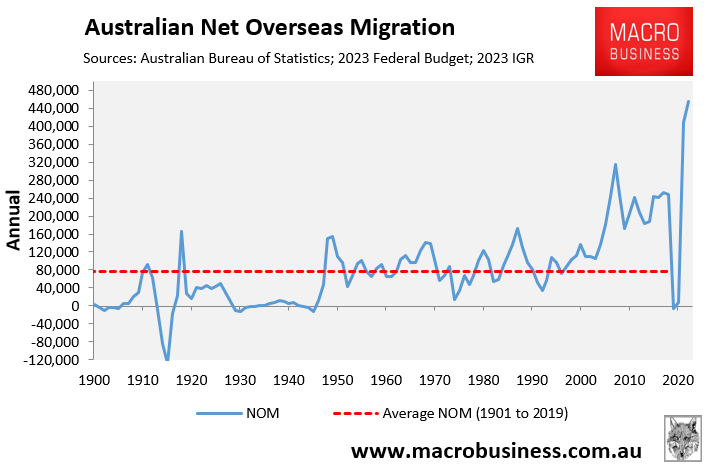 New figures from PropTrack show that the supply of rental homes has collapsed to a record low, down 22.8% below the September average for the past five years:
Advertisement
Across the combined capital cities, total rental listings were 10.9% lower than a year ago and 27.3% below their September five-year average.
The fall in rental listings nationally was largely driven by falls in Melbourne (-20.2%) and Sydney (-12.2%), with Perth (-8.3%) also seeing a comparatively large fall:
Advertisement
Melbourne (-32.2%), Perth (-30.2%) and Sydney (-30%) saw the largest declines in total rental listings compared to their September five-year average.
Each of the five major capital cities had 20% or fewer total rental listings in September than their five-year average for the month.
Accordingly, the national rental vacancy rate plummeted to an all-time low 1.1% in the September quarter, down from 1.3% a year earlier:
Advertisement
Finally, national asking rents surged by 14.6% over the year to September, with Sydney (18.2%), Perth (14.9%), Melbourne (13.6%), Brisbane (12.2%) and Adelaide (11.1%) each recording explosive growth:
Advertisement
PropTrack blamed the deterioration in the rental market on the record rebound in net overseas migration. It also warned that the situation facing renters will likely get worse amid historically high levels of immigration:
"The rental market remains extremely challenged, with renters facing significant competition for the limited stock available. This has pushed the cost of renting much higher over the past year".
"The volume of stock available for rent remains at historic lows, as do rental vacancy rates. Properties are leasing quickly and demand for rental accommodation remains elevated after rising over the past year".
"These conditions are most prevalent in the major capital cities".
"The rapid rate of migration to Australia is exacerbating competition for rentals, with the majority of arrivals not owning property".
"Over the 12 months to March 2023, the national population increased by 563,205 persons – a record-high increase – with net overseas migration driving the majority of this".
"The March 2023 quarter was the strongest quarter on record for net overseas migration". 
"Construction remains a challenge, with high build costs, limited labour availability and decade-high financing costs resulting in dwelling approvals and commencements sitting at their lowest level in a decade".
"It seems unlikely that these conditions will change any time soon given population growth, the lack of significant new housing supply and the overall strong demand for rentals".
"From here, we expect rents will continue to climb in the major capital cities due to persistent low supply and strong demand which is being exacerbated by the rapid rate of population growth".
"Although population growth is forecast to slow, it will remain elevated this financial year and next".
"Given the rapid rate of population growth, which is projected to continue, we expect rents in the major capital cities will continue to climb. However, it is difficult to foresee that rents will continue to rise as rapidly as they have over the past year".
"Some renters will move further away for cheaper rents, while others will shift into units, smaller accommodation, or move into share housing".
In summary, through its record immigration program, the Albanese government has delivered the worst rental crisis in the nation's history that shows no signs of abating.
The solution to the rental crisis is obvious: slow net overseas migration to a level that is below the nation's ability to build new housing and infrastructure.
Advertisement
Otherwise, the rental situation will continue to worsen.