Goldman with the wrap of September Chinese credit:
September TSF data were stronger than expected on robust government bond issuance and shadow banking credit expansion. M2 and RMB loans came in slightly below expectations, but the loan composition suggests solid credit demand.
Household loan growth improved. After our seasonal adjustment, household loan growth was 6.9% month-over-month annualized, vs 5.0% in August, mainly due to faster household medium to long term loan growth.
Corporate medium to long term loan growth accelerated to 13.7% month-over-month annualized from 12.4% in August. Total social financing growth was 10% month-over-month annualized, faster than 9.1% pace in August.
Without additional funding approved for Q4, smaller government bond issuance quota left in the rest of the year may drag on overall TSF growth in coming months. We expect RMB500bn additional local government special bonds from previous years' unused quota to fill the gap.
Nothing remarkable there. Broad credit growth did not accelerate year-on-year, stuck at 9%: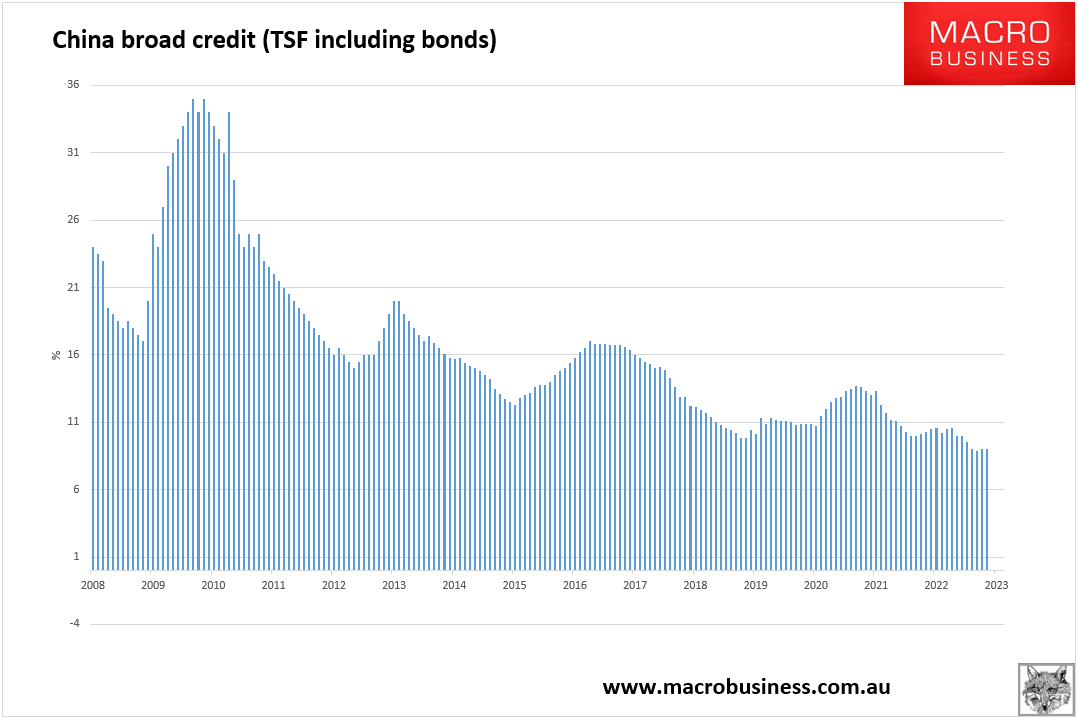 The new property game is bidding for existing stock in major cities, like developed markets. There was some improvement in new sales last week, but we need to be careful of comparisons around Golden Week:

Advertisement
However, nothing is saving prices: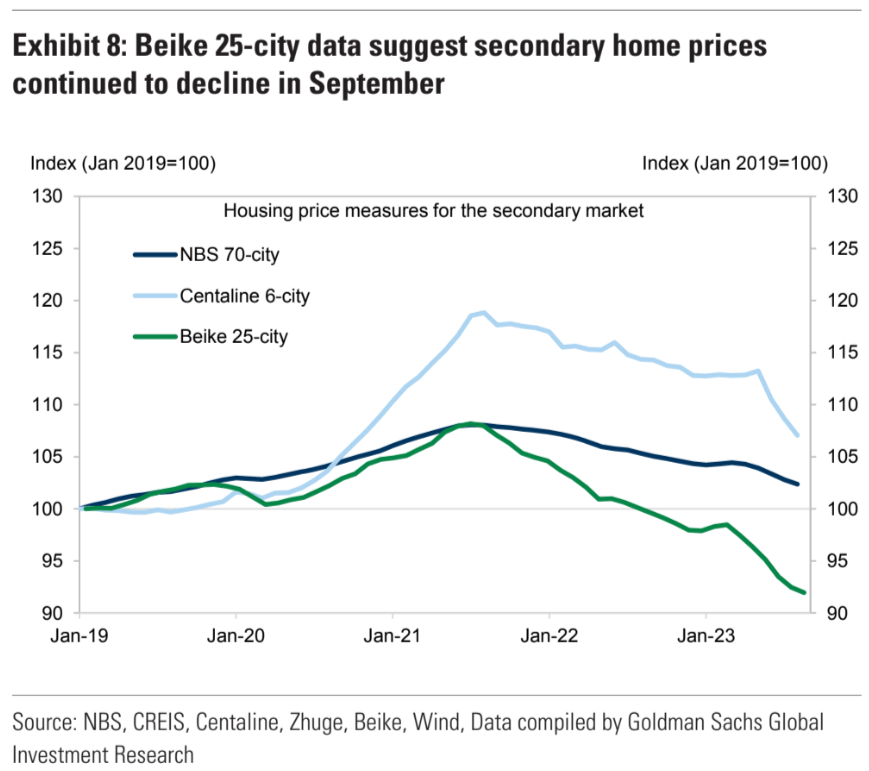 Infrastructure funding quotas are nearly tapped out:

Project starts are well down year-on-year:
Advertisement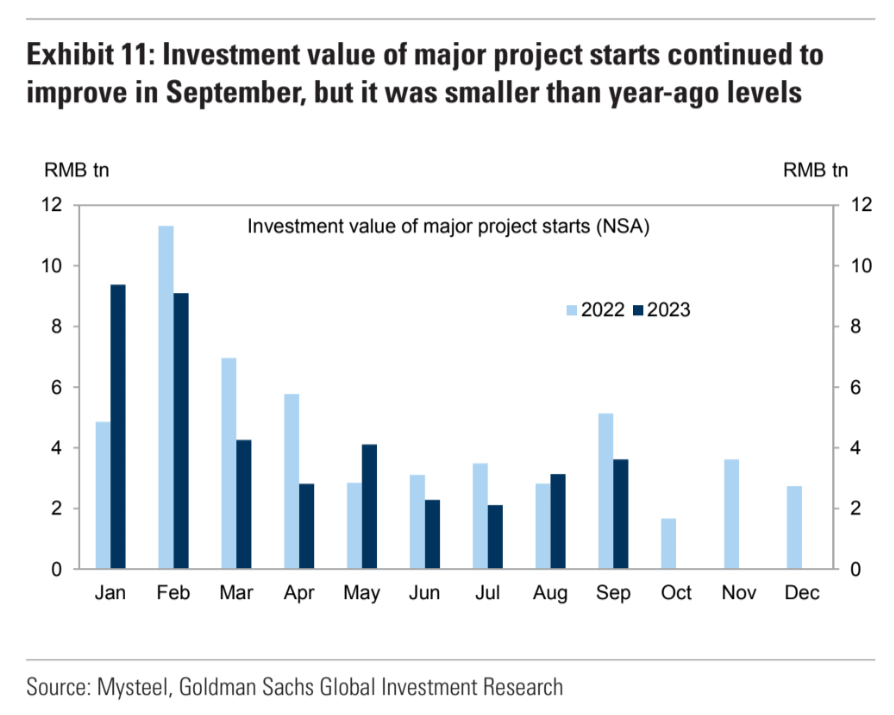 Excavator hours are down by one-third from the peak and 10% year on year: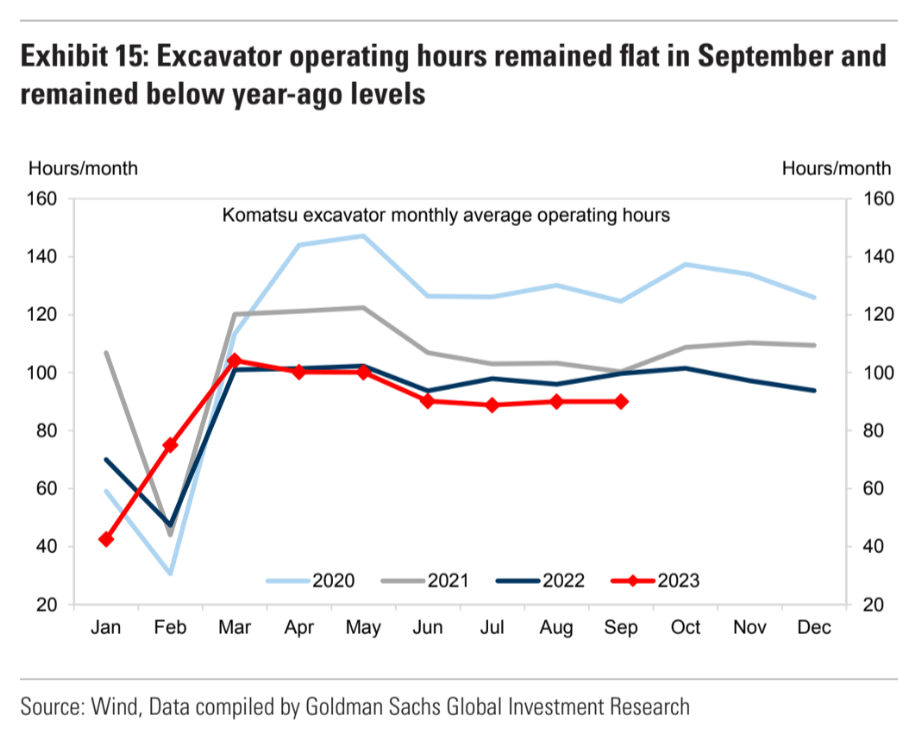 In short, property and infrastructure starts are in a steep downtrend, if not free all.
Advertisement
MySteel demand and supply are wretched and falling. Production is down nearly 5% yearly and 13% from the peak. Demand is down 7% year on year and 22% from the peak:

That said, CISA output data is much closer to last year:
Advertisement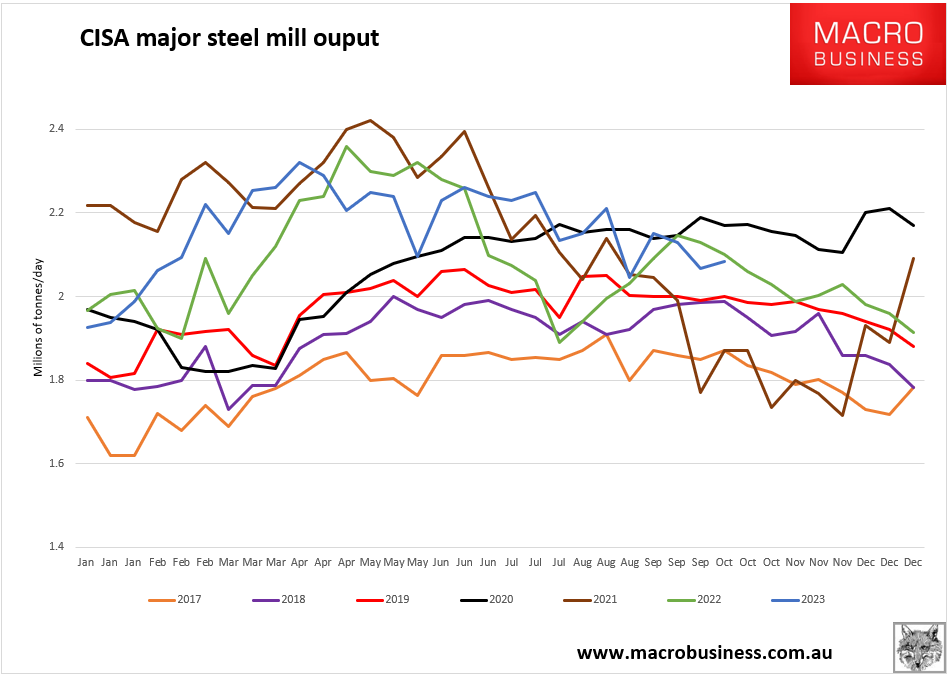 Mostly thanks to strong esports. But exports should not lift overall iron ore demand given they displace other steel production: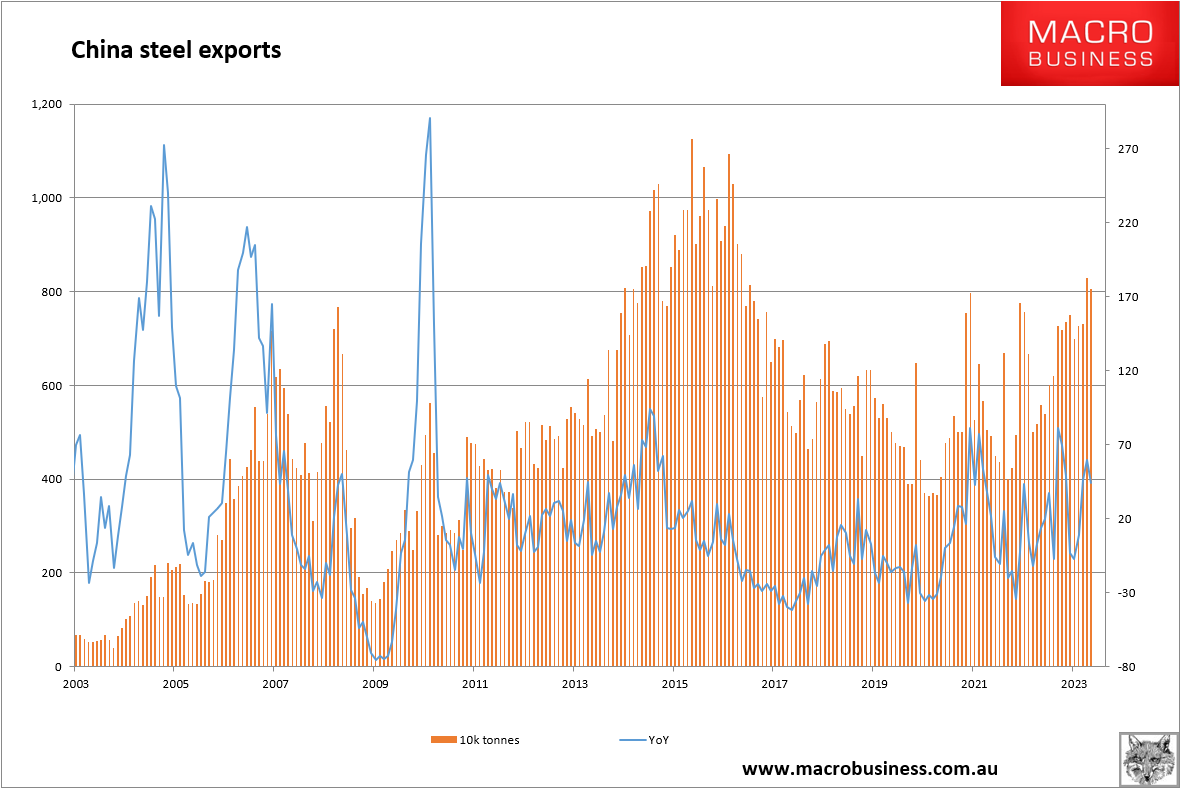 Advertisement
Yet iron ore refuses to fall. Here's Dalian weekly: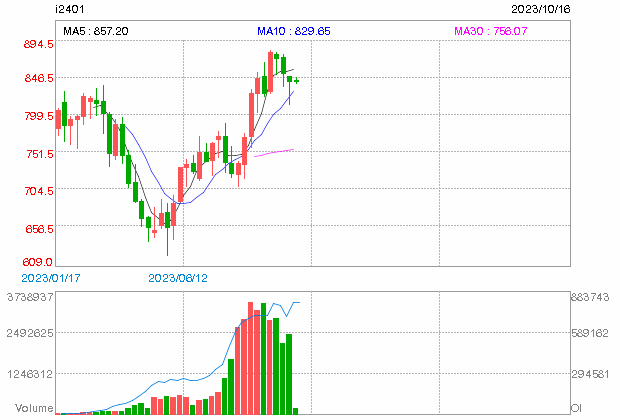 And coking coal: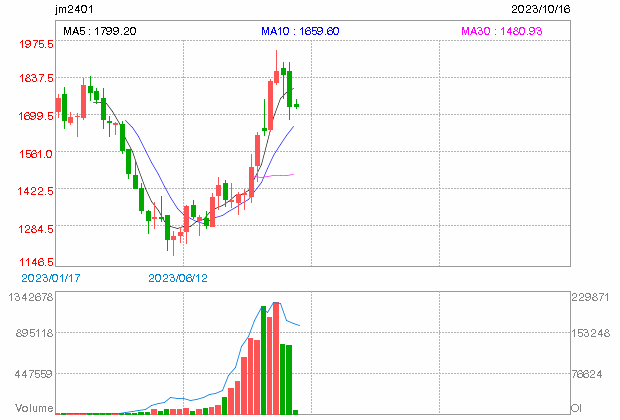 We know the Chinese steel supply chain is destocked. Even so, the resilience of the price in the face of the above data is a mystery.
Advertisement
Infrastructure is down year-on-year. Property sales by floor area are down by one-third from peak. Property starts are down by nearly two-thirds. Floor area under construction is down 11% on its way to catching down to one or both.
Nothing that can save iron ore from this if it is remotely accurate: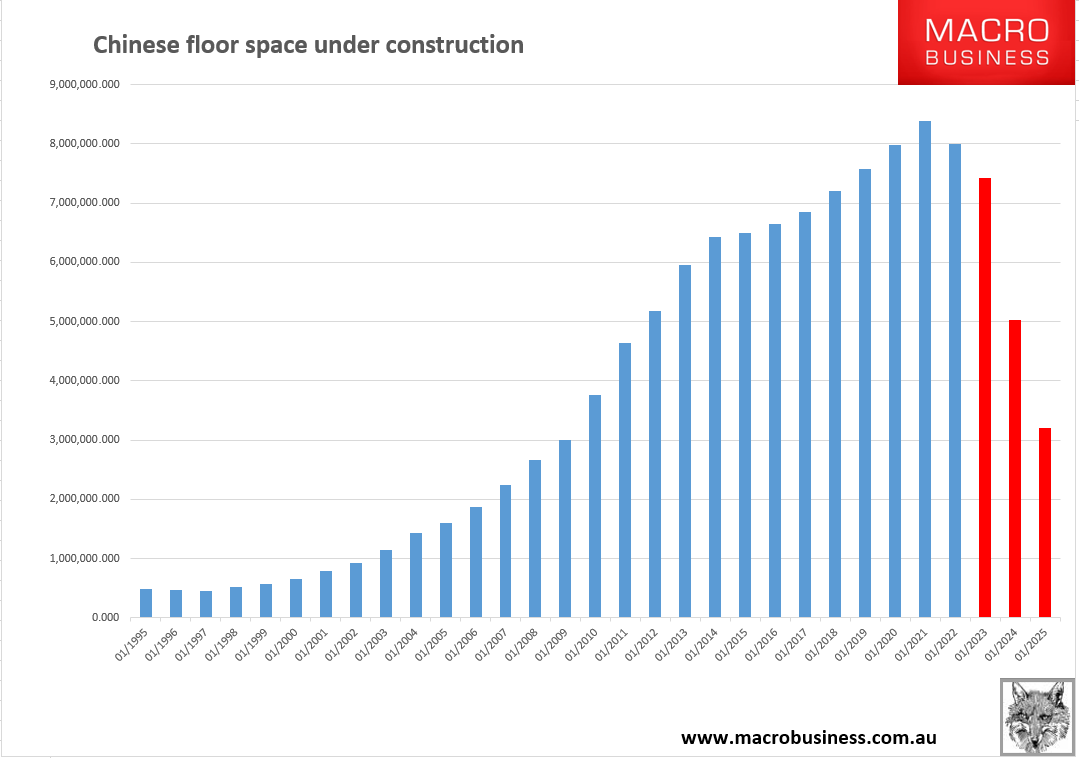 Advertisement
Patience is the key for bears.