It's been one of the worst starts to a calendar year for US stocks – since 1939 in fact – and as we hit the halfway point (or starting point of a new financial year) its still fascinating to see the majority of forecasters in a bullish mood: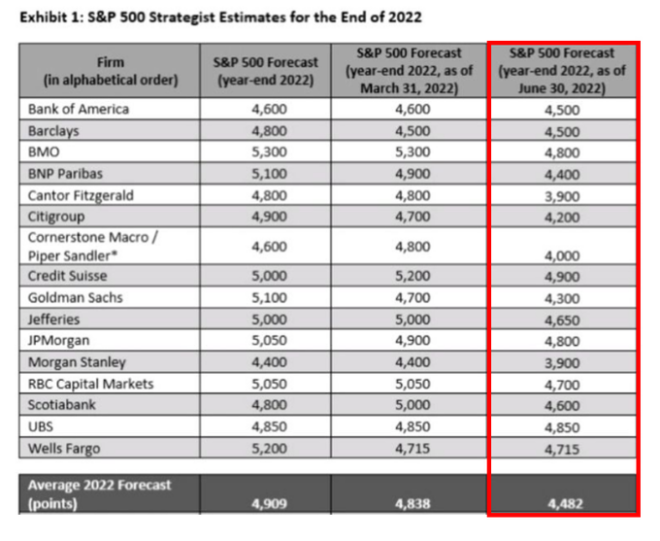 The S&P500 started 2022 at 4770 points and is now at 3825 points, basically a 20% loss, yet the majority of forecasters (the ever bearish Morgan Stanley, standing out) are indicating a 17% rally from here!
With interest rates in the US forecast to rise another 170 basis points (down from 200 forecast at the start of the year), inflation and energy prices still at sky high levels plus a probable recession on the horizon, this is very bullish, particularly when valuations are coming off historic highs and are still more than 43% above the historic average: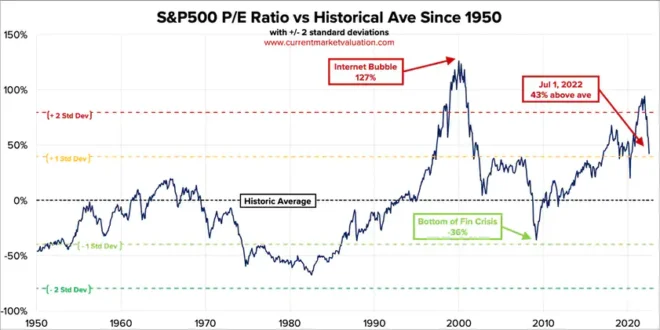 What about local stocks? Well the ASX200 is still down 12.5%, having started the year at 7589 points, currently at 6633 points, yet the mood here is more bearish.
CommSec recently released their forecast for a 7-9% further drop on the index this year – despite predicting a modest five per cent increase for 2022 as recently as January. More:
CommSec economists Craig James and Ryan Felsman said the stock market was likely to fall this year, even though profits were at record highs, because higher interest rates would squeeze margins.

The big banks and mining giants have suffered sharp losses during the last financial year, with Australia's best performing company a year ago – lesser-known precious metals group Chalice Mining – losing half its value.

'Companies are choosing to pass on higher costs to consumers but they will find it harder to do so as interest rates rise further and spending growth slows,' they said.

'With margins pressured, earnings expectations are likely to adjust lower as growth slows.'
Staring into the holes and houses abyss that lower commodity prices and real estate "values" that more interest rate hikes are going to bring, will again show up the fragility of the Australian share market.
Latest posts by Chris Becker
(see all)