The Market Ear with more recession cracks.
—
Winter IS coming
Robin Brooks: "Global recession is coming. Longer-term real US interest rates have kept rising and financial conditions have kept tightening, even as recession worries have grown more acute. So the automatic stabilizer for the economy – that real rates stop rising – hasn't kicked in yet…"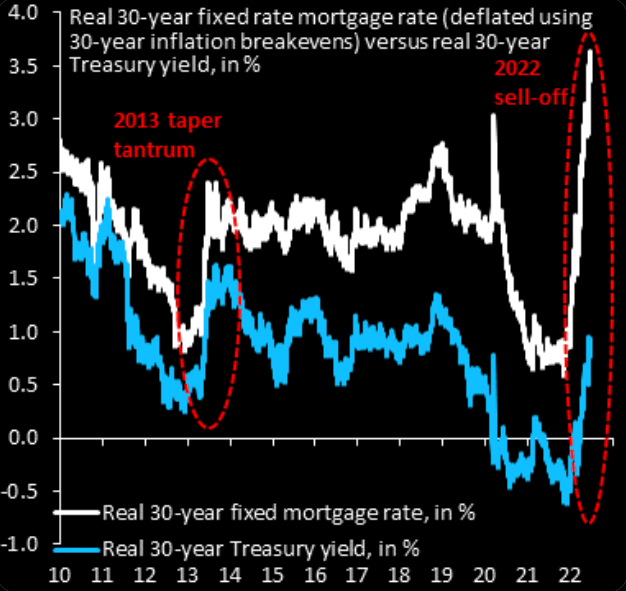 Robin Brooks
Tightening into a slowdown
Kantro: "It's important to differentiate slowdowns that took place during and NOT during a tightening FED. Downturns are Far worse (recession) when you get a slowdown alongside higher rates"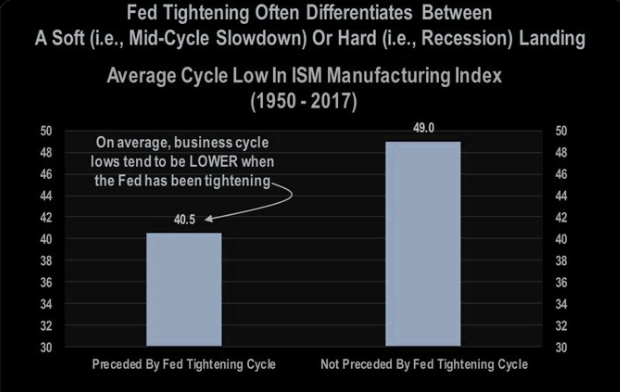 Michael Kantro
GS: 48% chance / risk
Goldman: "In the US, we expect Q4/Q4 growth to slow to 1.0% in 2022, driven by a large fiscal drag and a negative impulse from tighter financial conditions. We now see a 48% cumulative probability of entering a recession within the next two years"
Goldman
On the edge of a technical recession
Negative BoJo MoJo. Goldman expect GDP growth to be -0.7% and +0.1% in Q2 and Q3, respectively. This puts the UK economy on the edge of a technical recession, and suggests increased focus on UK activity data in coming months. GS: "Given that it would not take a large downside surprise to push the UK into a recession, it is helpful to think through some growth scenarios. In our baseline, we continue to look for subdued, below-trend growth in coming quarters, as activity is supported by the unwind of excess savings, continued room for growth in services spending, and fiscal support concentrated in the second half of this year" (Goldman)
Gonna be a long cold winter in Europe
As boss Brooks writes: "Our underlying assumption has always been this is where Europe ends up: complete shutdown and recession…" Look no further than DAX in full achtung mode to see Europe's current pain. The index is breaking below huge supports. We have not seen DAX close down here since November 2020.
Robin Brooks
Refinitiv
Most investment banks have remained buying the dip in the commodities space over the past weeks. This has been a very expensive strategy. BCOM continues collapsing today and what looked impossible only a few weeks ago is now reality; the BCOM approaching the 200 day moving average. This remains a massive consensus long and pain needs to grow even larger…
Refinitiv
The crash in energy
Energy is not oil only. The BCOMENTR, energy sub index (crude oil, heating oil, unleaded gasoline and natural gas), is crashing today (again). The index is down almost 8% as of writing, falling below the 100 day for the first time since January this year. This darling long is causing huge p/l pain. Parabolic moves always end up in tears…and this is one of them (chart 2). Still see inflation and yields only going higher?
Refinitiv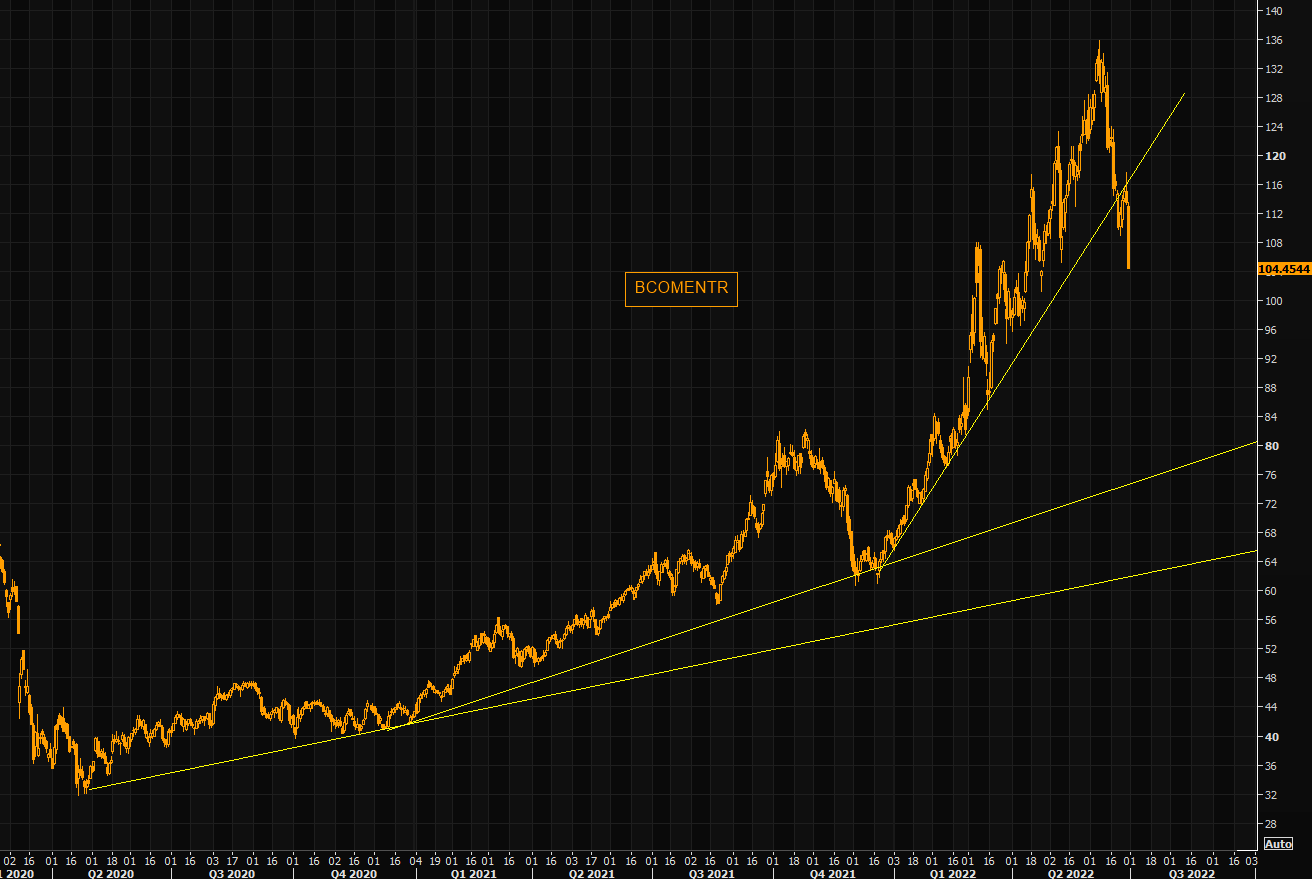 Refinitiv
Metals screaming cuts
Metals sub index, BCOMIN, is printing new recent lows (again). Overlay the EDZ2 vs EDZ3 spread and you get the point. Some assets are busy pricing "needed" cuts…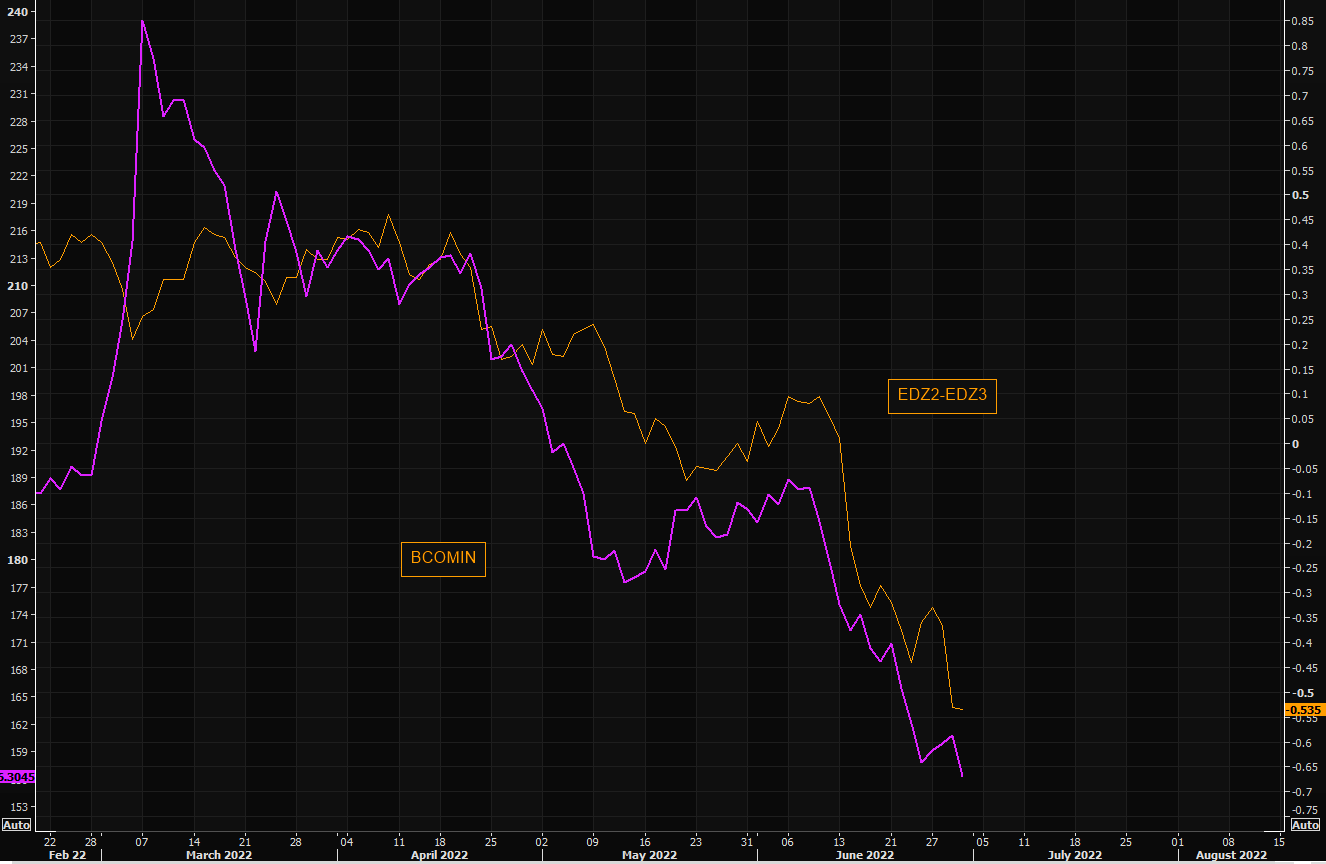 Refinitiv
TLT – the break out continues
TLT broke above the shorter term negative trend line yesterday and continues squeezing today. Note we are approaching the 50 day right here, something we haven't seen in TLT since late February. Recall what Albert Edwards wrote last week (here): "Will a recession dispel inflation fears (temporarily) and drive bond yields substantially lower? The outlook for commodities is key, especially with the backdrop of the war in Ukraine. But I still see commodity prices plunging just like in Q4 2008, back then taking headline CPI inflation from +5% to -2% in just 12 months." It looks like consensus regarding rates and commodities moving only higher could be in for a wild ride…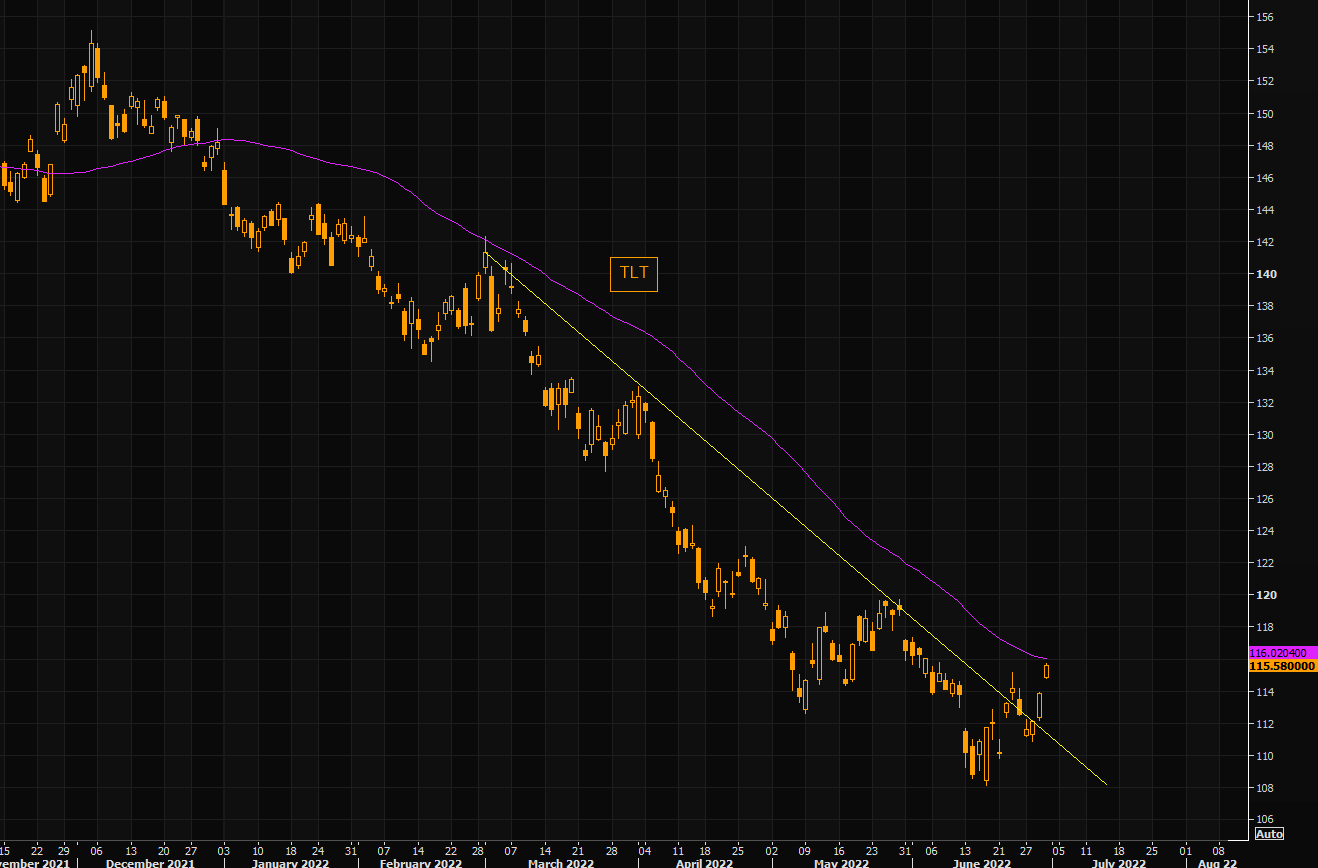 Refinitiv
Recall the Gundlach indicator?
The copper/gold ratio worked well when it comes to rates moving higher. Obviously a lot of things have changed since that narrative, but the copper/gold ratio can't catch a bid. Let's see where yields decide going from here…
Refinitiv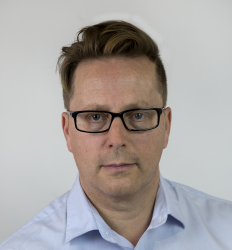 Latest posts by Houses and Holes
(see all)