The Market Ear catching up with MB today. It looks to me like the Wall Street commodities bubble has burst but not yet the underlying real economy version. As the recession takes hold and real commodity demand is hit hard there is more downside yet for dirt and oil.
Dr Copper – oversold mania
Copper is down so much you almost get tempted to buy some for a bounce…even if you are bearish this entire space. Do we see a short term hammer candle here?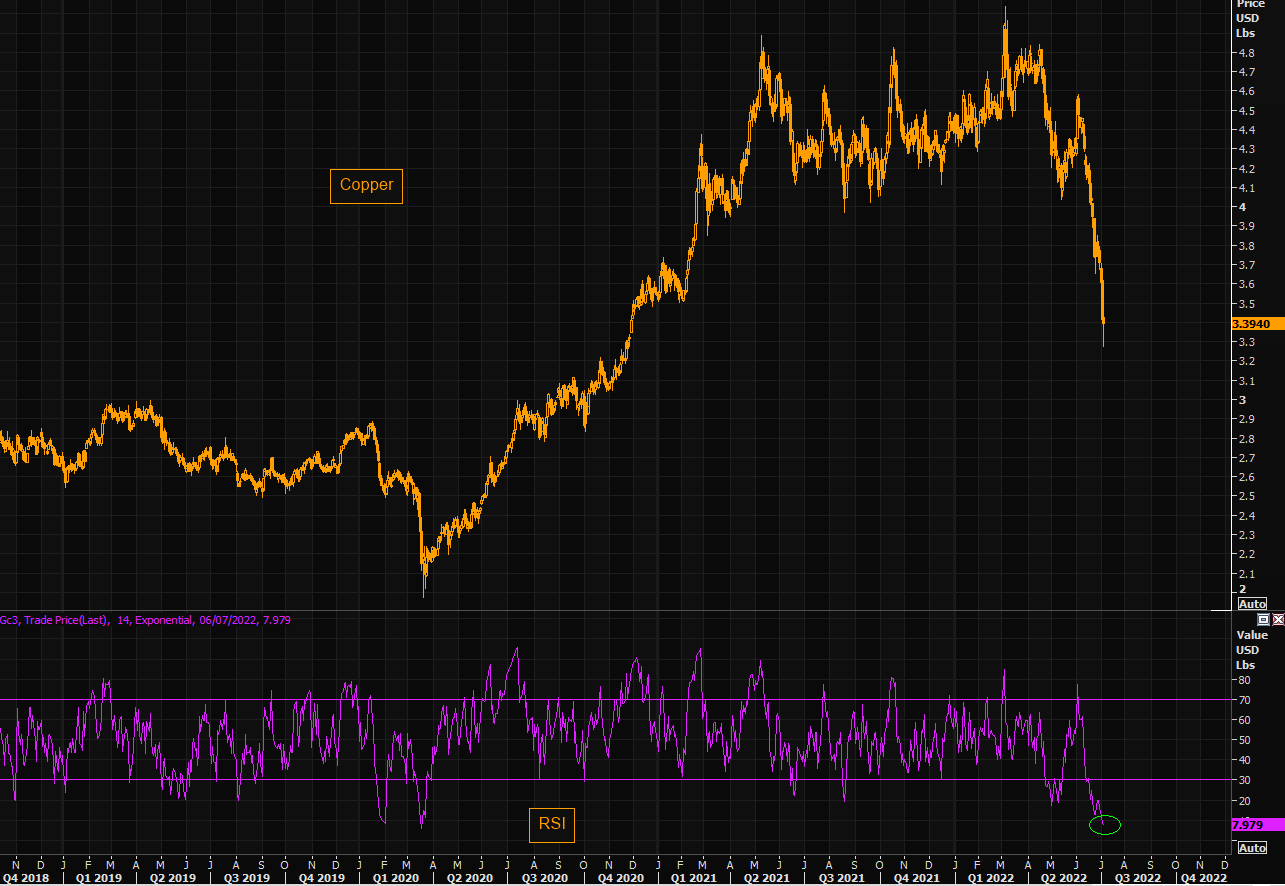 Refinitiv
GS on the oil price: overshot
Goldman believe this move has overshot and that the key to their bullish view still remain. On the short term technicals of the move: " As is repeatedly the case with oil, the move lower was then exacerbated by technical factors and trend-following CTA flows, such as Brent trading through its 100-day moving average, as well as through the strikes of puts with large open interest (where negative gamma effects invariably accelerate large price sell-off). It is important to finally note that this sell-off occurred amidst seasonally low post-July 4 trading liquidity. From this perspective, this sell-off in oil prices is not all that surprising, similar in set-up and magnitude as the one after Thanksgiving 2021, most recently"
Goldman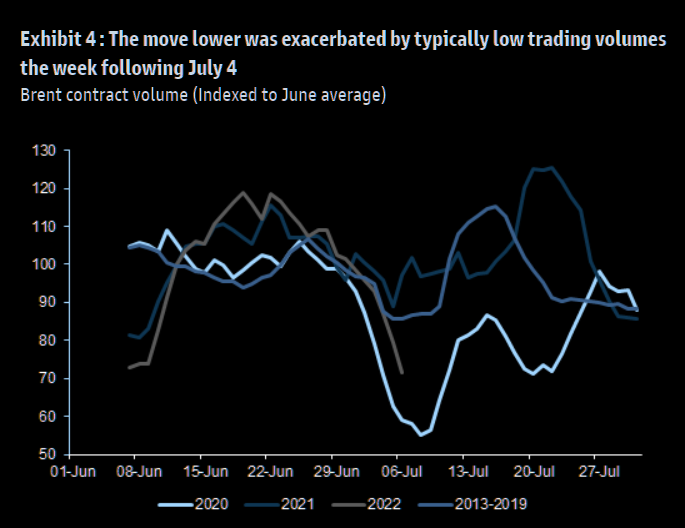 Goldman
Oil – 2008 poetry
Most people are comparing the current oil market with the oil crisis in the 70s, the OPEC embargo 73-74 and then the Iran/Iraq war in 1980, which led to recessions and high inflation accompanied with high interest rates. Citi points out a slightly less bullish view worth considering, especially for those that see upside as the only option. There are differences compared to the 70s and you could argue that we are in a similar set up to what we saw during the GFC. They write:"Like then, so today high energy prices preceded the events that triggered a recession. Brent crude oil breached $140/bbl in Jul'08, equivalent to over $160/bbl in real terms, only to fall to $40/bbl by year-end before re-balancing at $90/bbl deferred and remaining there for the next four years. "
Refinitiv
Refinitiv
Wheat mania – the inverse edition
Wheat needs to almost double in order to reach invasion panic highs. Wheat, corn and soybeans are all trading close to recent lows.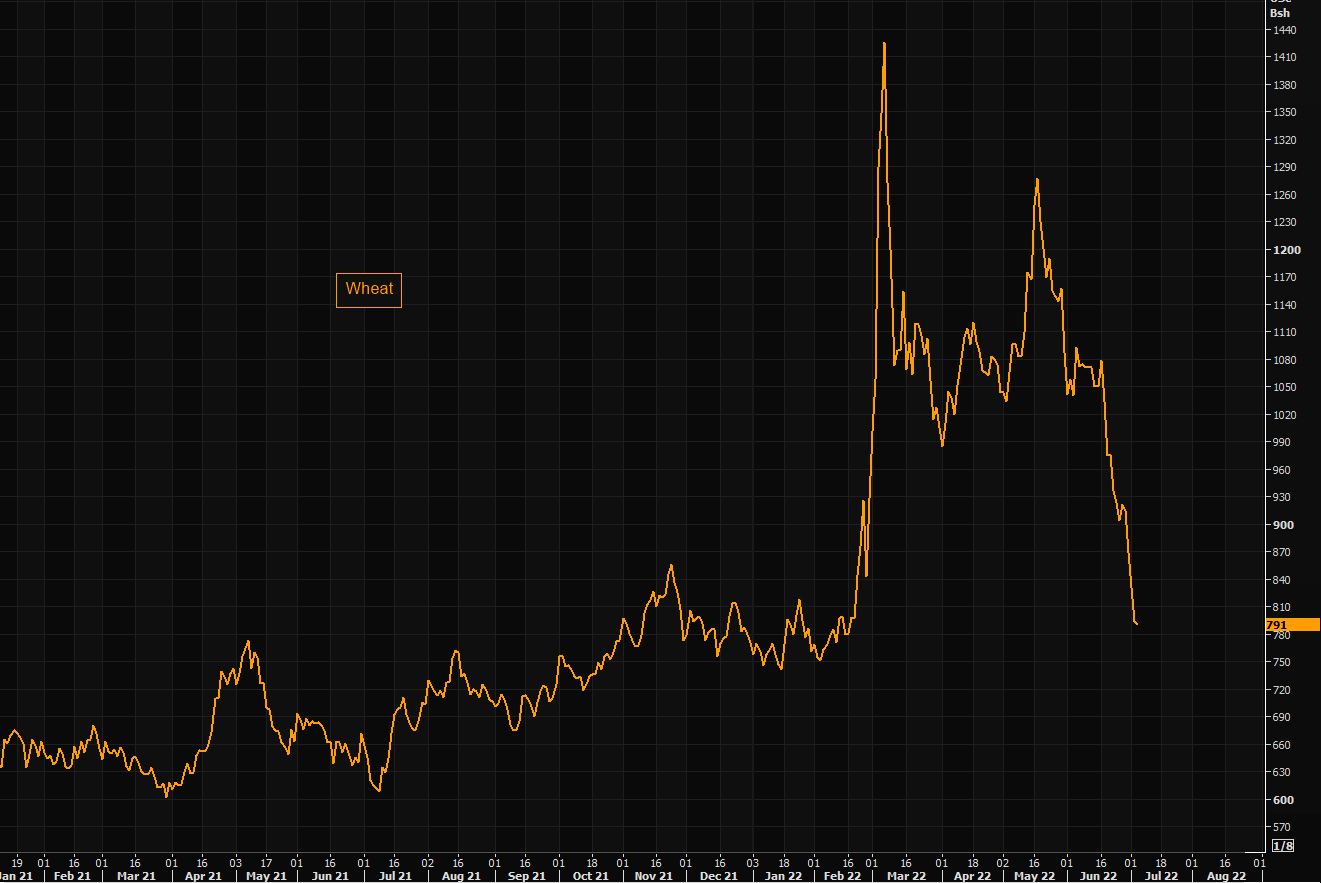 Refinitiv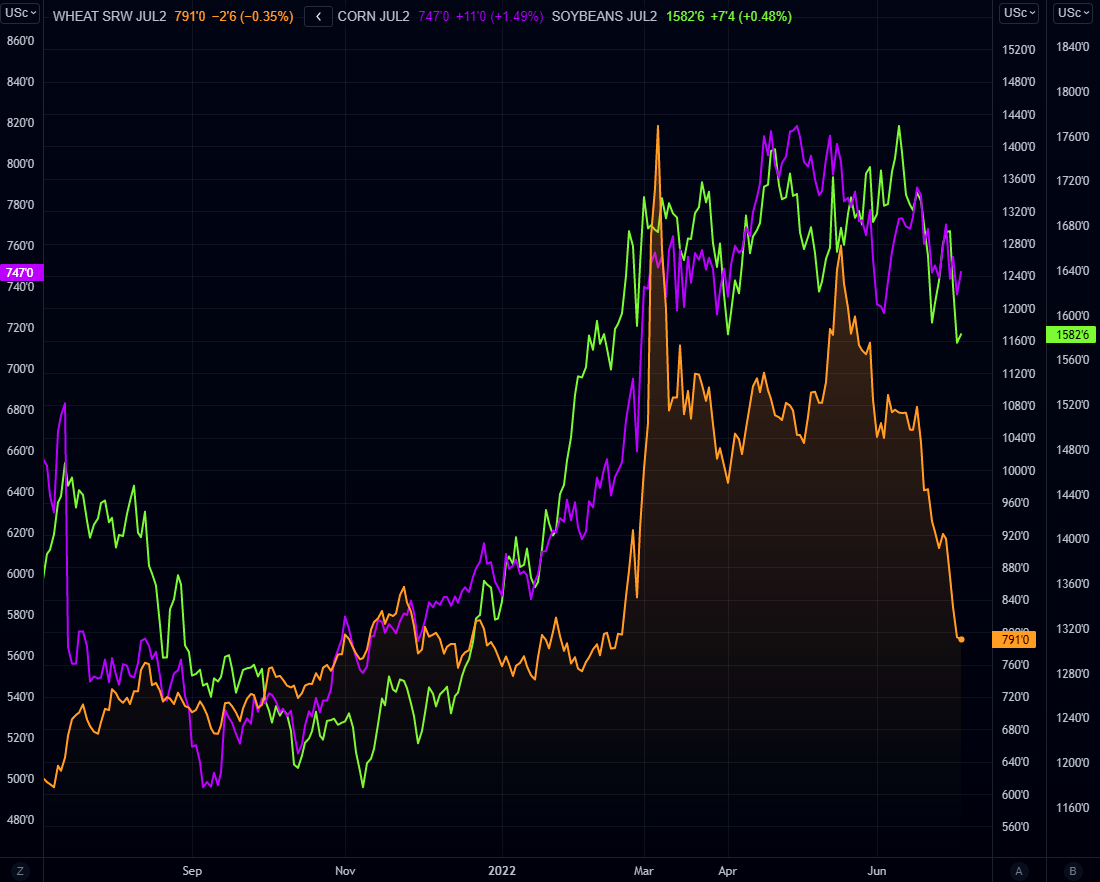 Refinitiv
Palm oil limit down
Should on the margin decrease risk for hunger crisis as well on the margin be good news in terms of inflation.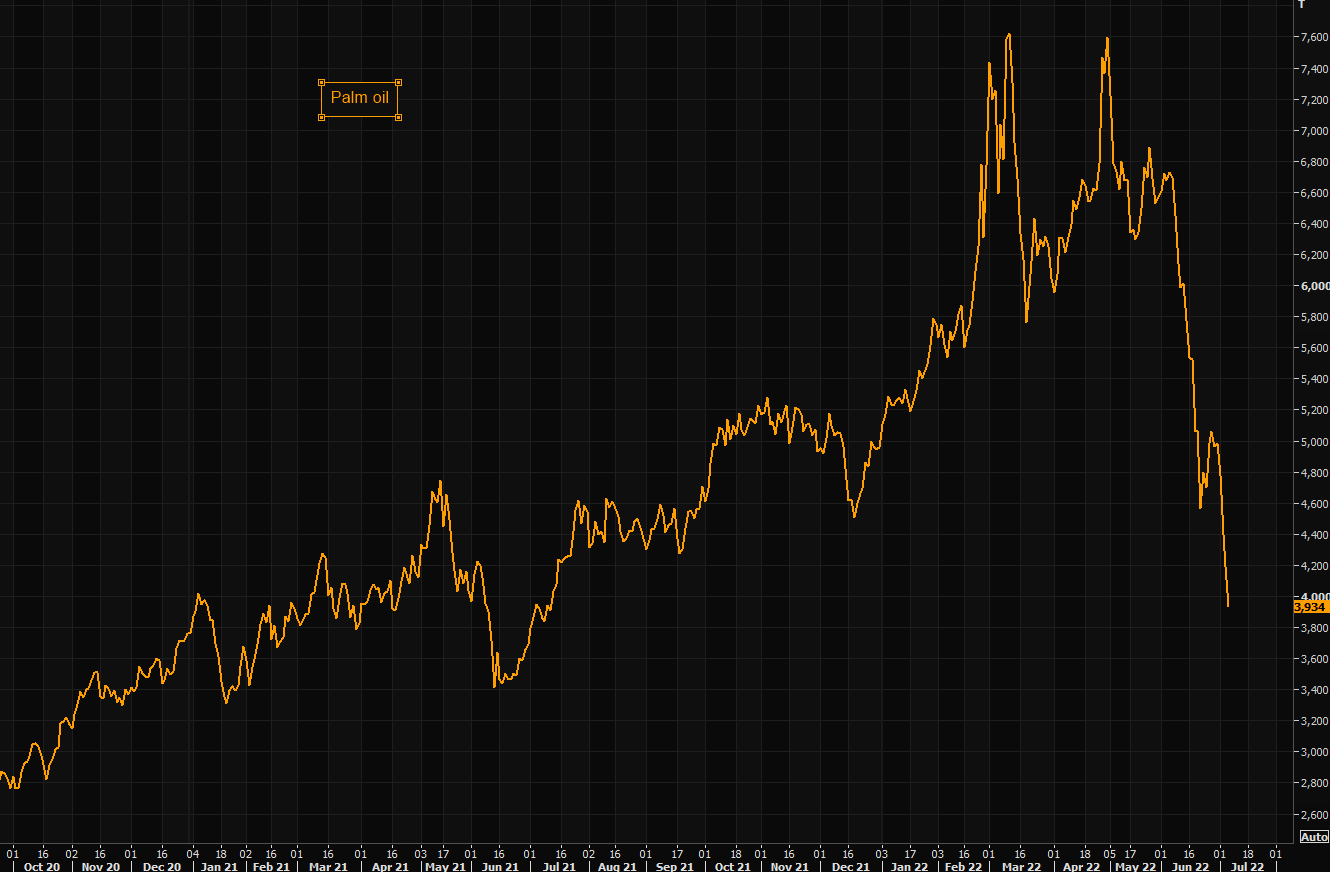 Refinitiv
China and metals
Note the almost perfect moves between BCOMIN (metals sub index) and the Yuan (inverted). Yes, the Yuan matters…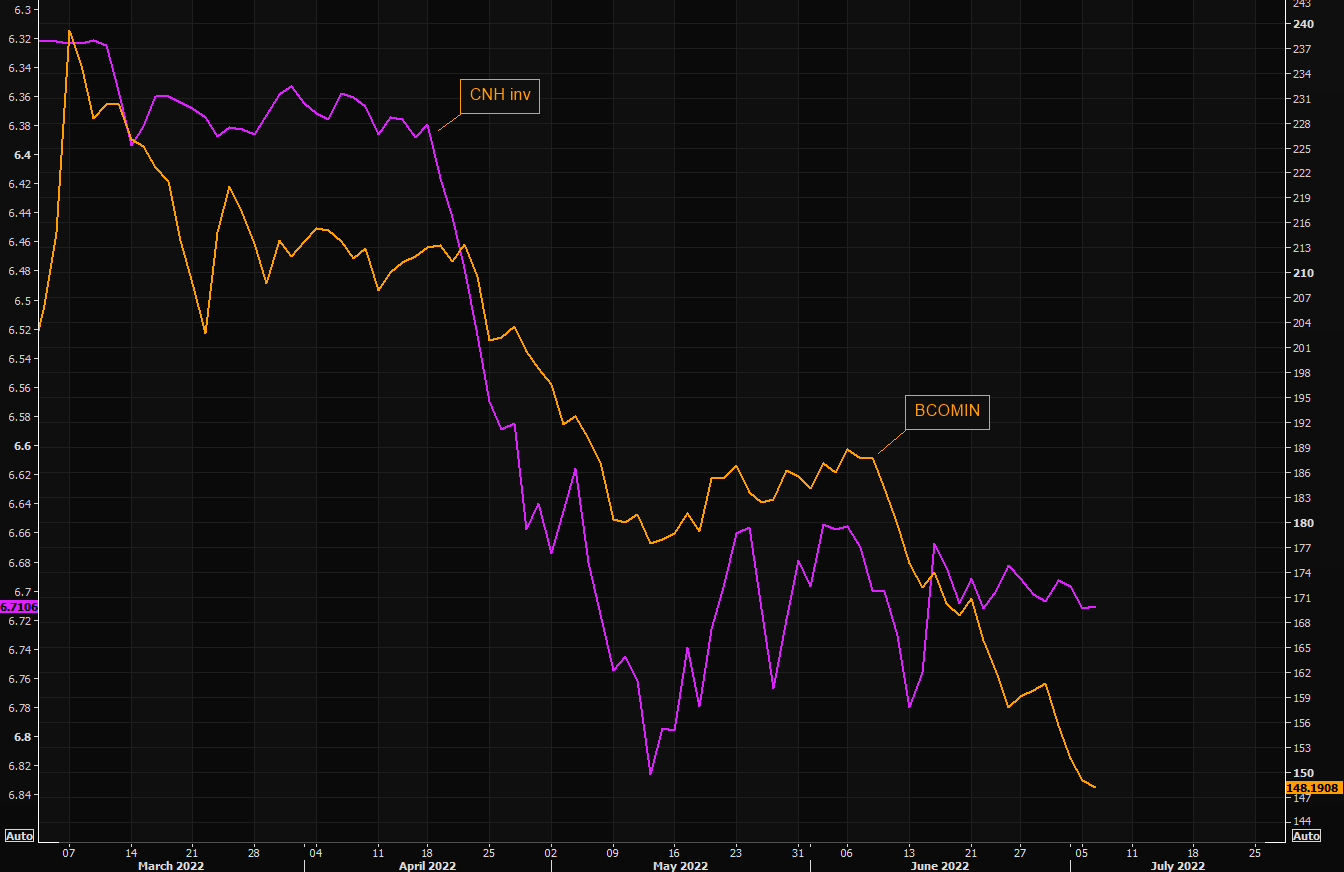 Refinitiv
How bad is 2.25?
Well, at least much less bad than 3.1%…US 10 year break even inflation expectations have moved down to 2.25%, their lowest levels of the year, trading at levels last seen in September 2021…
Refinitiv
Weimar hyperinflation on hold
German 10y inflation expectations have "collapsed" to 2.09% due to "positive" forces of recessionary fears and structural econ weaknesses.
Bloomberg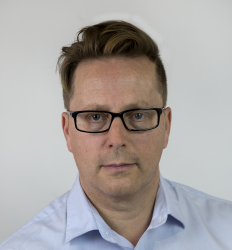 Latest posts by Houses and Holes
(see all)