Recent statements by the Reserve Bank of Australia (RBA) suggested that wage pressures were building based on spurious business liaison 'evidence'.
Business groups have also scare mongered that "unsustainable" wage claims were adding to the nation's inflationary pressures.
Yet the actual data on wages shows zero evidence of a wage-inflationary spiral, with Australia's real unit labour cost (ULC), which according to the Australian Bureau of Statistics "are an indicator of the average cost of labour per unit of output produced in the economy" and "are a measure of the costs associated with the employment of labour, adjusted for labour productivity", collapsing 6.3% below their pre-pandemic level in the March quarter of 2022:
Thus, Australia's wages have actually been disinflationary, since real wage growth has been negative while productivity has lifted.
In turn, Australia's businesses have enjoyed record profits as a share of the economy, while Australian workers' share of the national economic pie has hit historical lows:
Nor does recent survey data support the notion that Australian wage claims are about to fuel inflation.
The latest salary survey from recruitment firm Hays shows that just 37% of employers signalled that they will increase salaries by more than 3%: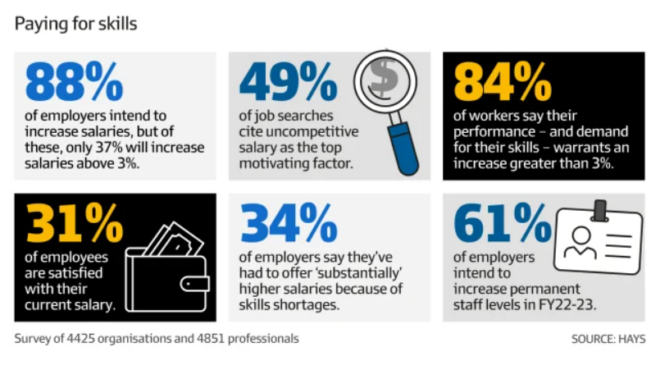 A snapshot of recently approved collective agreements also shows that few employers have agreed to pay rises of more than 3.5%:
Few major employers appear to be agreeing to pay rises of more than 3.5 per cent in collective agreements… Many new agreements approved just this month are still languishing, with increases as low as 2 per cent…

Many of these deals were voted and signed off on in the past two months, after the March quarter inflation data revealed a headline rate of 5.1 per cent.

Overall, unions are still reporting strong employer resistance to wage claims beyond 3 per cent or 3.5 per cent, despite the inflation figures…

It's going to need a much bigger shift in the industrial landscape before we start seeing anything like regular 4 per cent to 5 per cent pay rises.

As much as the RBA is concerned about the risk of entrenched inflation, there's also an entrenched mindset when it comes to employers and pay.
These surveys once again highlight the lunacy of RBA governor Phil Lowe's call last week for wage restraint, which follows years of complaining about low wage growth.
Why didn't Phil Lowe fire a warning shot at businesses for driving prices (inflation) higher, instead of attacking workers whose real wages (and share of national income) has fallen? And where was Phil Lowe's call for East Coast gas reservation and coal/gas export controls to delink Australian energy prices from the global market to bring down inflation?
Phil Lowe's wages warning was straight from the business lobby's playbook: wrongly blame Aussie workers for inflation while businesses ruthlessly gouge consumers and make obscene profits.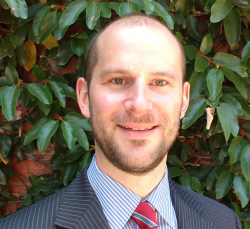 Latest posts by Unconventional Economist
(see all)