The big business shills at The AFR View have penned another spurious article calling for Australia to triple its population to 75 million people over the next 70 years:
By census night in August last year, Australia's population had swelled to 25.5 million.

That is triple the paltry 8 million people who inhabited this island-continent when The Australian Financial Review was launched 70 years ago. Tripling this again over the next 70 years would lift the nation's population to 75 million towards the end of the 21st century – not that many more than squeeze into the United Kingdom today.

Achieving that would require political leadership. Australia is still a sparsely populated frontier economy that should naturally draw people in to develop and build a still wide open continent…

After riding on the sheep's back, Australia has grown prosperous exporting minerals to fuel the industrial revolutions of Japan, South Korea, Taiwan and China…

Australia's strategic goal as a high-income middle power is to maintain a rules-based free and open Indo-Pacific in partnership with like-minded allies, such as through the Quad grouping with India, Japan and the US. The weight of population numbers, and the commensurately bigger economy, would help to give Australia's diplomacy greater heft…

This should also be recognised as a competitive advantage that Australia should use as a magnet to attract as many migrants as possible to these shores amid the global war for talent.

It's common for politicians including Prime Minister Anthony Albanese – with his Italian surname – to celebrate Australia's multiculturalism. But it's rare for our leaders to speak as glowingly about the immigration that makes multiculturalism possible, let alone about the British and Enlightenment roots of Australia's success as a migrant-attracting nation.

All these things should now be brought together in a coherent population policy with the explicit goal of attracting more migrants to a bigger nation that will gain the size needed to secure the Australian project.
The AFR's claim that "Australia has grown prosperous exporting minerals to fuel the industrial revolutions of Japan, South Korea, Taiwan and China" is an argument against running a strong immigration program.
Most of Australia's export income is earned in regional Western Australia and Queensland, whereas the overwhelming majority of Australia's immigration has landed in the capital cities (especially Sydney and Melbourne).
This immigration, in turn, has driven huge trade deficits in the migrant epicentres of New South Wales and Victoria: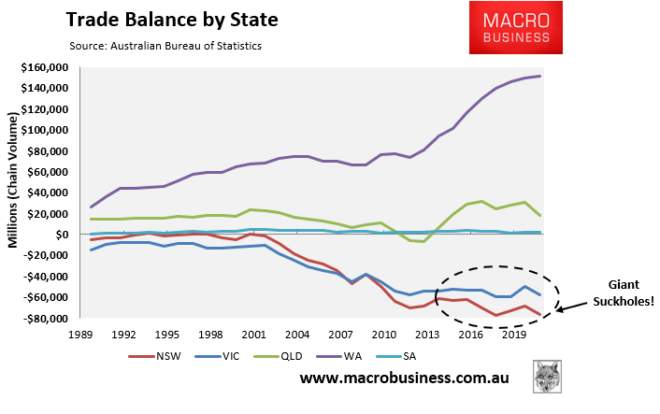 Anybody with a shred of common sense would recognise that sharing Australia's fixed mineral endowment (and commodity exports) among tens-of-millions more people will necessarily dilute per capita incomes and living standards (other things equal). It is basic maths.
Does The AFR believe that residents of Brunei, a rich oil-exporting economy, would be wealthier if its population was 1.5 million instead of 500,000 people? The same principle applies to Australia.
The mass immigration program ran in the 15 years pre-COVID also suppressed Australia's productivity growth, mainly by diverting resources (eg, capital and labour) from the tradable to non-tradable sectors.
Australia has held the pillow over its globally exposed manufacturing and replaced its employment with careers in a never ending housing construction sector that never provides enough homes for Australian housing to become cheaper for Australians.
Tradable goods and services are those that can be sold at locations other than at the place of production (i.e. can be exported overseas). Non-tradable products are those than can only be sold at the place of production (eg, coffees, personal training and haircuts). Tradable firms are typically more productive than other businesses because they benefit from economies of scale and must be competitive against firms both nationally and internationally.
Thus, the diversion of resources resulting from mass immigration encourages growth in low productivity 'people-servicing' industries, alongside diverting the nation's productive effort into houses and infrastructure.
Australia's economic performance over the pre-pandemic years are consistent with this argument given the fall in both productivity and non-mining business investment as the Australian economy because increasingly concentrated on 'people servicing'.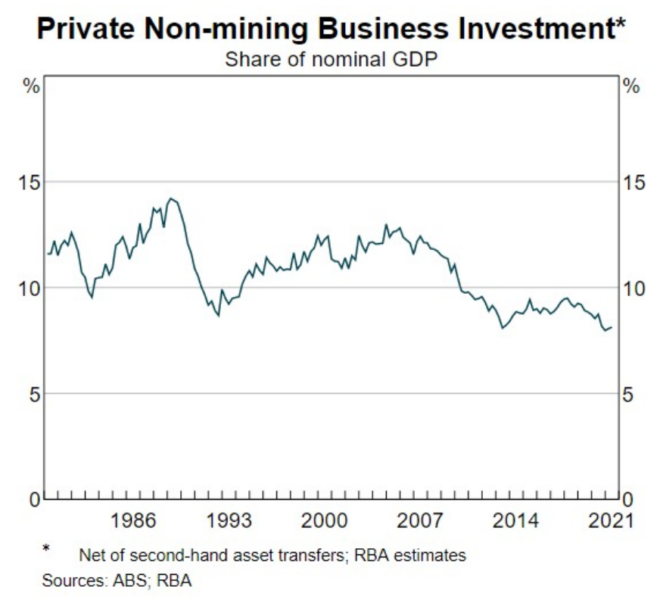 The world has 7.6 billion people. We don't need to import them to sell to them.
Tripling Australia's population to 75 million would also be an unmitigated disaster for the natural environment and would obliterate Australia's emissions reductions targets.
Australians also overwhelmingly oppose a return to pre-COVID levels of immigration. They recognise that the mass immigration program of 2005 to 2020 was managed appallingly and crush loaded everything in sight, resulting in widespread infrastructure bottlenecks across Australia's major cities and reduced liveability.
Sadly, the shills at The AFR shamelessly represent vested interests in the property/business lobby rather than the interests of the Australian people. That's why they should be ignored by all and sundry.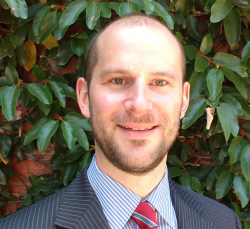 Latest posts by Unconventional Economist
(see all)