Late last year, the The Australian Population Research Institute (TAPRI) released detailed polling showing that only 19% of respondents supported pre-COVID levels of immigration, with 70% wanting lower levels of immigration (of which 48% want significantly lower or zero immigration):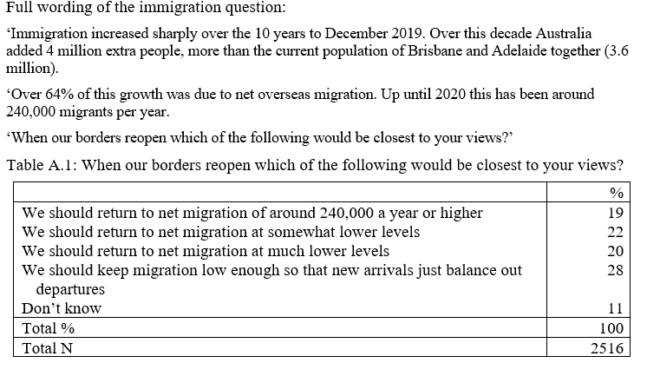 The overwhelming majority (69%) of Australians also do not believe that Australia needs more people:

Then in November, Fairfax published polling showing that 58% of voters support lower levels of immigration than existed pre-pandemic, with only 7% wanting higher immigration: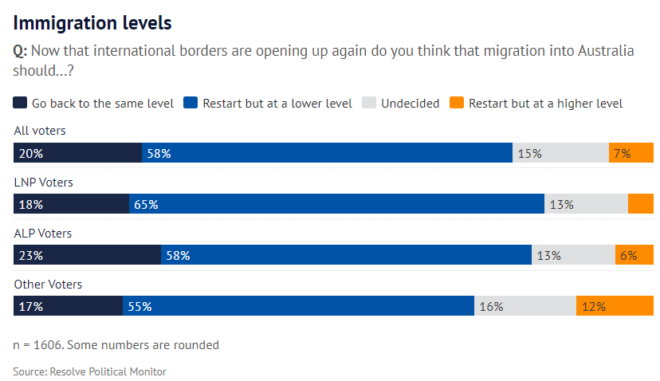 Today, Fairfax has published more polling showing that even more Aussies (65%) want immigration to be restarted at a lower level than existed pre-pandemic and only 22% want the same or higher:
Asked about Australia's official intake of 160,000 permanent migrants each year before the pandemic, only 16 per cent of voters wanted to restart the migration program at this level and only 6 per cent wanted to restart at a higher level.

The strongest support, with 65 per cent in favour, was for restarting the migration program at a lower level, with 14 per cent undecided.

The question was: "Permanent migration into Australia sat at around 160,000 people a year before COVID but fell to negligible levels in the last two years. There has been some debate about whether this is a good or bad thing as it can have consequences for the economy, families, skills, diversity and infrastructure." It then asked whether migration should go back to the same level as before, restart at a lower level or restart at a higher level.

The findings show the support for migration has slipped since November, when 20 per cent wanted the intake at the same level, 58 per cent wanted to restart at a lower level, and 7 per cent wanted to restart at a higher level.
Sadly, voters' wishes are being ignored entirely by our political leaders.
The Morrison Government has already stated that it is aiming to import at least 200,000 migrant workers into Australia by July:
"We are working on a figure of 200,000, it may well be more than that but we will be actively looking to bring as many people into Australia as soon as we possibly can" – Karen Andrews, 22 November 2021.
This decision effectively brings forward the Intergenerational Report's projection of 235,000 annual net overseas migrants from 2025-26 onwards: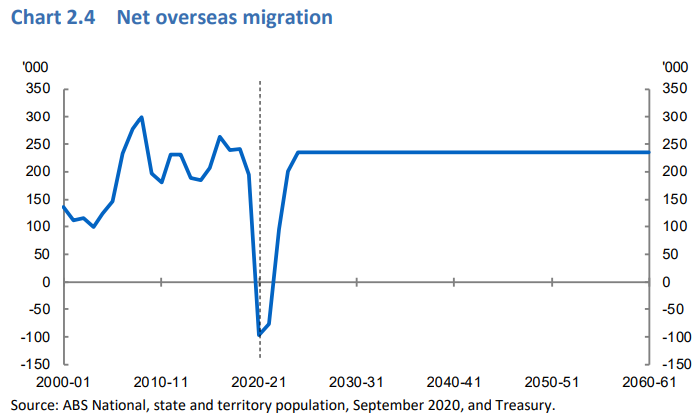 Sadly, in the unrepresentative democracy of Australia, our politicians and media bend the knee to vested interests in the property, business and edu-migration lobbies rather than representing the wishes of the Australian people.
And with it, Australia's politicians will lock in another decade of anaemic wage growth, worsening housing affordability, and declining living standards.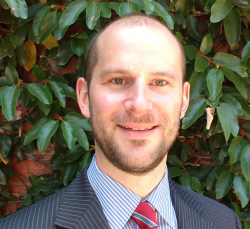 Latest posts by Unconventional Economist
(see all)