Over recent months we witnessed the Coalition and Labor launch a raft of new "housing affordability" policies – from home loan guarantees to shared equity schemes – aimed at driving more first-time buyers into the housing market and propping up housing values.
Yesterday, a desperate Scott Morrison announced that if re-elected, the Coalition would allow first home buyers to withdraw $50,000 from their superannuation accounts to use for a housing deposit:
The great Australian dream of home ownership will be unlocked sooner for thousands of first home buyers who will now be able to harness their superannuation to get into the property market.

Under the Super Home Buyer Scheme, first home buyers will be able to invest up to 40 per cent of their superannuation, up to a maximum of $50,000 to help with the purchase of their first home…

"Our Plan for the future is focused on supporting more Australians to realise their dream of home ownership," the Prime Minister said.

"Super should be harnessed to support the aspiration of many thousands of families who want to buy a home…

"The Liberal and National Government are fundamentally committed to helping more Australians achieve their dream of home ownership," [Housing] Minister Sukkar said.
As expected, the Housing Industry Association (HIA) applauded the policy:
"The Liberal Party's announcement today that if re-elected they will allow Australians to access up to $50,000 from their superannuation to fund a deposit to help them buy their first home is a welcome one, and an initiative that HIA has championed," said HIA Managing Director, Graham Wolfe.

"Access to finance for a deposit is the biggest obstacle for Australians trying to buy their first home, especially those paying rent while saving for their deposit.

"This scheme builds on the many positive home ownership schemes now in place to support first home buyers achieve their aspiration to own a home".
But Chris Joye tweeted that the policy would be highly inflationary to house prices: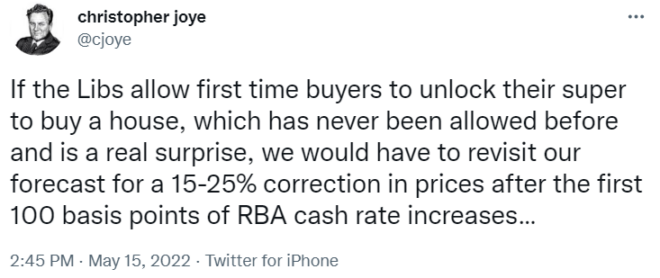 Joye's view is supported by last year's modelling from the Labor-aligned McKell Institute, which estimated that allowing first home buyers buyers to access $60,000 from their superannuation savings to buy a home would "place significant inflationary pressure on house prices in Australia's major cities", as shown below, and would "lead to increased household indebtedness":

Previous Coalition MPs have also junked the policy. For example, former Finance Minister Mathias Cormann said the following in 2014:
"Increasing the amount of money going into real estate by facilitating access to super savings pre-retirement will not improve housing affordability. It would increase demand for housing and … would actually drive up house prices by more."
Former Prime Minister Malcolm Turnbull also labelled access to super for housing a "thoroughly bad" in 2016.
I am an open critic of Australia's compulsory super system and believe it needs fundamental reform.
However, allowing households to tap their super savings to buy a home would be a self-defeating policy. Like all demand-side measures, the extra purchasing power would quickly be capitalised into higher house prices, resulting in no 'affordability' gain and the downside of having less funds available in retirement.
The fact that home ownership rates have plummeted over the decades despite a conga-line of demand-side subsidies from governments proves that these policies are counter-productive.
Australians are already highly indebted and house prices have inflated to absurd levels. Do we really want to make the situation worse by pouring superannuation fuel on the bonfire?
The Coalition's latest demand-side gimmick might play well with the electorate and property lobby, but it would make housing affordability and retirement outcomes even worse.
Fortunately, Labor does not support this policy, which means it is unlikely to see the light of day. Be grateful for small mercies.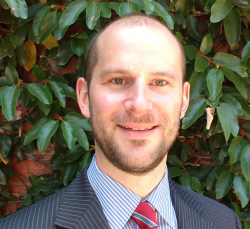 Latest posts by Unconventional Economist
(see all)