In 2019, the Shorten Labor Opposition launched one of the worst policies in Australia's history, announcing an uncapped plan to allow migrants to bring two elderly parents into Australia for a continuous period of up to ten years.
Tellingly, this announcement was greeted with fierce condemnation from two demographers typically at opposing ends of the immigration debate – the Australian Population Research Institute's Bob Birrell and Melbourne University's Professor Peter McDonald – who estimated that up to 1.5 million to 2 million elderly migrants could come to Australia under Labor's policy, and that they would effectively become permanent residents:
McDonald said there might be 1.5 million to two million offshore parents eligible to come…

McDonald agree Labor's temporary visa could lead to a de facto permanent intake, with ministers facing heart-rending pleas not to send back aged parents after a 10-year stay, especially if their health has deteriorated.
Suffice to say, having potentially millions of elderly migrants inundate Australia, with most settling in Sydney and Melbourne, was a disaster in the making. Thankfully, the policy seemed to die with the failed Shorten bid for government.
With this background in mind, the Indian community continues to lobby hard for elderly parental visas:
Many in the Indian Australian community tell SBS Punjabi their vote hinges on 'more affordable' permanent parent visa options…

"My vote is for the party that will provide affordable permanent parent visa options," [Melbourne-based Navdeep Singh said]…

Navdeep's family is currently in Australia on a tourist visa, and he said a permanent 'fairer visa' for his parents is his core demand for the 2022 election…

When it comes to the existing parent visa options, migrant Australian families say high fees, long waits, capped places and complex tests make the process difficult…

Melbourne-based migration agent Navjot Singh Kailey has campaigned on parent visa issues for over a decade…

"Politicians often ignore migrant issues, and neither of the major political parties has given a single word about parent migration in their campaigns for the upcoming election…

Navjot explained that parents of migrants add up significantly to Australia's population over time.

"With the temporary sponsored visa, they can live here temporarily but without any rights. They would always remain outside of social support and political participation, while being totally dependent on family for care and assistance," he said.
These families are economic migrants. They chose to migrate to Australia, and be separated from their parents, under their own free will. There should never have been an expectation that they could bring their elderly parents along for the ride at taxpayers' expense.
In its 2016 Migrant Intake into Australia report, the Productivity Commission (PC) estimated that the cost of the 7,000 to 9,000 parental visas issued each year are between $335 000 and $410 000 per adult in net present value terms, and warned of these visas divert scarce taxpayer funding from other government programs. It also called for their abolition:
Overall, the cumulated lifetime fiscal costs (in net present value terms) of a parent visa holder in 2015-16 is estimated to be between $335 000 and $410 000 per adult, which ultimately must be met by the Australian community…

Ultimately, every dollar spent on one social program must require either additional taxes or forgone government expenditure in other areas. It seems unlikely that parent visas meet the usual standards of proven need, in contrast to areas such as mental health, homelessness or, in the context of immigration, the support of immigrants through the humanitarian stream, and foreign aid.
The PC presented the below chart showing that the estimated lifetime fiscal cost of migrants grows rapidly with age: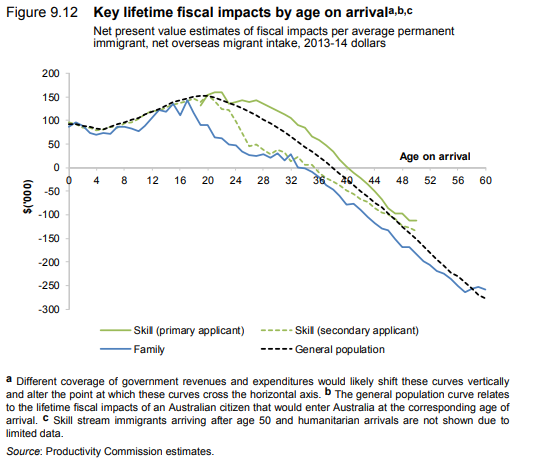 While the above chart cuts off at 60, given the steepness of the curve, it is fair to draw the conclusion that each elderly arrival under Labor's 2019 policy would have had a negative fiscal impact of at least $300,000 if they stayed permanently.
The PC also noted that these costs are likely to be underestimated, since "immigrants can also affect government budgets in ways that are more difficult to directly attribute. For instance, immigration can affect congestible public infrastructure which requires further government spending".
For these reasons, the PC's Shifting the Dial: 5 year productivity review doubled-down against parental visas, claiming that their long-term costs to the Budget are immense:
… parent visas, which provide a short-term benefit to the budget via visa charge income, but impose very large costs in the longer term through their impacts on expenditure on health and aged care, and social transfers. In previous work, the Commission estimated the budgetary costs associated with the 2015-16 parent visa intake alone to be $2.88 billion in present value terms over the lifetimes of the visa holders. By comparison, the revenue collected from these visa holders was only $345 million. Ten year estimates of the fiscal effects of the current parent visas would show a similarly stark disjuncture between revenue and costs, and would therefore provide the insights for a more informed policy decision on the pricing or desirability of these visa types than the current decision-making framework.
There is no magic pudding with public finance. The gigantic fiscal cost of parental visas diverts funding away from other worthy social programs, including:
funding for schools and hospitals;
funding for the Aged Pension and JobSeeker;
funding for the NDIS; and
funding for infrastructure.
The fiscal cost of parental visas is already gigantic and growing, and threatens Australia's welfare state as we know it.
These visas also obliterate the spurious argument that a strong immigration program is required to mitigate an ageing population. Instead, they add to the ageing problem.
To put it bluntly, Labor better not reincarnate its 2019 policy on parental visas. It should follow the PC's advice instead and abolish these visas altogether.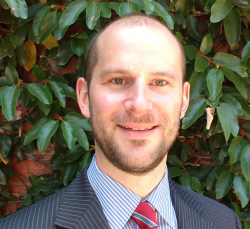 Latest posts by Unconventional Economist
(see all)