In the first half of the pandemic, first home buyer demand boomed following the cratering of mortgage rates to record lows.
At the beginning of 2021, first home buyer mortgages surged to a record high in dollar terms, with their share of mortgage commitments also hitting a 12-year high of 25%: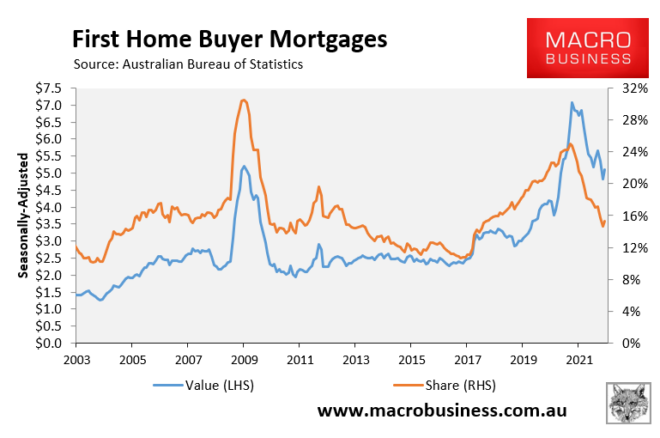 Since then, first home buyer demand has shrunk, crowded-out by record high investor mortgages: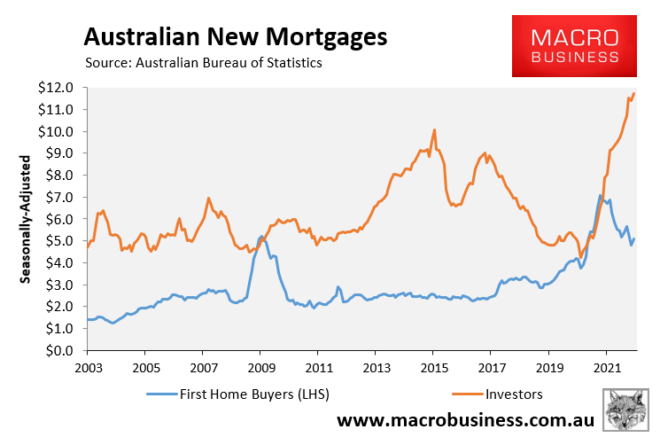 First home buyer's mortgage share has plunged to around 15% whereas investor's mortgage share has soared to 35%: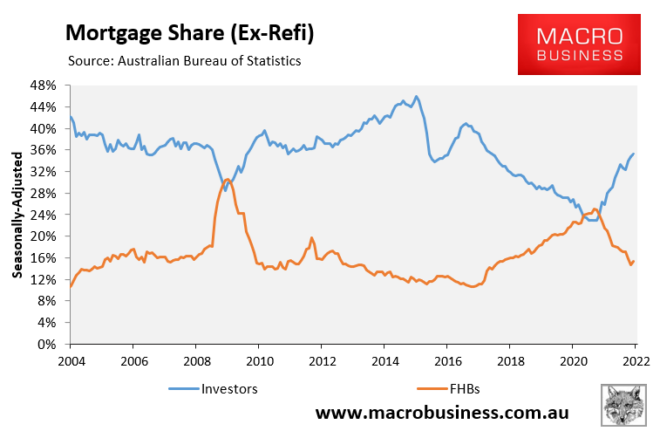 There are good reasons to believe that first home buyer's mortgage share will collapse further.
First, as interest rates rise, the amount of money that first home buyers can borrow will be severely hampered. According to RateCity, a single person earning $100,000 before tax with no dependents and no debts would see the maximum amount they can borrow fall by around $20,000 on the back of last week's 0.25% cash rate hike. And if the cash rate rises to 2.25%, this would lower their borrowing capacity by $123,400.
By contrast, investors and upgraders will be less impacted, since they generally have significant home equity to tap into.
Second, rents across Australia are soaring, rising 9.0% nationally in the year to April. These surging rents are especially detrimental to would-be first home buyers, since they impede their ability to save up a deposit. By contrast, rising rents are beneficial to investors and should help bolster demand in the face of rising mortgage rates.
Finally, rising mortgage rates more costly to first home buyers than investors for the simple fact that investors can offset part of the cost of rate rises from their tax via negative gearing.
The counter argument is that falling home prices should make it cheaper for first home buyers to enter the market. The federal government's first home buyer subsidies, announced in the federal budget and during the election campaign, should also support demand.
However, these positives will be dwarfed by the headwinds outlined above, which should continue to see investors steal mortgage share from first home buyers.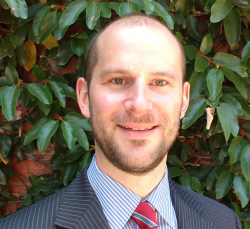 Latest posts by Unconventional Economist
(see all)