Deloitte's latest weekly economic update warns that the global economy is headed into a period of stagflation whereby inflation and interest rates are rising at the same time as growth weakens:
Many other central banks around the world have already commenced lifting their official rates to stem inflationary pressures, and they are doing so at a tricky time because expectations around economic growth are weakening.
The Russia-Ukraine war, and lockdowns in China, have significantly set back global growth. The IMF in its latest World Economic Outlook projects global growth at 3.6% in 2022 and 2023 – 0.8 and 0.2 percentage point reductions from its previous forecast update in January, which itself was a downgrade from the October 2021 forecast.
The largest GDP revisions for 2022 come through, unsurprisingly, in Russia (-11.3 points) and the European Union (-1.1 points). And while the direct effects of war and sanctions in Ukraine and Russia are sizeable already, the IMF warns that the indirect shocks to the global economy will be like "seismic waves" to global commodity markets, trade and financial markets, particularly in Europe. Supply chain disruptions have certainly been amplified, adding to inflationary pressures around the world, with surges in food and fuel prices most affecting vulnerable populations (particularly in low-income countries).
However, the war is not the only factor impacting the current global outlook. China's commitment to a zero-COVID policy has significantly slowed its economy, with implications for Asia and commodity exporters. And central banks are tightening monetary policy to combat accelerating inflation, which in itself is stifling growth prospects.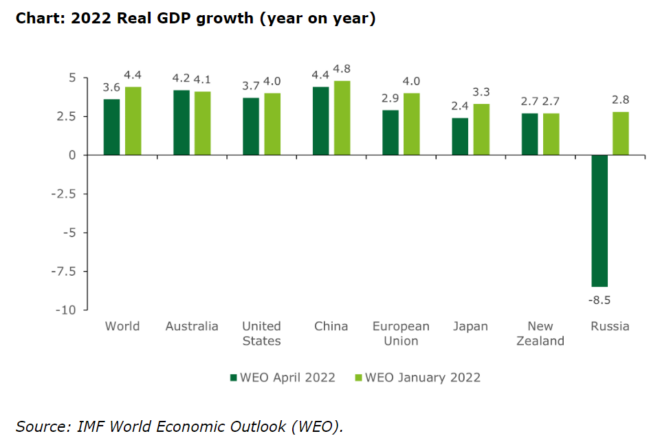 The IMF has revised down GDP forecasts for almost all countries, with key global economic updates include:
In China, the lockdown in Shanghai and beyond is bringing economic activity to a standstill. Though China reports March quarter real GDP up 4.8% from a year earlier, the damage from this COVID outbreak will not be seen until the second quarter. Meanwhile, retail sales declined significantly in March (the first decline since early 2020) and the property market continues to decline. As a result, the People's Bank of China further eased monetary policy in April – the outlier amid the global tightening of monetary policy.
The United States has performed better than most expected, particularly with ongoing labour market strength and lifting business investment. Inflation is at its highest rate since 1981 but, reassuringly, core inflation was more modest. Even so, aggressive rate hikes are still expected, which will detract from 2022 growth prospects.
Inflation in Japan is accelerating, after lagging behind other developed countries earlier in the year, and generally being in deflation for much of the past two decades. The Yen has also fallen sharply recently, reaching the lowest level against the US dollar since 2002.
Europe continues to bear the brunt of the fallout from the war as it pulls back energy imports from Russia. Producer prices in Germany were up an astounding 30.9% from a year earlier, and up 4.9% from February to March – the fastest increase since 1949 when data on producer prices was first releases. These pressures are worrying for the EU, but the European Central Bank has ruled out any interest rate rises until after it concludes its asset purchases program in June.
Here in Australia, and counter to most countries, our short-term economic growth prospects in 2022 have not been marked down, with the IMF upwardly revising expected growth by +0.1 due to commodity price rises. In lifting the official interest rate today, the Reserve Bank noted:
"The outlook for economic growth in Australia also remains positive, although there are ongoing uncertainties about the global economy arising from: the ongoing disruptions from COVID-19, especially in China; the war in Ukraine; and declining consumer purchasing power from higher inflation. The central forecast is for Australian GDP to grow by 4¼ per cent over 2022 and 2 per cent over 2023."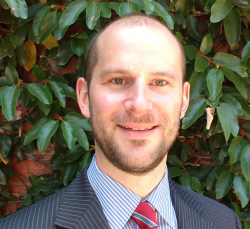 Latest posts by Unconventional Economist
(see all)