Chinese April data was out late yesterday and crashed. Pantheon:
China: Industrial production growth plummeted to -2.9% y/y in April, after growing 5.0% in March.  Consensus was 0.5%.
China: Retail sales growth extended its collapse, at -11.1% y/y in April, from -3.5% in March.  Consensus was -6.6%.
China: Fixed asset investment growth slowed to 6.8% ytd y/y, from 9.3% in March.  Consensus was 7.0%.

The workshop of the world closed down in April

The tightening of zero-Covid measures from mid-March has absolutely crushed Chinese activity, with workplace closures a key ingredient in explaining the weakness of industrial production.  The y/y drop of 2.9% implies a monthly drop of 9.0%, though this moderates – slightly – to a fall of 7.1% m/m, seasonally adjusted. Unsurprisingly, this is the worst performance for industrial production since the start of the pandemic.

Leading the collapse was manufacturing, which fell 4.6% y/y, from 4.4% in March, within which, the largest drops were in machinery and autos, with the latter shrinking 31.8% y/y in April, after a drop of 1.0% in March.  The only sector to report an acceleration was oil and gas extraction, supported by high global energy prices, and less impacted by restrictions on mobility or workplace closures, thanks to its status as an essential industry.  Beyond this, only a handful of subsectors even managed to eke out positive growth.  The world's workshop essentially closed down in April, which must have consequences for global supply chains before too long.  Volumes data, meanwhile, showed that the output of key ingredients in construction – cement, iron, steel – fell further in April, indicating that the property sector continues to struggle, and that infrastructure spending is so far inadequate as a countermeasure.

A bloodbath for retail sales

The monthly drop in retail sales was 13.9%, even worse than the 8.0% drop in March.  Partly this was seasonal effects, but even seasonally adjusted, we estimate retail sales fell 5.9% m/m in April, from a 2.7% decline previously.  Retail had already been hit in March by the tightening of restrictions, with the sector always first in line for workplace closures, and hit by the restrictions on social gatherings that tend to precede full-blown lockdowns.  Still, there was worse to come on this front, as the restrictions spread across China; catering services fell 22.7% y/y in April, from -16.4% y/y in March, though the pace of decline slowed; we estimate that sales by the sector fell 7.1% m/m, seasonally adjusted, after a drop of 8.5% in March.

But weakness was much broader than in March, and only two sectors posted positive growth; medicine and fuel, though both still decelerated relative to March. All retail sectors fell in m/m terms, seasonally adjusted, with the sharpest declines in autos (-20.0%, from -3.9%), communication appliances (-122.6% from -2.8%), and construction and decoration materials (-7.4% from 0.0%).

Even if restrictions ease, the retail sector will be the last to benefit.  The first measures to be relaxed will be workplace closures and some internal mobility limits, allowing factories to resume production.  It will be a long time before face to face social gatherings are permitted again, and China's consumers may be reluctant to rush back.

Zero-Covid restrictions prevented stimulus rollout

FAI data show that the state's efforts to boost growth were hindered by its efforts to contain Covid, as investment slowed across all major subcomponents, infrastructure included.  China does not report y/y data for FAI, but the implied y/y growth rate for April was just 1.8%, down from 6.6% in March.  Within this, property investment was again the key drag, falling 11.9% y/y, from -0.9% in March.  Manufacturing investment slowed significantly, to 6.4%, from 11.9% y/y.  Infrastructure investment – the state's chosen method for supporting the economy this year – slowed to 3.0% y/y in April, from 8.8% in March, despite heavy bond issuance by local governments, and exhortations by President Xi to support growth.

China's zero-Covid policies make infrastructure projects hard to carry out – workers and raw materials cannot travel to the sites, thanks either to stay-at-home orders, or restrictions on movement within and across provinces. Factory closures also hit the production of key ingredients, as we saw above.  As restrictions are eased – a process very tentatively underway at the moment – infrastructure investment should rebound, given the funds resting in local government bank accounts.  Manufacturing FAI will see less of a bounce, however, given the collapse in industrial production, which drains both the will and the means for firms to invest in new capacity.
Property is unlikely to see any bounce at all.  Sunac, the country's third largest developer, has recently defaulted on a dollar bond, speaking to the continued financing stresses in the sector.  2022 will be a year of consolidation and retrenchment for developers, rather than one of expansion.

Our charts below help illustrate just how dramatic the plunge in April was.
The weakness can obviously be explained by lockdowns. But the property crash was underway long before that so let's have a look how that is faring. Year on year construction starts were down 44%: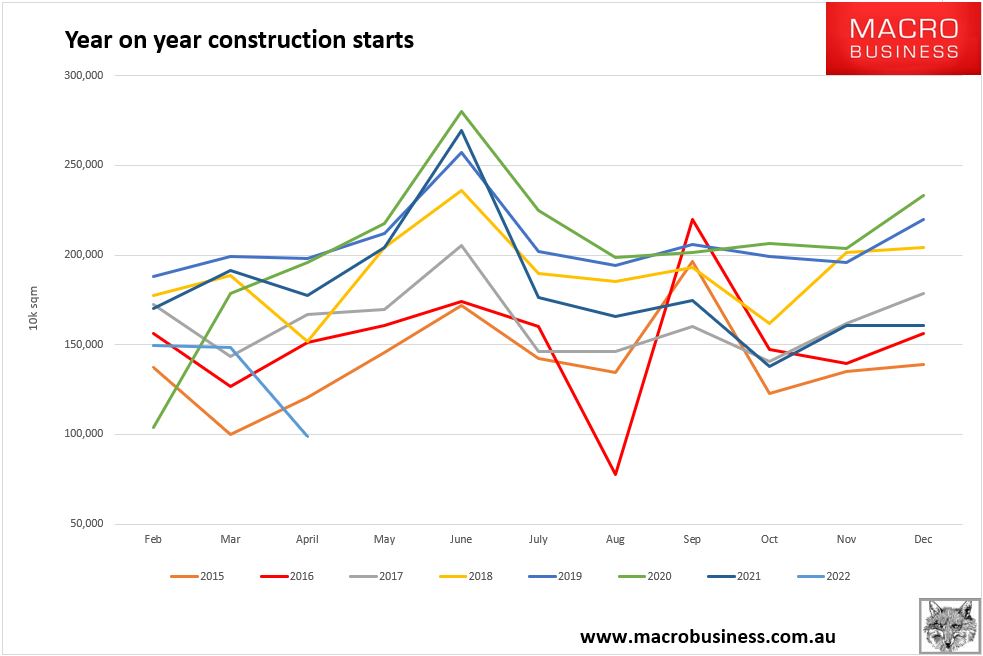 Year to date is aiming low: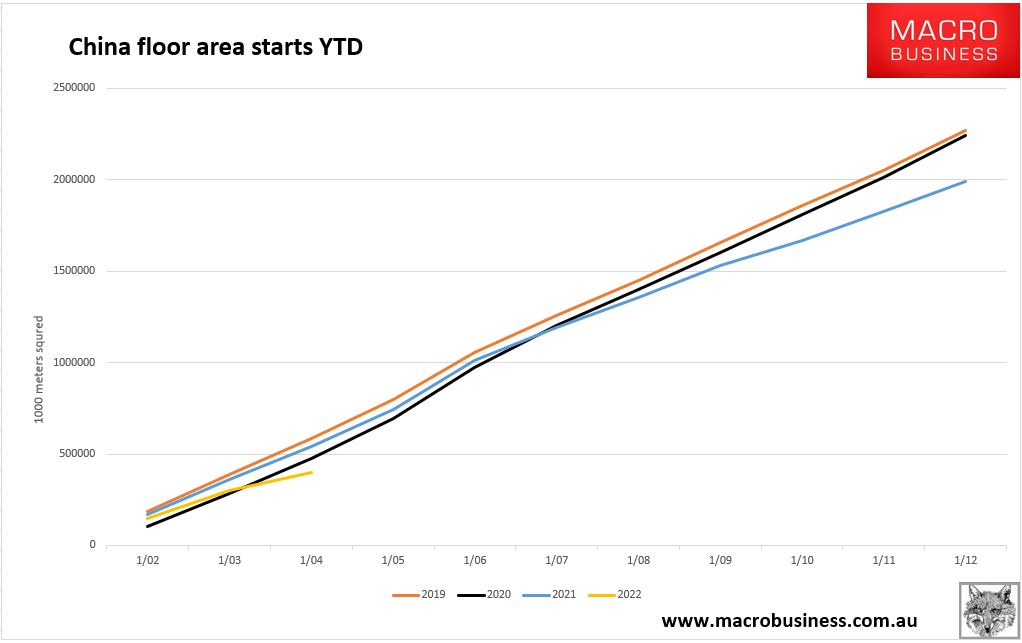 Steel output is down 5.2% year on year but it is still booming: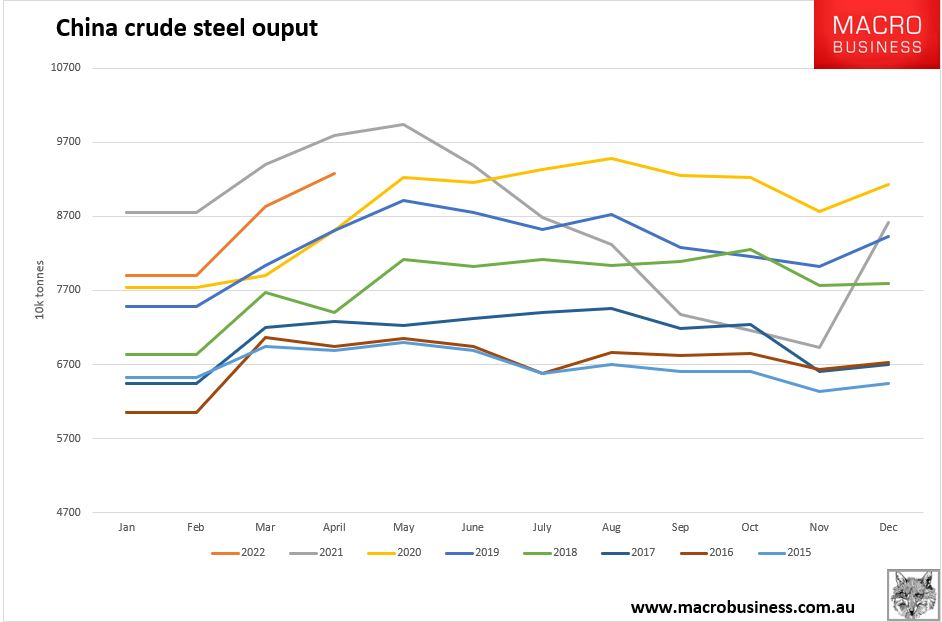 Even though other construction materials are down far more. Cement is down 19%: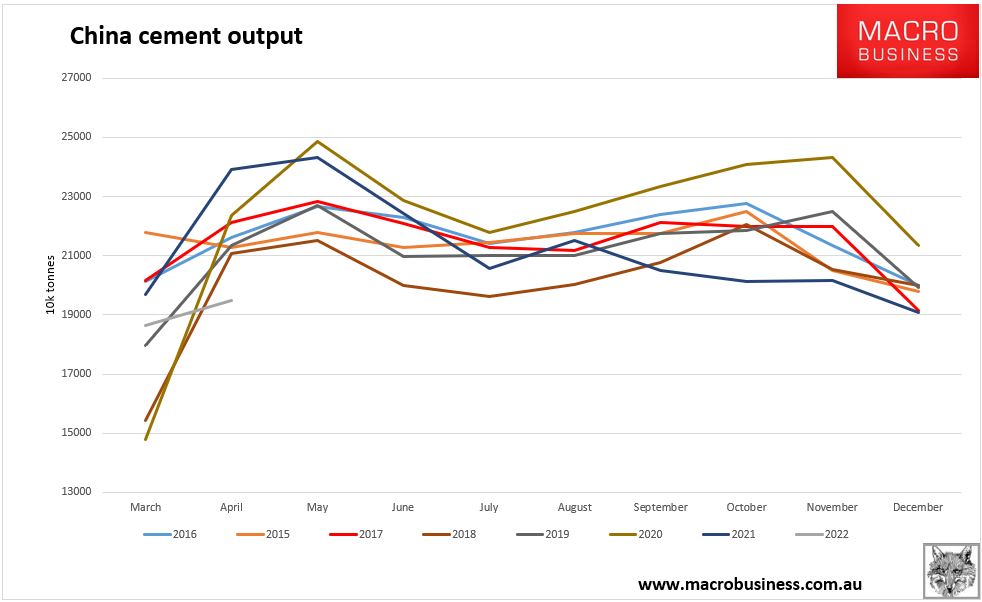 Some of this can be explained by accumulating steel inventories at mills as they keep chucking steel out because Bejing is telling them to, they hope a recovery is imminent, or it's too expensive to shutter.
I would say that some might also be explained by Ukraine disruptions and exports but there is no evidence of that in trade numbers. A little of it can be explained by the wider exports boom.
Some of it might also be explained by a rolling ann\nual chart for property starts which helps capture the time lags in construction, but that should also impact other building materials: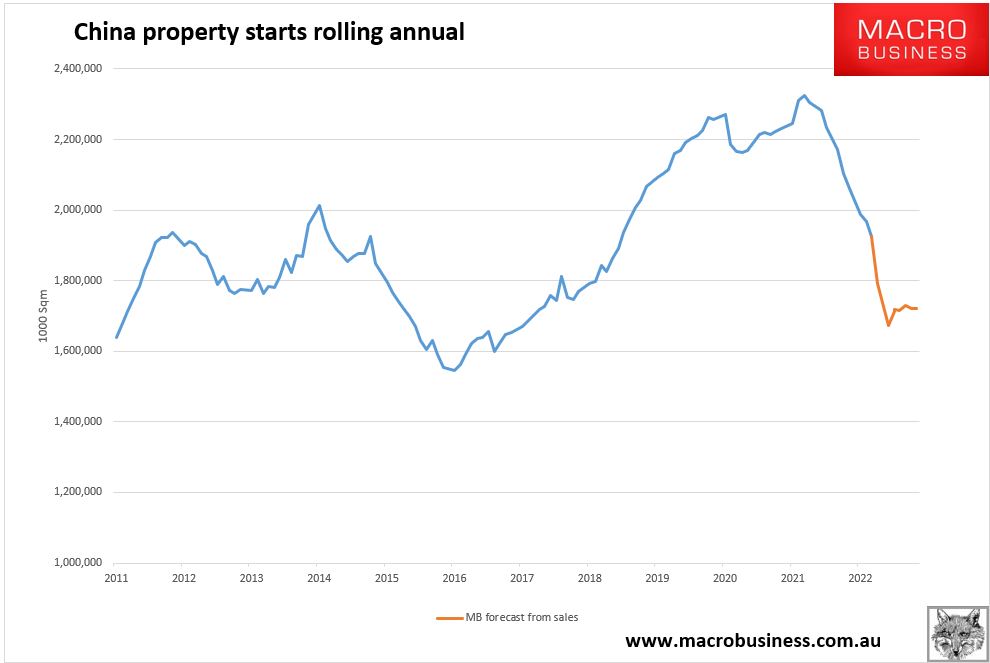 It is awfully weird to have a calamitous Chinese recession and property crash that barely puts a dent in steel output!
As for recovery prospects, we return to Pantheon:
Zero-Covid is also complicating government efforts to support the economy, in the form of infrastructure investment. Mobility restrictions and workplace closures hit the production and supply of key inputs, whether raw materials or labour. Cement, iron and steel production slowed sharply on a three- month-on-three-month annualised basis in April.

These constraints meant that infrastructure investment slowed in April, to 3.0% year-over-year, from 8.8% in March, despite continued issuance of special purpose bonds by local governments. Unlike the private sector, however, local governments should be poised to drive a rebound here, as soon as restrictions ease, with bond proceeds on hand. China's property sector is also a problem, though it has been overshadowed by the effects of zero-Covid policies. Property FAI fell 11.9% year-over-year in April, after a drop of 0.9% in March. Part of this can be ascribed to the same problems facing infrastructure, but not all. Sunac, China's third largest developer, defaulted on a dollar bond last week, in a clear sign that financing stresses remain acute.

The pressure on developer financing is clear in the data, with continued and accelerating declines in funding from pre-sales and bond and equity issuance, as shown in our chart below. Recent credit data show that lending to households continues to slow, and even fell outright in April.

Prospective buyers are thin on the ground, thanks to a deteriorating labour market, and uncertainty over the outlook for housing, creating a vicious circle which will prove hard to break.

The woes of the property sector are distinct from zero-Covid, though the blow those policies are dealing to the economy will not be helping. Growth in sales and starts is both well below the levels seen at the start of the pandemic, as shown in our chart above, and are close to Global Financial Crisis lows. This drag on GDP will persist regardless of the state of zero-Covid restrictions.

The PBoC's only response to the torrent of terrible data for April was a 20bp cut to mortgage rates, with the MLF rate left on hold on Monday. This mortgage rate cut will have a limited effect on the property market, let alone the broader economy, given that the cost of financing is at the bottom of prospective buyers' list of worries. As we have argued before, the central bank is constrained by currency weakness, and lacks the tools to address the root causes of China's slowdown.

The 5.5% GDP growth target is now firmly out of reach, but we assume that government spending will be ramped up in Q3, to deliver a healthier economy in time for the October congress, particularly with political risks building for President Xi. We expect the PBoC to be cajoled into greater easing at the same time, regardless of the consequences for the renminbi.
Yep.
A falling CNY blows up the world.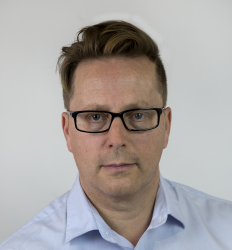 Latest posts by Houses and Holes
(see all)