Deutsche with the note. Everything about this cycle has been fantastically faster than usual so I expect a global recession to begin in H2, 2022.   
—
Not every Fed hiking cycle leads to a recession, but all hiking cycles that invert the curve have led to recessions within 1 to 3 years. The problem with the Fed hiking cycle that starts today is that there is a decent likelihood that the curve inverts relatively early on. 2s10s peaked at +157.6bps last March and traded as low as+21.9bps last week before settling at around +30bps as we go to print. Piling on, CPI is much higher today than it was in any of those instances, and indeed the second highest at the start of any post-war hiking cycle. Thus there is not only a strong risk that the curve inverts relatively early, but that the Fed will need to continue hiking anyway. Today's table shows the details of every Fed hiking cycle over the last 70 years alongside the time to recession, yield curve shape, and inflation at the first hike.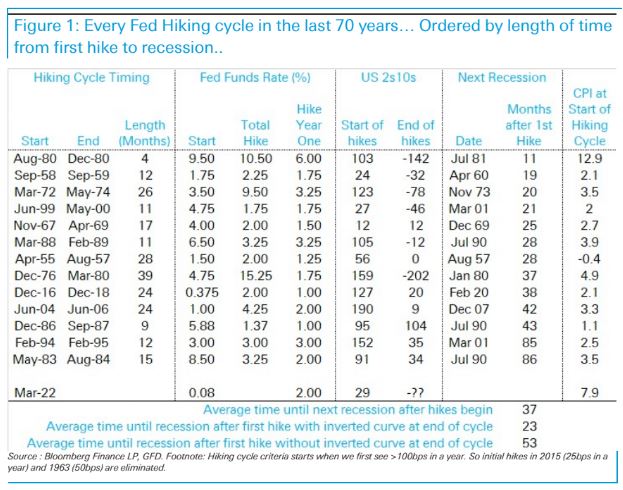 We've ordered this by length of time from first hike to recession to demonstrate that the quickest recessions following hikes were associated with an inverted curve by the time the Fed stopped hiking.
So initial hikes in 2015 (25bps in ayear) and 1963 (50bps) are eliminated. As can be seen, on average it takes around three years from the first Fed hike to recession. However all but one of the recessions inside 37 months (essentially three years) occurred when the 2s10s curve inverted before the hiking cycle ended. With all the recessions that started later than that, none of them had an inverted curve when the hiking cycle ended. In fact, hiking cycles that ended with the curve in positive territory saw the next recession hit 53 months on average after the first rate hike, whereas the next recession for hiking cycles that ended with an inverted curve started on average in 23 months, just under two years. All these cycles eventually saw an inverted curve but this happened after the Fed stopped hiking. As a reminder, none of the US recessions in the last 70 years have occurred until the2s10s has inverted. On average it takes 12-18 months from inversion to recession. This all fits in with my view in "Roadmap to the next Recession" that 2022 is unlikely to be a US recession year but that late 2023 or early 2024 are high risk.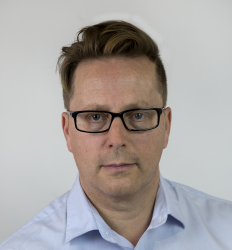 Latest posts by Houses and Holes
(see all)