Goldman Sachs with the note:
Inflation trends:
The core PCE price index rose 0.46% month-over-month in November to a new three-decade high of 4.68% year-on-year, and core CPI inflation rose to 4.96%.
Core inflation was again boosted by rapid shelter inflation—which has run at the highest level since 1990 over the last three months—and another jump in the prices of durable goods impacted by temporary shortages.
The role of outliers over the last year is illustrated by the gap between core PCE inflation at 4.68% year-on-year and our GS trimmed core PCE at just 2.58% year-on-year. However, the breadth of inflation has continued to increase and our GS trimmed core PCE has run at an annualized pace of 3.84% over the last three months (vs. 4.82% for core PCE).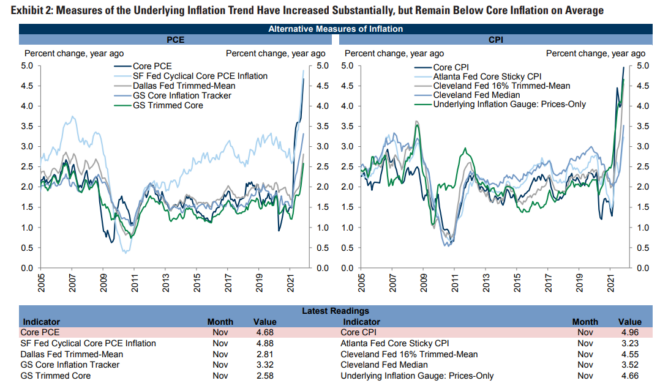 Component-level trends:
Used cars, hotels, nonprofit services, new cars, furniture, and transportation services are much stronger than usual on a year-on-year basis, boosted by supply constraints and base effects.
Used car auction prices increased 3% to 57% above the pre-pandemic level in the first half of December, which could push consumer prices — which are 56% above the pre-pandemic level — even higher.
Our GS shelter inflation tracker increased to +5.5%, pointing to a pickup in the official shelter series from its current +3.4% year-over-year rate.
Our high-frequency tracker of hotel prices and airfares has increased to 5% above the 2019 level despite increased virus spread.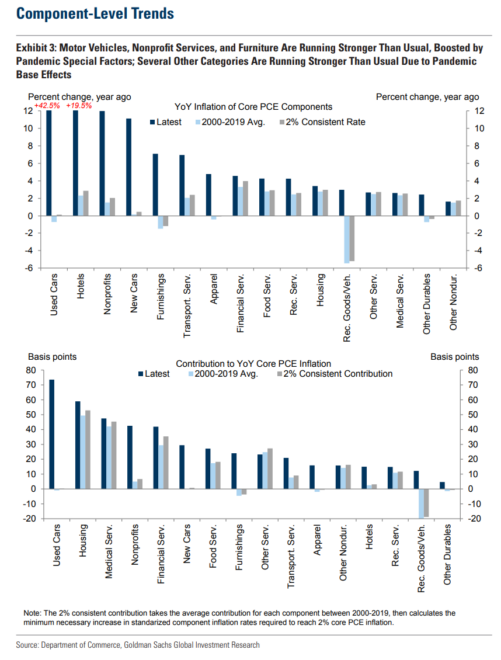 Key inflation drivers:
Our GS composition-corrected wage tracker increased to +4.0% year-on-year and our GS wage survey leading indicator stands at +3.7%—each series' highest level since 2007. Our GS low-wage wage tracker increased to +6.8% year-on-year, its highest level in at least three
decades.
Industrial metals prices ticked up to 151% of the pre-pandemic level and energy prices declined to 124% of the pre-pandemic level. We expect the boost from commodity prices to year-on-year core PCE inflation to decline from a peak of 80bp in 2021Q4 to 35bp by 2022Q4.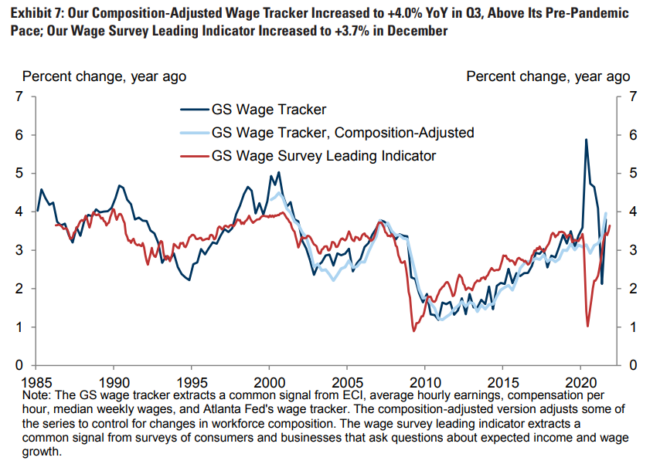 Supply chain disruptions:
Supply chain disruptions measured by supplier delivery times and indicators of port congestion remained near record-high levels in December.
Supply-constrained categories are boosting core PCE inflation by 135bp, and we expect that contribution to grow to 145bp by Jan. 2022 before shrinking to -50bp by end-2022.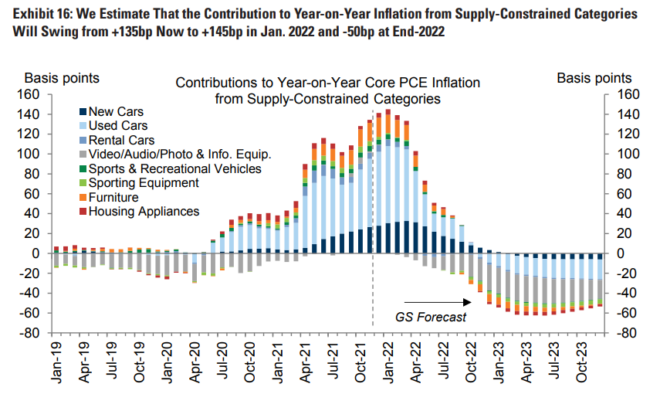 Inflation expectations:
Our monthly version of the Fed's Index of Common Inflation Expectations remained unchanged at 2.09% in December, just below the roughly 2.10% pre-2014 level.
Household inflation expectations declined but remain near multi-year highs. The University of Michigan's 5-10y measure edged down to 2.9% in December and the NY Fed's 3y measure declined to 4.0% in November. One-year expectations in both surveys remain above 4.5%.
Financial market-implied CPI inflation expectations increased by 35bp on average between 2022 and 2025.
Our composite of seven business inflation expectations series remained near the highest level in its two-decade history.
Our index of company price announcements is at the highest level since our series began in 2010, and mentions of the word "inflation" in last quarter's Russell 3000 earnings calls were the most frequent since at least 2010.

GS inflation forecast:
We expect that ongoing supply chain disruptions will raise the prices of some goods further above the pre-pandemic trend and boost core inflation through early 2022. However, declines in durable goods prices are likely to drive inflation lower by end-2022, more than offsetting a sharp acceleration in shelter inflation.
We forecast core PCE inflation of 2.50% at end-2022, 2.15% at end-2023, and 2.25% at end-2024 based on our bottom-up inflation model.
A top-down model projects that inflation will rise modestly above 2% in 2023-2024.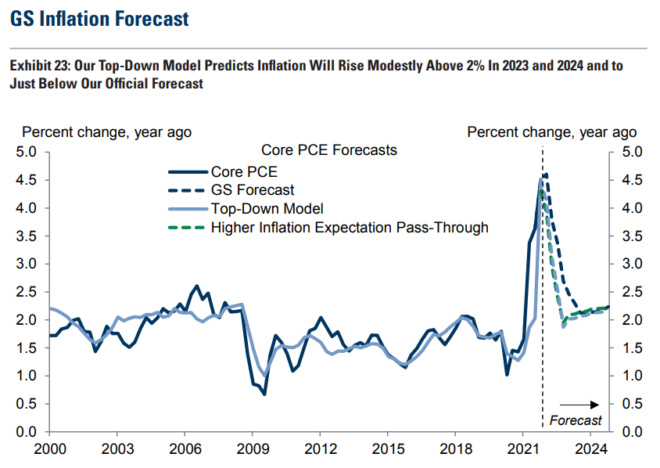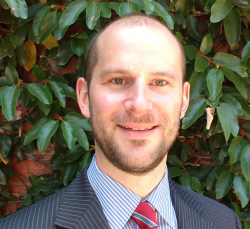 Latest posts by Unconventional Economist
(see all)