In October, New Zealand Prime Minister officially abandoned the country's COVID elimination strategy, claiming the Delta variant was "a tentacle that has been incredibly hard to shake".
Yet despite New Zealand's high vaccination rate, whereby 76% of the total population is at least double vaccinated, the isolation period for positive cases has been extended to 14 days, with household contacts now required to isolate for up to 24 days:
The Ministry of Health on Friday announced it would extend the isolation period for people with Covid-19 and their household contacts, increasing it to at least 14 days, including 72 hours symptom-free. The isolation period was previously 10 days.

Household members of contacts would need to remain in isolation for at least another 10 days, an increase from the previous seven-day time period.

The change was an interim measure because of the increased infectiousness of the Omicron variant, the Ministry said.
Critics warn the extreme policy is 'unworkable' and could lead to more COVID cases with greater numbers refusing to be tested in order to avoid the lengthy quarantine period:
"The effect is that if you test positive, members of your household may have to isolate for 24 days" [ACT political party leader David Seymour said]…

"People who cannot afford that will have a strong incentive not to get tested, defeating the purpose of the policy.

"If the advice is taken seriously, it will cripple the health workforce and supply chains more generally".
To be fair to New Zealand, it has largely avoided the Omicron outbreak that is ravaging the world: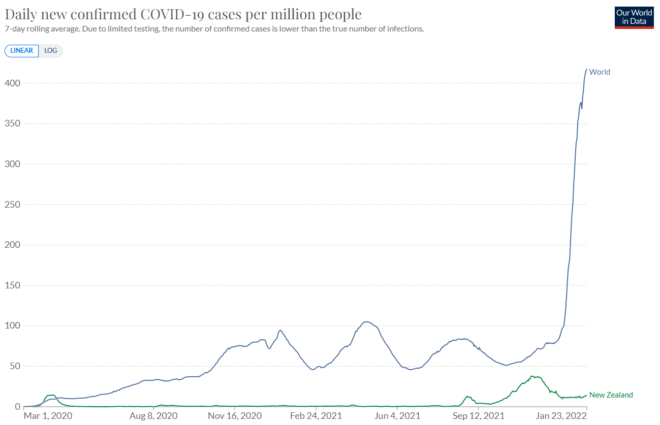 The latest polling from Roy Morgan showed that Jacinda Ardern's Labour Party lost significant support in 2021 amid strong COVID restrictions: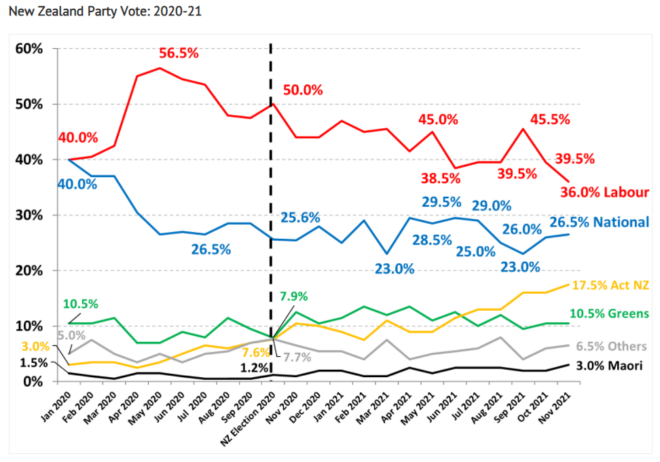 It will be interesting to observe whether Ardern's defacto COVID-zero policy will resonate with New Zealanders.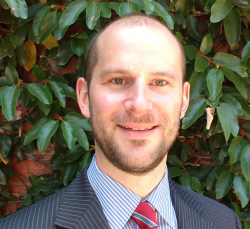 Latest posts by Unconventional Economist
(see all)