The United Kingdom today recorded its highest daily COVID case count since the beginning of the pandemic, with 78,610 cases registered – exceeding the previous peak of 68,192 recorded on 8 January.
Professor Chris Whitty, England's chief medical officer, said that people would be getting infected with the Omicron variant of COVID in "very, very, very large numbers" quite soon and that it was spreading at "an absolutely phenomenal pace":
"I'm afraid we have to be realistic that records will be broken a lot over the next few weeks as the rates continue to go up".

"What we've got is two epidemics on top of one another – an existing Delta epidemic, roughly flat, and a very rapidly growing Omicron epidemic on top of it".
At this stage, UK hospitalisations are running way below the January peak: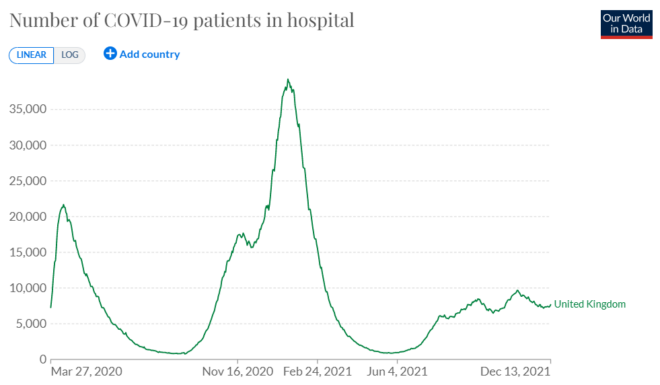 However, Professor Whitty warned this could soon change:
"I am afraid there will be an increasing number of Omicron patients going into the NHS, going into hospital, going into intensive cares, and exact ratios we don't yet know but there will be substantial numbers. That will begin to become apparent, in my view, fairly soon after Christmas".

"It'll start before then but in terms of the big numbers, I think that's a reasonably, I'm afraid, a reasonably nailed-on prospect"…

"The reality is this speed of onset is going to lead to lots of people getting ill simultaneously and we have to be realistic about that".
He also cautioned against complacency that Omicron is less deadly than Delta:
"If the rate of hospitalisation were to halve but you're doubling every two days, in two days you're back to where you were before you actually had the hospitalisation".

"If the peak of this is twice as great, then halving of the size of the hospitalisation rate, you still end up in the same place. And this peak is going very fast".
There is also a potential scenario where the Omicron strain is less deadly and spreads rapidly through the world's population, effectively vaccinating the world, delivering 'herd immunity' and ending the pandemic. That's the optimistic view and similar to what ended the Spanish Flu.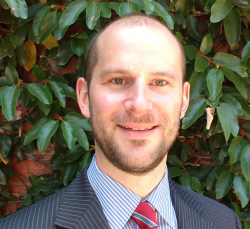 Latest posts by Unconventional Economist
(see all)