The canary in the coal mine that indicates a probable slowdown going into 2022 maybe something brewing in the staid world of shipping, with the Baltic Dry Index having a shocking week that has extended into a poor start yesterday, with nine straight losses in a row, now taking it to the April lows. Nearly classic head and shoulders bear pattern forming here on the daily chart: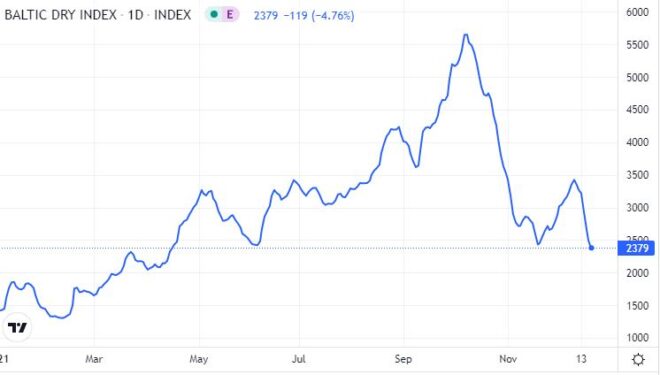 Looking at the detail within the index, which covers the three main vessels, its lower demand across the smaller vessel segment that is concerning. More here:
The panamax index which tracks cargoes of about 60,000 to 70,000 tonnes of coal and grains, fell 3.6% to its lowest in a month at 2,356; and the supramax index shed 33 points to 2,436, its lowest level in over two weeks. Conversely, the capesize index, which tracks iron ore and coal cargos of 150,000-tonnes, rose 2.9% to 2,807, snapping an eight-session losing streak

* The overall index, which factors in rates for capesize, panamax and supramax vessels, was down 119 points, or 4.8%, to its lowest level since mid-April at 2,379.

* The main index lost 27.3% this week.

* The capesize index shed 167 points, or 5.8%, to an over six-month low of 2,727. It posted a 43.5% weekly decline, its worst week since May-end 2020.

* Average daily earnings for capesizes, which transport 150,000-tonne cargoes such as iron ore and coal, decreased by $1,390 to $22,613.

* The panamax index lost 182 points, or 6.9%, to its lowest in over three weeks at 2,444. It fell 20.3% this week.

* Average daily earnings for panamaxes, which ferry 60,000-70,000 tonne coal or grain cargoes, fell $1,636 to $21,994.

* The supramax index fell 45 points, or 1.8%, to 2,469, its lowest since Dec. 6.
The supply chain sausage looks to working itself out, but at what risk to other markets as demand for oil drops precipitously in the face of lockdowns in Europe due to Omicron?
Latest posts by Chris Becker
(see all)