Soc Gen's Albert Edwards with the note:
As we end the year, markets are becoming increasingly nervous that US equities – and the US tech sector specifically – are having the rug pulled out from under them. Market internals are also giving out loud warnings. Just as in 2001, could the unravelling of the recent tech bubble trigger the Vortex of Debility that destroys all before it?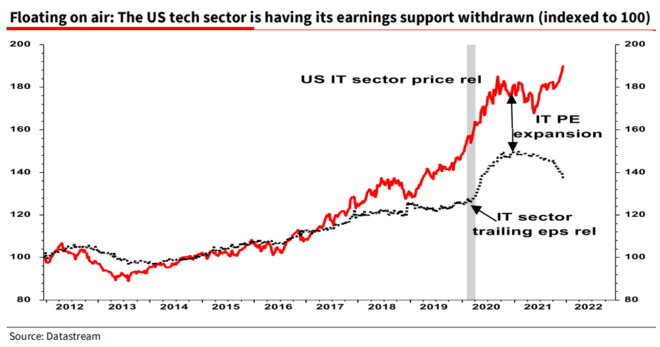 Readers know I am a sort of glass half full sort of guy. This stems from my nervousness whenever I see a glass half-full after I had one smashed in my face when I was drinking in a London pub aged a mere 15. Admittedly inviting the man who was threatening me to "go ahead and see what happens", perhaps wasn't the wisest strategy but I was young and invincible.
Talking about invincible, the US tech sector that has so dominated this bull market in one form (the IT sector) or another (the FAANGs) seems to be pretty invulnerable in the face of some of the major threats it is now facing. But we have seen a similar Vortex of Debility before, most recently just ahead of the Lehman bankruptcy and written up here by Paul Murphy at the FT.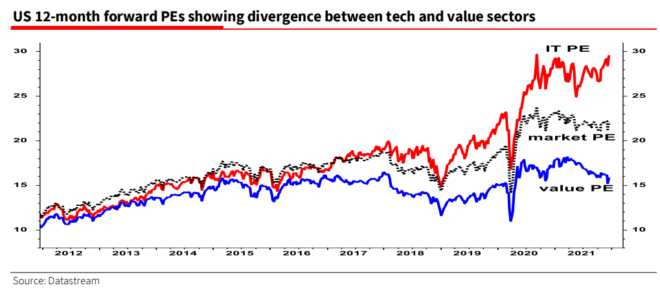 It's the time of year when strategists publish huge tomes to give their year-ahead views. You will be relieved to know that I can summarise my 2022 outlook in a few lines. My key predictions are that equity markets will surprise and fall sharply as US tech unravels in the first half. Unsupported by earnings growth and with poor market breadth, it may not be higher bond yields that burst this tech bubble.
My second surprise for next year is that if an equity bear market unfolds, investors may find that while the Powell Put still exists, the strike price may be a lot lower for equities than it was at end 2018. Policymakers globally now understand that QE creates as many problems (mainly distributional) as it solves, and that fiscal policy must do more of the stimulus work. Would the Fed really hold back if the S&P was down 30% plus? And wouldn't that be one huge surprise for investors?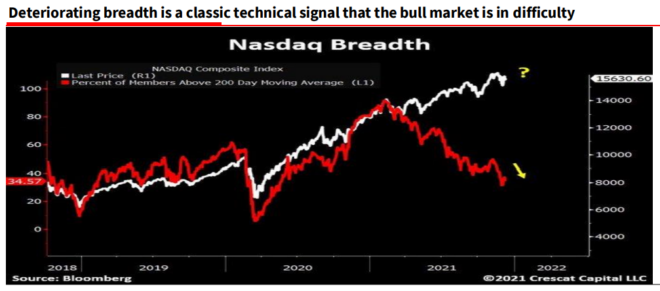 My third surprise is that easing supply bottlenecks combine with soggy commodity prices to drive US headline CPI inflation back well below 2%. Hence, I expect current inflation fears to evaporate as H1 unfolds and bond yields to decline sharply.
Fourth and finally,  continued growth disappointments in China in the face of tight money (that has helped weaken industrial commodity prices in H2 2021), force a Powell-like policy pivot and the Chinese monetary floodgates are re-opened – including a rapid renminbi devaluation.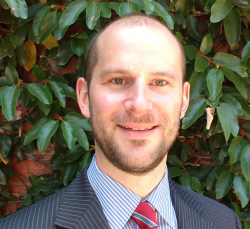 Latest posts by Unconventional Economist
(see all)