Data and studies are emerging suggesting that the omicron coronavirus strain is far less dangerous than prior strains and results in far lower levels of hospitalisation.
From The Australian:
New data from Scotland and South Africa suggest people infected with the Omicron variant of coronavirus are at markedly lower risk of hospitalization than those who contracted earlier versions of the virus…

"This is a qualified good news story," said Jim McMenamin, incident director for Covid-19 at Public Health Scotland, and one of the authors of the Scottish study, at a briefing… The University of Edinburgh study, drawing on the health records of 5.4 million people in Scotland, found the risk of hospitalization with Covid-19 was two-thirds lower with Omicron than with Delta. The new variant became dominant in Scotland last week…

A separate study published online by researchers at South Africa's National Institute for Communicable Diseases similarly found people infected with Omicron were 70% to 80% less likely to need hospital treatment than people infected with earlier variants, including Delta.

"In South Africa, this is the epidemiology. Omicron is behaving in a way that is less severe," Professor Cheryl Cohen, who heads the institute's center for respiratory diseases and meningitis, told reporters on a conference call…

The risk of severe complications in those who were admitted to hospital, such as needing oxygen or intensive care, was also reduced with Omicron compared with other variants, the researchers in South Africa said.
More from Bloomberg:
South Africans contracting Covid-19 in the current fourth wave of infections are 80% less likely to be hospitalized if they catch the omicron variant, compared with other strains, according to a study released by the National Institute for Communicable Diseases.

Once admitted to the hospital, the risk of severe disease doesn't differ from other variants, the authors led by scientists Nicole Walter and Cheryl Cohen said.

Compared to delta infections in South Africa between April and November, omicron infections are associated with a 70% lower risk of severe disease, they said. The omicron data was collected for the two months through November.
It is important to note that South Africas's COVID cases are already falling with hospitalisations well below their prior peak: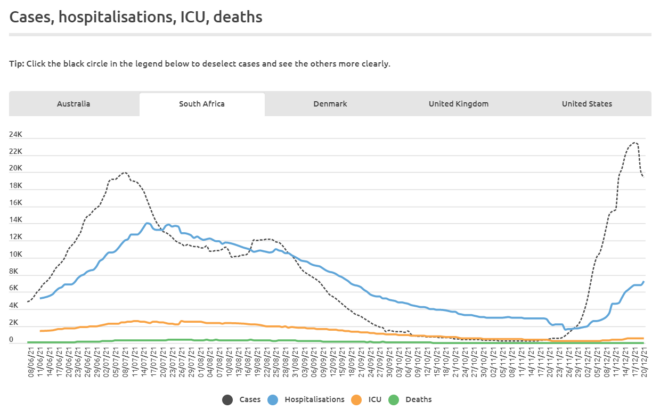 This comes despite South Africa's poor vaccination rate: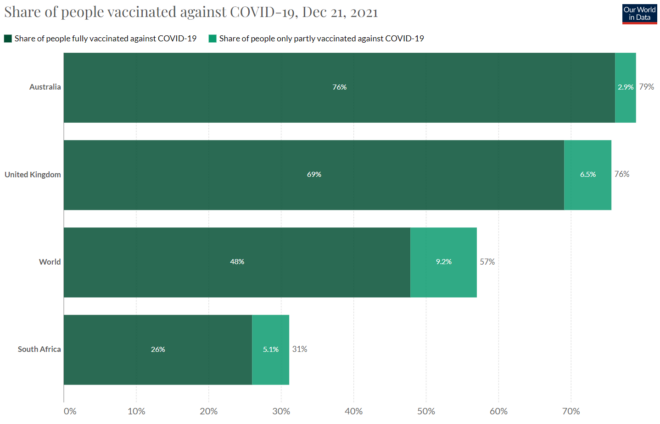 The situation in the UK is even better owing to its higher vaccination rate. Despite posting record cases, hospitalisations are running at a fraction of their former highs in the UK: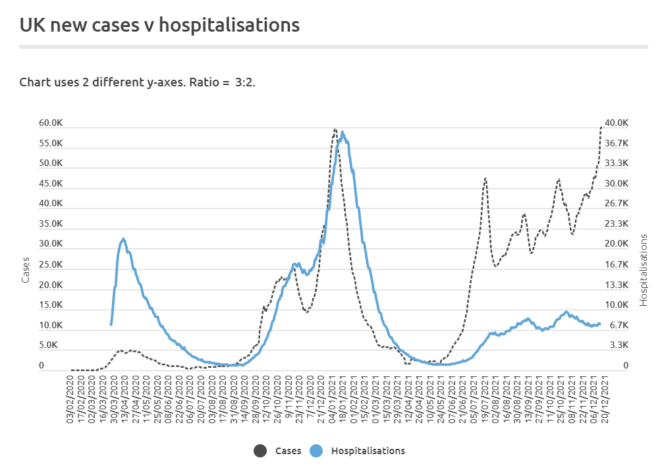 All of which plays into the theme that Omicron is more like a serious cold or flu than a lethal airborne virus for the vaccinated.
Given Australia is even more highly vaccinated (see above), why the panic?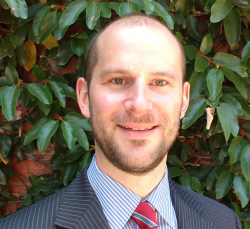 Latest posts by Unconventional Economist
(see all)