HSBC Global Research with the note:
While most of Europe is still fighting against the Delta wave…
…an even larger threat already looms at the doorstep as the Omicron variant has already started to spread…
…which increases the uncertainty around the near-term economic and policy outlook
Out of the frying pan and into the fire?
Just as it seemed that the fourth COVID-19 wave was past its peak, the arrival of the Omicron variant has changed things again. In some countries, Omicron infections are now rising very rapidly. In Norway and Denmark, it has already found its footing and in the UK Omicron detections have almost doubled every day since last week (charts 11-15). Hospitalisation numbers and the (excess)-death count have also increased somewhat (charts 1-4).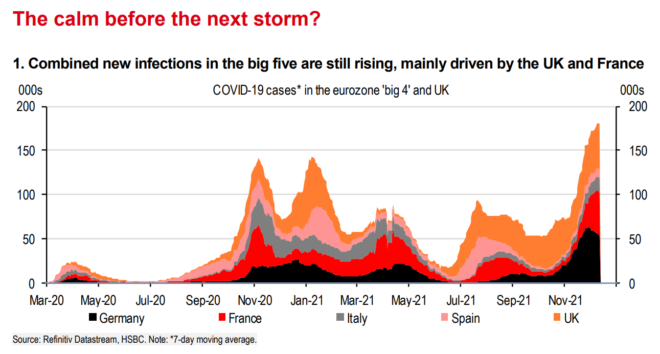 To this end, governments are pinning their hopes on booster vaccination campaigns – and with some success, as the data for Germany and France in particular show (charts 5-6).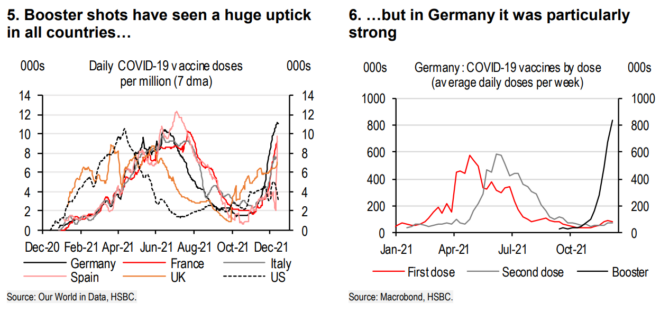 But even in the UK, where more than a third of the population have already got a third vaccine shot, there remains a lot of work to do to also protect the younger population where on  average roughly 30% are still unvaccinated (charts 7-9).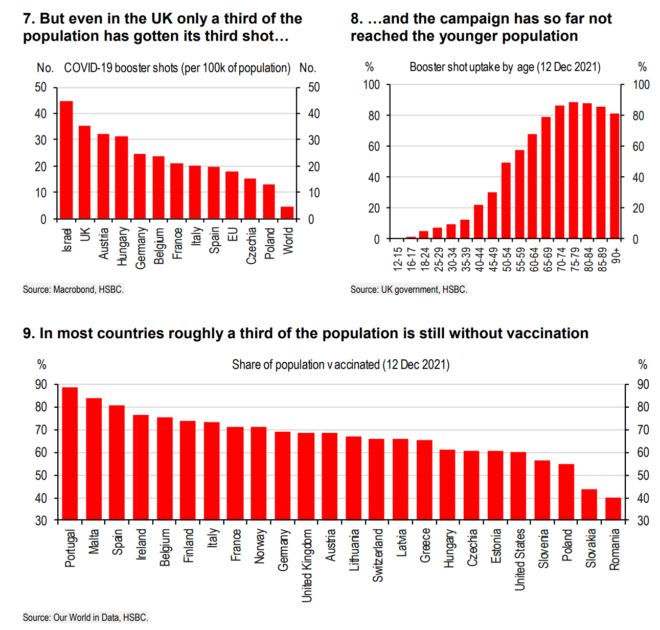 Although this was already a concern with the Delta variant, the Omicron variant increases the urgency. Preliminary data from South Africa – where Omicron has become the dominant COVID-19 variant within a few weeks (chart 10) – indicate that boosters could provide effective protection, at least against  severe cases.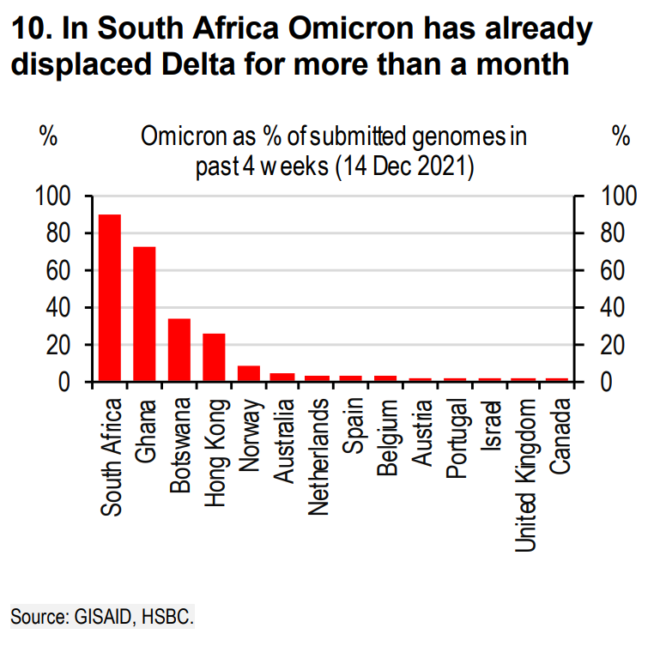 Omicron risks could delay monetary policy tightening
With infection rates on the rise, in many countries still due to the Delta variant, the Omicron threat increases the risk for further restrictions. For example, in the UK adults again must provide a negative COVID-19 test or proof of vaccination to enter certain events. In France COVID-19 passes are not only mandatory for almost all activities but from 15 December they also require a booster shot for all adults above the age of 65 which will be expanded to all adults from 15 January (charts 15-16).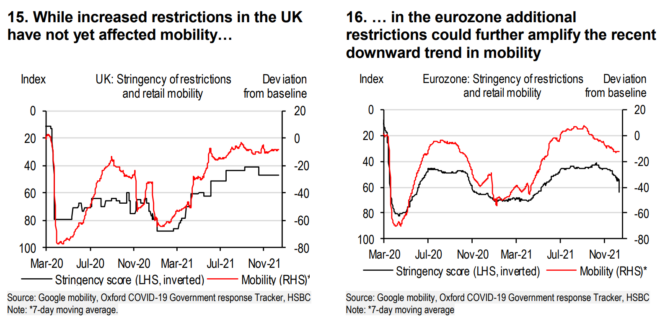 As a result, activity indicators across Europe have already plunged lately (charts 17- 18) and Omicron could force European governments to impose even tighter restrictions in the future. This complicates the exit strategy for policy makers from the extraordinary support measures provided during the crisis, on both fiscal and monetary fronts.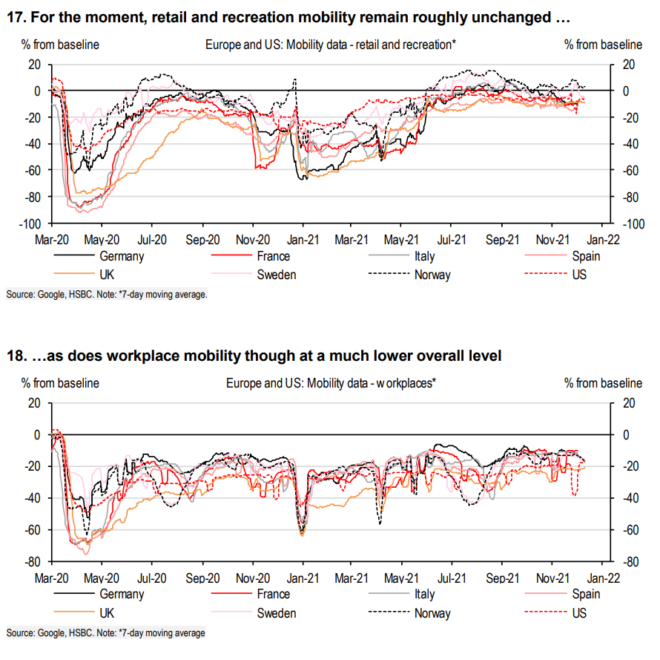 While the ECB is still set to end the PEPP in March 2022, the Omicron threat could prevent an official announcement in this respect in the December meeting (ECB preview, 6 December) and thus further question the market perception of a rate hike in 2022 (charts 20-21).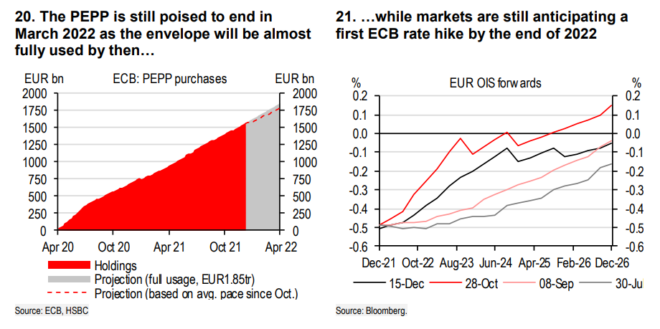 Meanwhile for the UK, despite strong labour market data and soaring inflation expectations (charts 23-25), we expect the BoE to be on hold.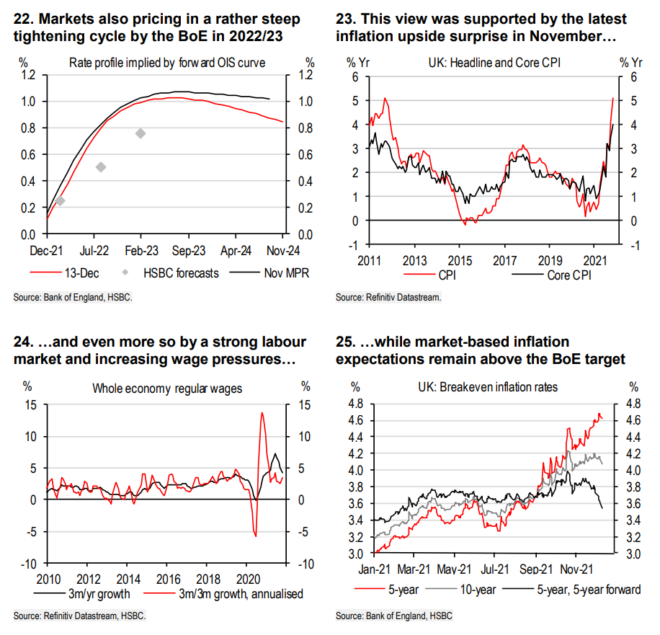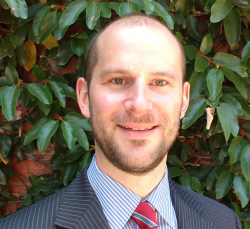 Latest posts by Unconventional Economist
(see all)