Following Infrastructure Minister Barnaby Joyce' decision last week to reshuffled the board of Infrastructure Australia (IA), appoint former Tamworth mayor Col Murray (from Joyce's own electorate) as chairman, and direct IA to adopt a greater regional and rural focus, Labor intends to commission an independent review of IA operations if it wins the next federal election.
Labor has also criticised the government's new appointments to IA's board. Infrastructure experts contend that IA needs a major overhaul rather than a new board, and that it needs greater powers if it is to become more effective. Martin Locke, an adjunct professor at the University of Sydney, contends that IA is seen as just an adviser and no one listens to it.
From The AFR:
Labor has also criticised the appointments and has indicated that it will change the agency's board if it wins the 2022 federal election.

Academics say governments are not listening to IA's advice and the agency needs stronger powers to become more effective…

"If you're just an adviser, is anyone really listening to your advice?" Mr Locke asked…

Mr Locke said he expected any review to try to "increase the teeth" of IA and make it more influential, and that it would be more effective if it identified specific reforms that could be put into action…

"IA could play a much more active role than it does in setting the ground rules for project appraisal," [Grattan Institute's Marrion Terrill said]…

"The concern is not one of Infrastructure Australia not doing their job, it is governments not doing theirs and not actioning the recommendations that are largely all agreed by industry," [Australian Constructors Association chief executive Jon Davies said].
In 2018, IA warned that Australia's infrastructure was failing badly to keep pace with the nation's rapid immigration-driven population growth:
"Infrastructure delivery is struggling to keep pace with rapid population growth and change. Our largest cities are 'playing catch up' in delivering infrastructure to support population growth… Our infrastructure funding mechanisms have not kept pace with growth… Communities are increasingly disappointed by their experience of growth…"

"Construction of new infrastructure is often more expensive, due to the need to tunnel under existing structures or purchase land at higher costs. The small scale, incremental nature of growth in established areas can also lead to an over-reliance on existing infrastructure, which can result in congestion and overcrowding".
Yet the latest Intergenerational Report (IGR) – Australia's defacto population policy – projected that Australia's population will grow by a whopping 13.1 million people (~50%) over the next 40 years to 38.8 million people, off the back of 235,000 annual net overseas migration. This is the equivalent to adding another Sydney, Melbourne plus Brisbane to Australia's existing population: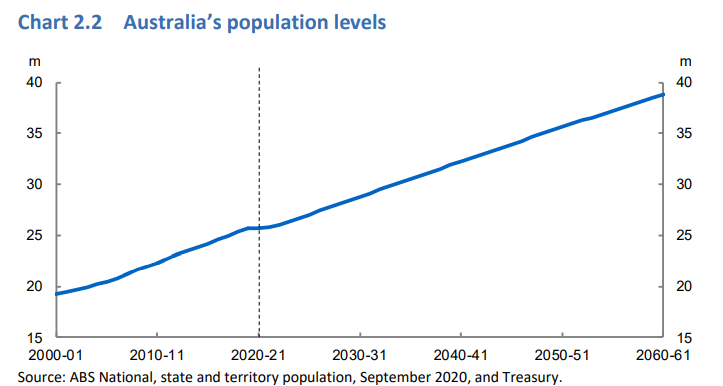 The mass immigration program of 2005 to 2020 was managed appallingly and crush loaded everything in sight, resulting in widespread infrastructure bottlenecks across Australia's major cities and reduced liveability.
Repeating the same mistakes again for 40 straight years will achieve exactly the same results.
No amount of tinkering with IA will make a sod of difference to the crush-loading headed our way once the 'Big Australia' policy is rebooted.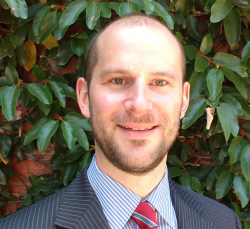 Latest posts by Unconventional Economist
(see all)