Last week, the Morrison Government announced that Australia will re-open its international border to overseas students, skilled visa holders and working holiday makers, with Home Affairs Minister Karen Andrews expecting that at least 200,000 migrant workers will arrive in Australia by July 2022:
"We are working on a figure of 200,000, it may well be more than that but we will be actively looking to bring as many people into Australia as soon as we possibly can" – Karen Andrews, 22 November 2021.
This decision effectively brought forward the Intergenerational Report's (IGR) projection of 235,000 annual net overseas migrants from 2025-26 onwards: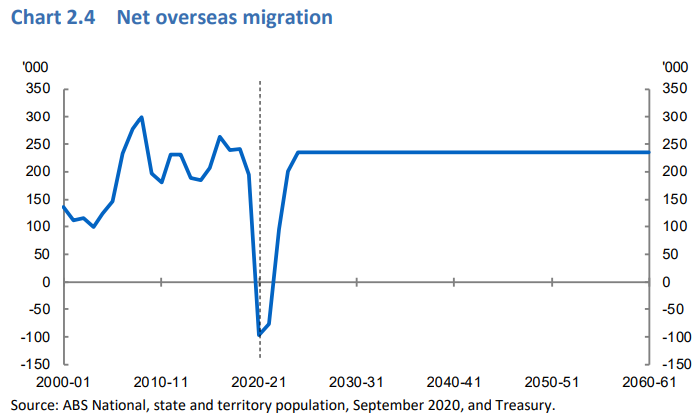 The various business lobbies and universities hailed the decision, with Restaurant & Catering CEO Wes Lambert stating "this is the biggest early Christmas present the hospitality industry has ever received".
However, the emergence of the new "Omicron" COVID strain in Africa, which has already spread across the globe, has thrown a spanner into the gears of the Morrison Government's 'Big Australia' immigration reboot.
This new strain is believed to contain more than 30 mutations, making it more infectious and potentially more deadly than the Delta Strain. There are also concerns that vaccinations could be far less effective.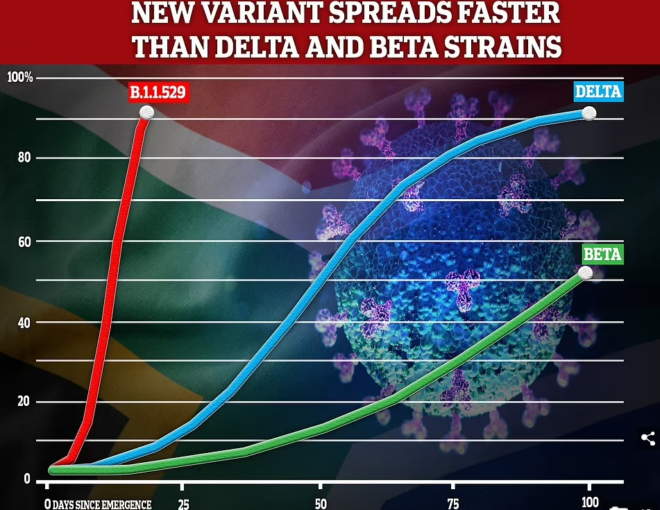 Already, the Omicron strain has spread across the globe and there are fears that it may even have already landed in Sydney:
Urgent genomic testing is underway in NSW after passengers who arrived in Sydney from southern Africa overnight tested positive for Covid.

Authorities are scurrying to determine if two positive cases have been infected with the Omicron variant…
Multiple countries including Australia banned arrivals from African nations. Australia has also imposed a 72 hour quarantine requirement on all international arrivals, with more restrictions flagged:
New South Wales and Victoria both moved on Saturday night to introduce 72-hour isolation requirements for all vaccinated international arrivals…

The federal government had earlier warned it was prepared to slap further travel bans on arrivals from overseas.

The Sunday Age and The Sun-Herald can reveal that several state and territory chief health officers pushed for a temporary pause on all overseas arrivals during a meeting of the Australian Health Protection Principal Committees on Saturday.

Two sources familiar with details of the AHPPC discussions said several state and territory health officers expressed "significant concerns" about the fact that Australia's recently reopened borders left the country exposed to the Omicron variant…

Asked if the federal government could go further than the temporary suspension of flights from affected countries, Mr Hunt said: "If the medical evidence shows that further actions are required, we will not hesitate to take them. And that may involve strengthening or expanding the restrictions."

Federal Labor leader Anthony Albanese urged the Morrison government to go further and reintroduce a period of quarantine as soon as possible for "all relevant international visitors whilst an assessment of what the potential health impact of this variant will be".
Thus, the federal government's mass immigration reboot could be in trouble before it has even begun. The whole policy hinged on quarantine-free access, which now looks sketchy. Should the Omicron virus spread as feared, the federal government could be forced to either close the international border and/or reintroduce 14 days mandatory quarantine in dedicated facilities and hotels.
Just when the edu-migration, business and property lobbies thought they had won in rebooting 'Big Australia' immigration, Omicron may slam the door shut at the eleventh hour.
Australians, who are overwhelmingly against pre-COVID levels of immigration, may yet breathe a sigh of relief; even if the means of arriving at this point are depressing and not what we wanted to hear.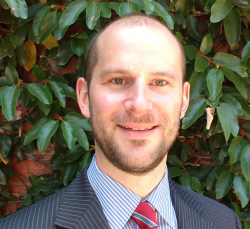 Latest posts by Unconventional Economist
(see all)