For years we have watched The Guardian defend Australia's mass immigration program, arguing that immigration doesn't suppress wages and doesn't strain infrastructure, among other things.
The Guardian's economic poster boy, Greg Jericho, has also likened any criticism of Australia's immigration program to "racism" and "dog whistling":
"Immigration – because there are many desperate to hate – must be treated with extreme care by politicians and journalists… The inherently racist parties will seek to use any discussion and any seeming evidence of the negative impact of migrants as fuel to burn their fires of hate".
With this background in mind, it was heartening to read The Guardian's Peter Lewis call for a "sober debate about immigration and consider the reality on workers", while also calling on Labor to reset the immigration program:
Engaging in a sober public debate on this issue has always been politically fraught because it can easily fall into a debate about race. Yet polling on immigration shows the historic hostility to increasing immigration levels is at an all-time low.

Indeed, the public has the sort of nuanced view on the issue that many of their leaders lack. There is majority recognition of the benefits of immigration, even while concern about the impact of population growth – and who actually pays the cost – remains high.

These results suggest the public is up for a discussion on not just the scale, but the structure of our immigration and migrant work visa mix…

After nearly a decade of Tory rule, the situation has deteriorated to the point where a new class of exploited worker, with no citizen or industrial rights, has been used to systemically drive down wages and permanency. Before the borders closed, there were more than a million people on temporary visas with work rights.

There are hardheads in Labor convinced that these issues are off-limits; that the issue of immigration is so entwined with race that any attempt to open debate will be read as dog-whistling.

This would be the ultimate triumph for big business and their government backers: that in driving down wages and conditions they have assumed the role of woke culture warriors fighting for racial intolerance. Capital is colour-blind when it comes to exploiting workers.

There is an alternate view that this is exactly the sort of issue that could end the identity politics of migration by shifting the focus to the economic impacts on ordinary working people.

What would a policy that prioritised secure Aussie jobs look like? It may increase the income threshold for the skilled migration scheme to ensure it wasn't just lowballing wages. It would invest in TAFE to give Australians the chance to build the skills that are apparently in short supply. And critically, it would reject the expansion of guest-worker programs into more parts of the economy.

More fundamentally, it would recognise those swathes of Labor voters who deserted the party to One Nation weren't necessarily xenophobic rednecks but people who bore the brunt of the lie that open economic borders would inevitably deliver wealth and opportunity for all. It didn't then and it still doesn't today.

Labor thrives when it makes the economic the personal. WorkChoices became more than a fight over an industrial framework; it was a kitchen table discussion about the sort of nation we wanted to be. Building a story of economic security anchored in local jobs and industries seems totally consistent with that project.

Drawing new lines in the sand about the way we engage with global labour markets and supporting local jobs are tangible ways to put the rhetoric of building back better into practise. The political challenge is to take the race out of the debate altogether and make it a question of class.
Hallelujah. The Guardian has finally put away the race card and is making rational, commonsense arguments about immigration.
My only disagreement with Lewis' salvo is the claim that "historic hostility to increasing immigration levels is at an all-time low". This is the opposite of the findings of The Australian Population Research Institute's (TAPRI) latest survey, which found that 70% of Australians want lower levels of immigration (of which 48% want significantly lower or zero immigration) after the pandemic than what existed pre-pandemic: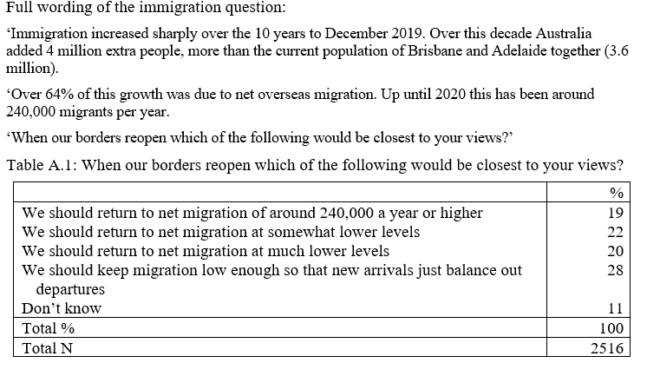 The overwhelming majority (61%) of Australians do not support importing labour to fill skills shortages and would prefer employers pay higher wages and train Australians:

Whereas the overwhelming majority (69%) of Australians also do not believe that Australia needs more people:

Accordingly, TAPRI author Bob Birrell concludes:
"There has been a distinct hardening of attitudes towards immigration. Before the pandemic there was a rough balance between the share of voters wanting the current numbers to remain the same or to increase and those wanting them to decrease. But as of July 2021, only a small minority want Big Australia levels restored. The majority do not".
Regardless, Peter Lewis is 100% correct that Labor should seek to reset the immigration program. And here's how Labor should do it.
First, Labor should require all temporary and permanent work visas (other than the well-regulated Pacific Islands Seasonal Work Program) to be paid at least at the 75th percentile of earnings. This would equate to a minimum salary of $90,500 currently, which would rise over time with earnings:
Setting a pay floor at this level would ensure that work visas are used sparingly by Australian businesses to employ only highly skilled migrants with specialised skills, not abused by businesses as a tool for undercutting local workers, reducing wage costs, and eliminating the need for training.
Second, and related to the above, Labor should pare back the permanent skilled migrant intake.
The permanent migrant program is dominated by the 'skilled stream', which normally sets aside 108,000 places for so-called 'skilled' workers: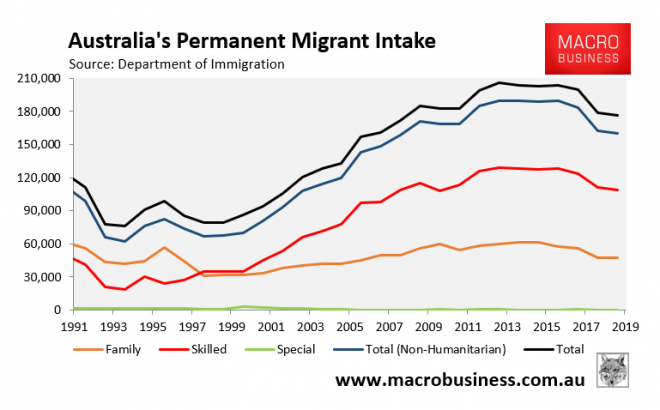 Even before the COVID-19 pandemic hit, this skilled stream was highly dubious. There was no evidence that Australia was experiencing 'skills shortages' that warranted such a strong intake.
We also know that Australia's skilled migrant program has been widely rorted, attracting migrants to areas already heavily oversupplied with workers (e.g. accounting, engineering and IT), with most of these migrants employed at levels well below their claimed skills set.
Instead, the 'skilled' program should be phased back to historical levels of around 35,000 visas a year, and be reserved only for truly world-class leaders in their field that Australia cannot foster internally.
Moreover, these highly skilled migrants should have an income pay floor set at least at the 75th percentile of earnings (preferably higher), as for temporary 'skilled' migrants (see above).
No longer should Australian employers be allowed to simply 'grab a migrant' to fill ordinary positions in the labour market cheaply. Instead, they would have to lift wages to attract workers (thus countering anaemic wages growth), as well as commit to training local workers.
Many migrants also come to Australia on temporary visas with the hope of transitioning to a 'skilled' permanent visa.
Therefore, if Australia was to remove the carrot of permanent residency by slashing the 'skilled' intake, it would also reduce the flow of temporary migrants, since the two areas are intrinsically linked.
An easy 'sell' for Labor:
Promising a smaller, sustainable immigration intake post pandemic would be an easy sell for Labor. All it needs to argue is:
That an excessive flow of migrant workers would displace locals, reducing employment opportunities and lowering wage growth.
That an excessive immigration intake would further drive up demand for housing, pushing prices and rents beyond the reach of locals (especially in Sydney and Melbourne), while also forcing Australians to live in apartments.
That excessive immigration would overrun infrastructure, reducing amenity and liveability, and pushing up the cost of living.
That excessive immigration puts undue strain on Australia's natural environment.
Most Australians know these claims are true, since they lived it in the 15 years leading up to the pandemic.
Labor should also state that it is merely seeking to lower immigration back toward the historical (pre-2005) average, and that the new lower intake would still be at the higher end of developed nations.
Finally, Labor could 'sweeten the deal' for social justice warriors by promising to lift the humanitarian intake by around 10,000 a year. This would automatically counters faux arguments about "racism" and "xenophobia" that could otherwise emerge from the chardonnay left.
In short, Labor must return to its working class roots and represent the interests of regular Australians over inner-city progressives and the business elite.
Leave the pandering to the business lobby to the Coalition.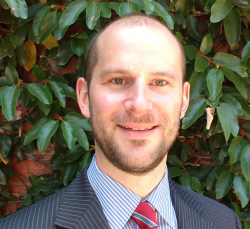 Latest posts by Unconventional Economist
(see all)