The Australian Bureau of Statistics (ABS) has released its International Trade Price Indexes for the September quarter of 2021, which revealed that export prices rose by 6.2% over the quarter and by 41.0% through the year.
By comparison, the import price index rose by 5.4% this quarter and by 6.4% through the year.
Surging coal and gas prices drove the rise in export prices:
Coal, coke and briquettes (+48.1%), driven by surging global demand for thermal and coking coals.
Gas, natural and manufactured (+39.5%), due to the rise in oil-linked contracts capturing the continued oil price rises in 2021.
Non-ferrous metals (+17.1%), through increased manufacturing demand as pandemic restrictions ease and economic activity increases.
Meat and meat preparations (+10.3%), due to strong demand for beef and constrained global supply.
Petroleum, petroleum products and related materials (+12.0%), driven by strong global oil demand and constrained global supply.
The change in the import/export price index gives a good proxy for Australia's terms-of-trade (ToT). As shown in the next chart, Australia's ToT is looking at a circa 0.8% increase in the September quarter and a 32.5% increase through the year: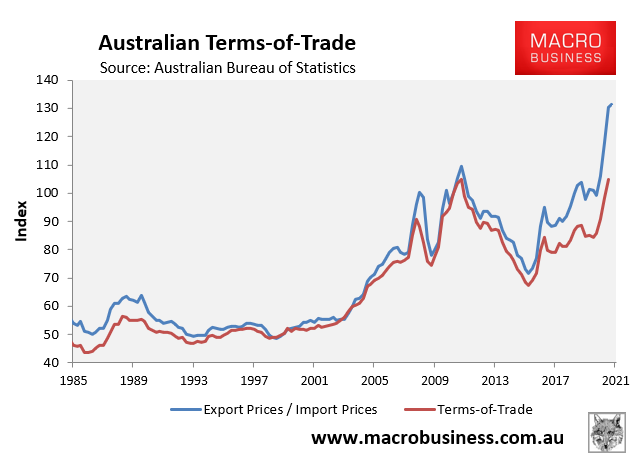 So, Australia's ToT will hit fresh all-time highs in Q3 when the national accounts are released in early December.
The importance of this cannot be understated. The ToT measures the average price level of exports to the average price level of imports. Thus, when the ToT rises a given quantity of exports can pay for a larger quantity of imports, effectively granting the nation a pay rise.
The ToT, therefore, is a key determinant of national income, as well as a key driver of government finances via company tax receipts.
This is likely the top, however, with the recent iron ore correction to tank the ToT in Q4.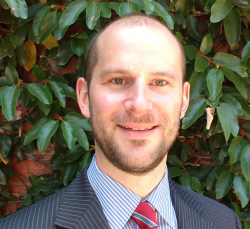 Latest posts by Unconventional Economist
(see all)