A recent survey of hospital ICU admissions in the United States showed that the overwhelming majority of COVID patients were unvaccinated:
ABC News contacted 50 hospitals in 17 states, and asked them to share data on their ICU wards' current COVID-19 patients, including their vaccination status. In the surveyed hospitals, ABC News found that the overwhelming majority of COVID-19 patients currently being treated in ICUs were unvaccinated.

Of the 271 total COVID patients in the surveyed ICUs, 255 patients, or approximately 94%, were unvaccinated against COVID-19 in ABC News' snapshot in time.

Further, of the 16 vaccinated individuals receiving care in the ICU, almost all suffered from comorbidities and other health problems, such as cancer or weakened immune systems.
A new survey has shown similar outcomes for Australia:
Just two per cent of coronavirus patients admitted to intensive care since Australia's vaccine rollout started were fully vaccinated…

A whopping 86 per cent of people needing intensive care treatment had not received a single dose…

Monash University's SPRINT-SARI project examined 574 ICU admissions since February 22, when the first coronavirus vaccines started to be rolled out across the nation.

Only two per cent (13 people) had received two vaccine doses, while the equivalent of 12 per cent (69 people) had a single shot.

The remaining 492 patients were unvaccinated.

Infectious diseases epidemiology professor Allen Cheng said younger people were featuring more prominently in intensive care admissions in recent weeks, including pregnant women.

"The shift in age of those admitted to ICUs is anticipated, given older Australians were prioritised during the early phases of rollout," he said on Wednesday.

"These figures again underscore just how much protection vaccinations offer in terms of your likelihood of getting seriously unwell with COVID-19."
One only has to look at NSW's ICU data to see the effectiveness of vaccines in preventing severe illness. Despite 80.7% of NSW residents aged 16+ having received at least one vaccine dose, vaccinated individuals only comprise 24% of COVID ICU admissions: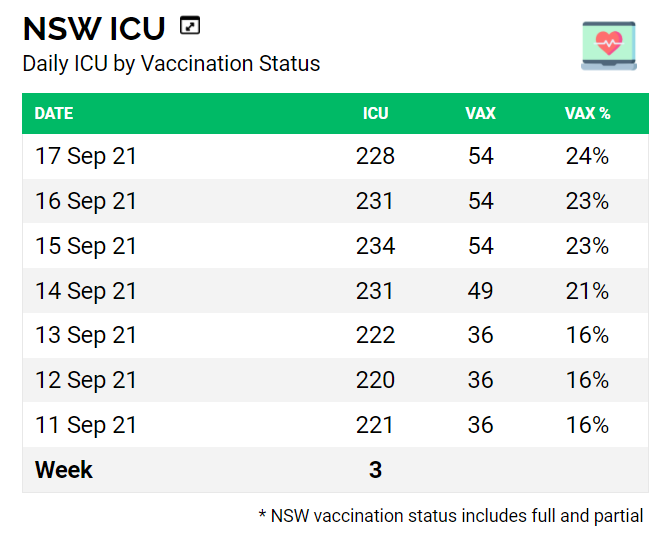 This is a stunning result given the unvaccinated are dominated by younger people that have more natural protection against COVID, given they are generally healthier.
While similar data does not exist in Victoria, Premier Dan Andrews said on Wednesday that 84% of COVID cases are aged under 50 with one quarter aged in their 20s, "so this is going where the vaccines aren't, this is going to the unvaccinated".
The bottom line is that while vaccination does not necessarily prevent transmission of COVID, it does prevent serious illness.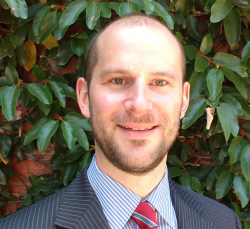 Latest posts by Unconventional Economist
(see all)