Thermal coal and LNG futures both came off overnight. The former: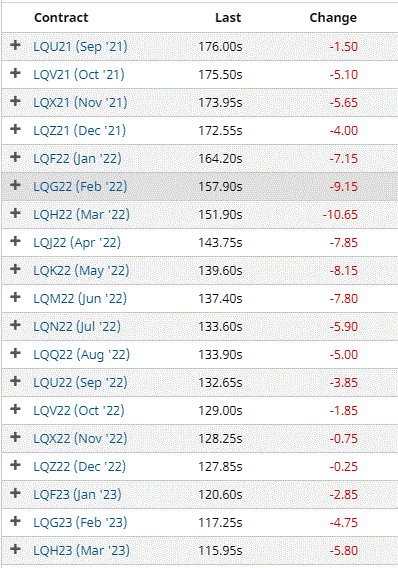 The latter: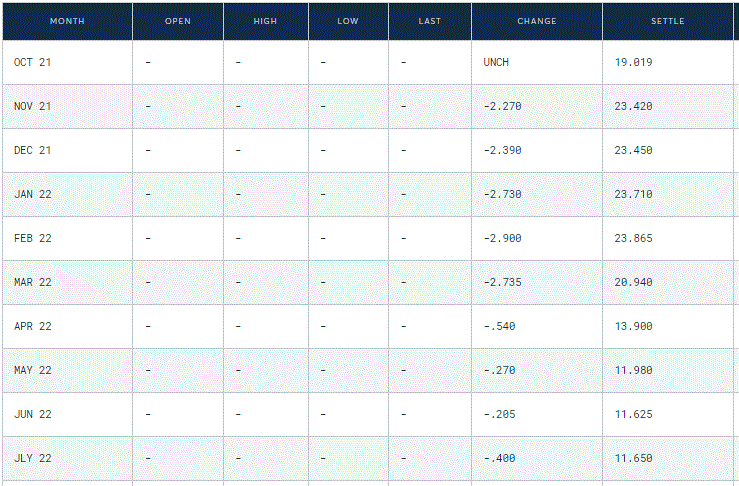 Oil was still strong as we await the return of hurricane shuttered US production: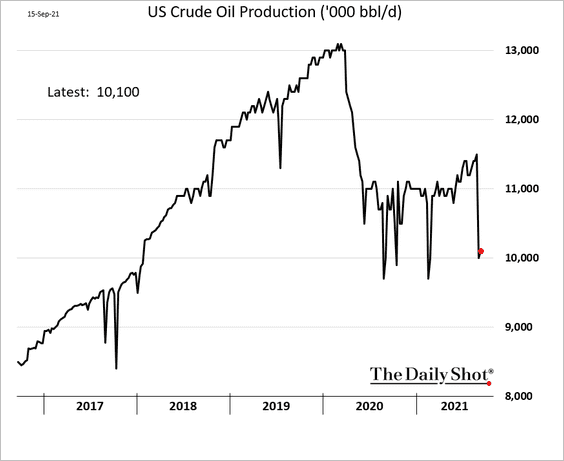 Beijing continues its campaign to reduce power output. After steel cuts, which have curtailed a lot of EAF production, next is cement:
Several Chinese regions have imposed restrictions on cement sector's power use and production, as part of national efforts to control energy consumption. That has driven cement prices soaring and some regions recently saw the fourth price hikes in the current uptrend.

"Cement prices have been in a roller-coster this year, rising by a total of 230 yuan per tonne," a Guangxi-based cement dealer told Yuan Talks. Cement prices had declined since May and bottomed out in July and enter a sharp uptrend since then.

After a third round of price hikes of about 50 yuan per tonne on September 6, producers in many regions are announcing the fourth round of 80 – 100 yuan per tonne, bringing the total increase to 230 yuan per tonne, he said.

As of Sept. 13 this year, China's average cement prices had reached 424.67 yuan per tonne, approaching the all-time high of 486.56 yuan per tonne set in December 2019, according to Hou Linlin, cement industry analyst at Sublime China Information, a Chinese commodity information provider.

Surging cement prices have been transmitted to the stock market, triggering a strong rally in shares of cement makers. As of Sept. 10, an index tracking stocks of mainland-listed cement companies had surged 17.76 per cent this month, with Huaxin Cement, Gansu Shangfeng Cement and Guangdong Tapai Group jumping 34 per cent, 28 per cent and 24 per cent, respectively.

The price hikes in September is mainly driven by the expectation of sharp drops in cement supply given the government's restrictions on energy use, said Bao Rongfu, analyst at TF Securities. That's different from the price rises last month which was mainly boosted by higher demand and rising costs.
Europe is still wrestling with the gas shortage and Russia, however:
There are several factors which have contributed to this significant rally in prices. Firstly, the foundation for this strong move higher started before the summer. Colder than usual weather over April and May in Europe led to a late start of the injection season. Usually gas injection starts at the end of March/early April; however, this year we did not see meaningful injections until almost mid-May.

Secondly, for much of the year there has been little incentive to send spot LNG cargoes into Europe, instead these have made their way to Asia where prices have been more attractive. The spot Asian LNG premium over TTF has averaged a little over US$1.50/MMBtu since the start of the year through until the end of August. Although with the more recent rally in European prices, TTF is now trading at a premium to spot Asian LNG. So, we would expect to see LNG inflows into Europe start to pick up.

Thirdly, there has been several outages over the summer. Some of these were planned maintenance, while there have also been some unplanned outages. Russian gas flows fell i July due to maintenance on both the Yamal-Europe and Nord Stream pipeline. While in August flows were disrupted after a fire at one of Gazprom's condensate treatment plants in Western Siberia. Average Russian flows via the Mallnow entry into Germany were down 40% MoM in August. Although these flows have recovered more recently. Norway has also seen a fair number of outages this summer, including at the Troll field.

Higher EU carbon prices have also played a factor. Record carbon prices have ensured coal to gas switching. EU carbon allowances have rallied as much as 93% this year. Although, the more recent strength in gas prices has reversed this advantage. Dark spreads are more attractive than spark spreads over 4Q21. And in fact, we have seen some coal plants in the UK reopening.

A combination of a broader demand recovery, lower inflows and falling indigenous production means that European gas inventories are well below average. The official start of heating season is quickly approaching, but storage is only 71% full, compared to the 5-year average of more than 86%. Storage is at its lowest levels in at least a decade going into winter.

Therefore, we believe European prices are likely to remain at elevated levels through the winter. However, given the extreme levels the market is trading at, we would expect increased volatility.
The global energy outlook, and perhaps the entire global recovery, now hangs on the weather.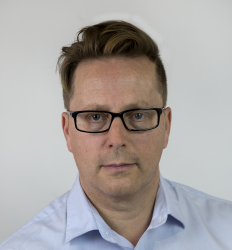 Latest posts by Houses and Holes
(see all)