Evergrande. Remember the name. Australian historians will. Yesterday it broke the Chinese property sector as its bonds were suspended:
In order to ensure fair information disclosure and protect the interests of investors, after the company's application, all existing corporate bonds of Evergrande Real Estate will be suspended for one trading day from the opening of the market on September 16, 2021, and will be opened on September 17, 2021.

Since the market resumes trading, the above-mentioned bond trading methods will be adjusted from the date of resumption of trading. Among them: (1) The trading methods of "15 Evergrande 03", "19 Evergrande 01", and "19 Evergrande 02" have been adjusted to only adopt quotation, inquiry and agreement trading methods since the date of resumption of trading. Shanghai Branch of Registration and Settlement Co., Ltd. provides settlement by transaction; (2) "20 Evergrande 01", "20 Evergrande 02", "20 Evergrande 03", "20 Evergrande 04", "20 Evergrande 05" The trading methods of "21 Evergrande 01" and "21 Evergrande 01" have been adjusted to only adopt the negotiated block trading method since the resumption of trading, and the original net price pricing method will be maintained.
The contagion was instant: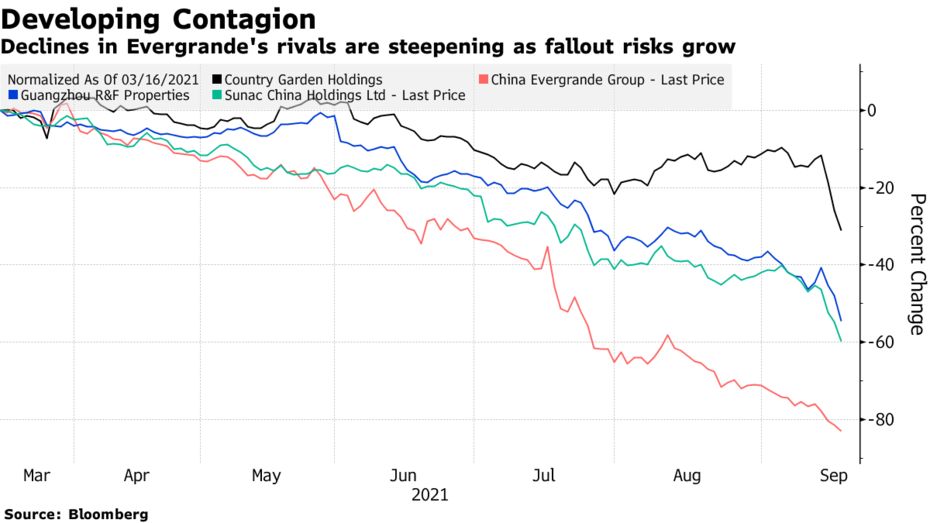 As all property debt turns toxic.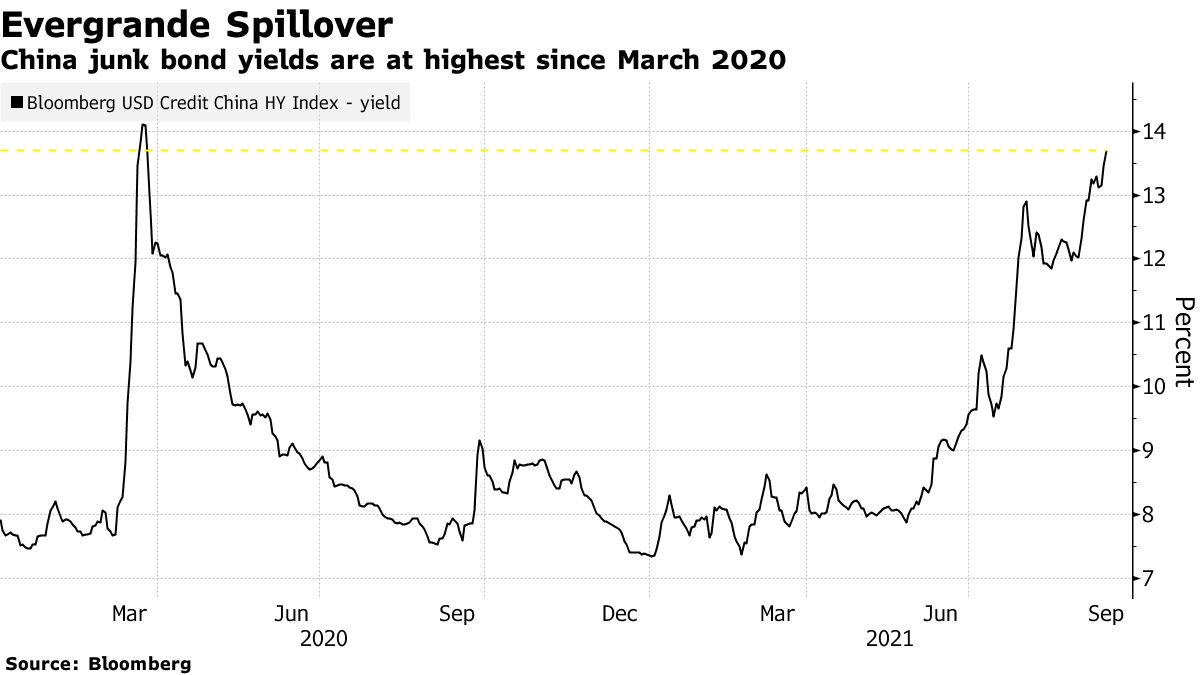 Nobody knows how long before Evergrande is taken into conservatorship of some sort. It will have to be soon or the entire sector will enter meltdown.
But, when it does happen what will it achieve? Whether it is debt for equity, property for debt or plain haircuts, who is going to rush in and lend to any Chinese property developer while the restructuring takes place and nobody can trust anybody else's balance sheet?
Take a look at the debt ratios of the sector (first column). Anything above 25% is a worry: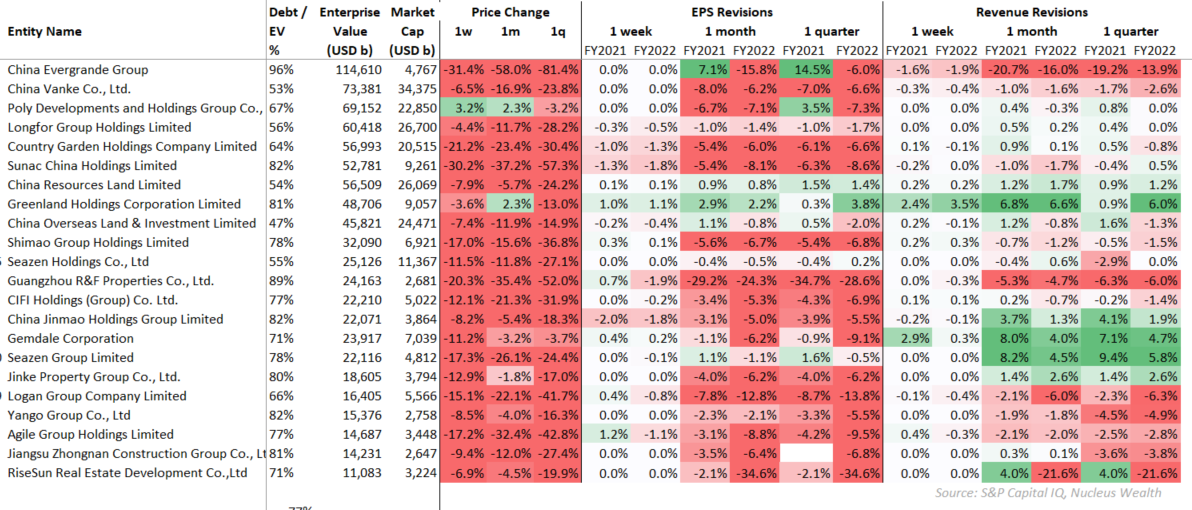 Yet, it appears the firm is still trying to trade out of its problems with more harebrained schemes:
China Evergrande Group plans to let consumers and staff bid on discounted properties this month to repay them for billions in overdue investment products as the embattled developer seeks to preserve cash, according to people familiar with the matter.

The company will organize an online property event by Sept. 30 for investors who opt for discounted real estate in lieu of cash, said two employees who were briefed on an internal call Thursday and asked not to be identified. Evergrande didn't respond to a request for comment on the plan.
Why would it? It's stupid. Nobody wants a half-built, free-falling asset.
When we get the restructuring, doubtless there will be a relief rally but not for long. Counterparty risk renders the entire segment uninvestable. The writing is on the crumbling wall:
China's current priorities of promoting "common prosperity" and deterring excessive risk-taking mean there's unlikely to be any easing of property curbs this year, according to Macquarie Group Ltd. The sector will be a "main growth headwind" for next year, although policy makers may loosen restrictions to defend growth goals, Macquarie analysts wrote in a Wednesday note.

A correction in China's property market would not only slow the domestic economy but have global consequences too.

"A significant slowdown in property construction over the next few years appears probable already, and would become even more likely in the event of an Evergrande failure or bankruptcy," said Logan Wright, a Hong Kong-based director at research firm Rhodium Group LLC. "A long-term slowdown in property construction, an industry that represents around a fifth or a quarter of China's economy by most estimates, would cause a significant decline in GDP growth, commodity demand, and would likely have disinflationary effects globally."
QED.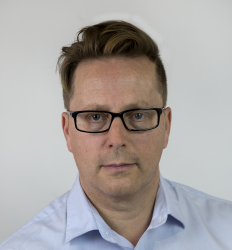 Latest posts by Houses and Holes
(see all)