When will China relent on its economic reform program around property developers? When will it stimulate? My answers are not yet and don't hold your breath. Why?
Let me show you two charts. The first nicely captures the extreme bullshit being peddled by Wall Street about a new commodities supercycle. Note that the trigger is apparently war in Taiwan and a war on climate change: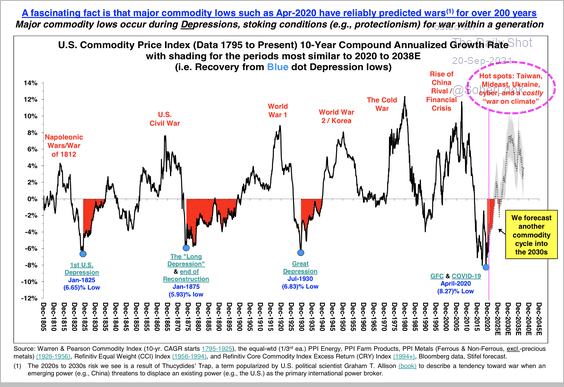 And, second, who is the actual demand source for said commodities: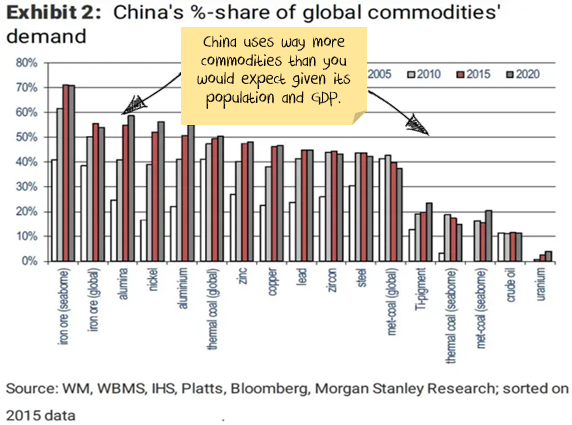 In short, China IS commodities. There is nobody else.
What these two charts tell us is that Fed-addled Wall Street bubble-blowers have decided that China is going to subsidise a range of wars upon itself.
That is, China is going to be forced to pay for global climate change remediation that was caused by the developed world. And that it is going to subsidise a Cold War on itself aimed at containing its own influence. We can throw in that so long as energy prices skyrocket, China will also be paying to jeopardise CCP power via a rorted poor.
I don't think so. Why would it?
Thus, although China's role in commodity price-setting may seem an unorthodox angle on the Evergrande and Chinese property reform program, it is actually central to it.
There is no other Chinese sector that consumes commodities like Chinese property. For energy, for metals and for dirt, nothing else can touch it.
Add to this that the commodities that the property segment consumes are supplied very often from enemies of the CCP state and that complex becomes a standing threat to the Chinese economy and CCP power.
Add that up and you get this:
Iron ore extended its slump below $100 a ton as China stepped up restrictions on industrial activity in some provinces.

Steel mills in Jiangsu province have received instructions to reduce production as part of broader curbs on industrial activity aimed at lowering power usage, Mysteel reported, citing its survey of operators.
This is the key, I think. China's property reform program is now entwined with its campaign to break energy prices. Yesterday, coal and LNG both rose in futures markets despite the rout spreading everywhere else.
Not until China succeeds in crushing coal, gas and oil, will it relent on its property development sector. That means it will have to deliver a global shock not just a scare.
Will that be enough to turn the stimulus taps back on? It is still questionable given the strategic imperatives involved.
But popping Wall Street's ludicrous commodity bubble is certainly a prerequisite.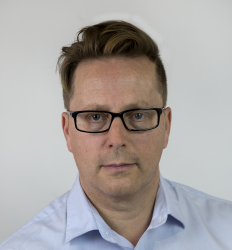 Latest posts by Houses and Holes
(see all)