On Friday, Nomura slashed its Chinese growth outlook:
Over recent weeks, a surging number of factories across China have been forced to cease operations due to higher coal prices hitting power supplies and government mandates to meet carbon emission reduction targets.
The excellent Ting Lu is back with more bad news:
Almost half of China's 23 provinces missed energy intensity targets set by Beijing and are now under pressure to curb power use. Among the worst hit are Jiangsu, Zhejiang and Guangdong — a trio of industrial powerhouses that account for nearly a third of China's economy.

"With market attention now laser-focused on Evergrande and Beijing's unprecedented curbs on the property sector, another major supply-side shock may have been underestimated or even missed," Nomura Holding Inc. analysts including Ting Lu warned in a note, predicting China's economy will shrink this quarter.

A number of smaller companies are also starting to inform the stock exchange they've been ordered to curb or halt activity. While they may be overlooked by major foreign investors that don't cover these firms, the end result could be a shortage of everything from textiles to electronics components that could snarl supply chains and eat into the profits of a host of multinational companies.

In Jiangsu, a province near Shanghai with an economy almost as big as Canada's, steel mills have closed and some cities are turning off street lights. In nearby Zhejiang, about 160 energy-intensive companies including textiles firms were shuttered. While in Liaoning in the far north, 14 cities have ordered emergency power cuts that were blamed partly on the surging coal prices.

"The power curbs will ripple through and impact global markets," Nomura's Ting said. "Very soon the global markets will feel the pinch of a shortage of supply from textiles, toys to machine parts."

"Policy makers seem to be willing to accept slower growth in the rest of this year in order to meet the carbon emissions target," said Larry Hu, head of China economics at Macquarie Group. "The GDP goal of more than 6% is easily achievable, but emissions targets are not easy to hit given robust growth in the first half."
There's more from Yuan Talks:
Many Chinese companies have announced plans to suspend production as more than ten provinces including Jiangsu, Zhejiang, Shandong, Guangxi and Yunnan have imposed production restrictions on various industries amid a short electricity supply and authorities' efforts to achieve the target for energy use control.

In East China's Zhejiang province, many companies in textile printing and dying industry and fibre industry have been ordered to suspend production until the end of this month.

Zhejiang Xidamen New Material Co., Ltd, said in a filing to the Shanghai Stock Exchange on Wednesday that it will be forced to suspend production until September 30 as Zhejiang imposed restriction in key energy-consuming industries' power use amid a shortage of electricity supply.

Keqiao district in Zhejiang's Shaoxin city, a major textile printing and dyeing production hub which contributes about 30 per cent of China's total capacity in the industry, have required high energy-consuming companies in some parts of the district to halt production until the end of September.

Some steelmakers in Zhejiang province have also received notices from authorities to restrict production, according consultancy Mysteel.

In Jiangsu province, Nanjing Chemical Fibre Co., Ltd said in a filing to the Shanghai bourse that its wholly-owned subsidiary Jiangsu Jinling Cellulose Fiber Co., Ltd. will suspend production from September 22 due to a short power supply and the production is expected to be resumed in early October, adding that it expects no major impact on its annual earnings results.

Yangzhou Chenhua New Material Co., Ltd, announced on Wednesday that its subsidiary Huanan Chenhua New Material will be forced to suspend production due to a shortage of electricity.

Jiangsu Changhua Aluminium said on September 16 that it would suspend production in the period of September 18 – 30 due to energy control. On the same day, Jiangsu Xugong Iron and Steel Group, which has an annual capacity of 3 million tonnes, said it sill suspend production for half a month.

Southwest China's Yunnan province also imposed production restriction on various industries, including ordering cement producers to cut September's output by more than 80 per cent from August-level and requiring industry silicon makers to cut production by 90 per cent, etc.
This has little to do with environmental curbs and plenty to do with the energy crisis. It is demand destruction delivered thanks to the apparent shortage of coal and gas. Given these are the areas of production that are expected to offset the property developer bust, the implications for growth are bad.
I remain of the view that the energy crisis is short-term, partly owing to the above.
Second, supply is currently held back by temporary factors such as LNG plant outages, soft Russian gas flows, suppressed Chinese coal output and imports on accidents plus COVID, and the US hurricane season. It's a perfect storm.
Third, I still expect the global goods inventory cycle to pass in due course as western consumption patterns swing towards services. The current levels and prices for shipping are also clearly unsustainable. Both will deflate as goods demand falls away.
That said, two factors give the energy crisis some durability. The first is that low inventories for energy raw material will need to be replenished.
Second, if we get a cold northern winter then panic buying and price madness are quite possible. The early development of La Nina is some mitigation of this possibility.
Future markets have it roughly right. Coking coal is topping out and has huge downside ahead as China reopens local and Mongolian supply just as steel demand falls off a cliff: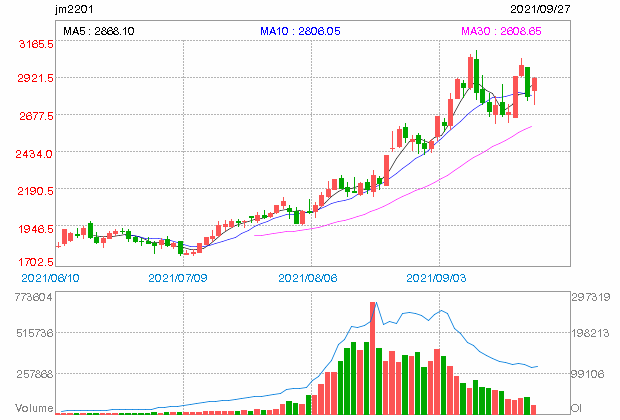 JKM LNG futures see price falls post-winter and normal prices by mid-2023: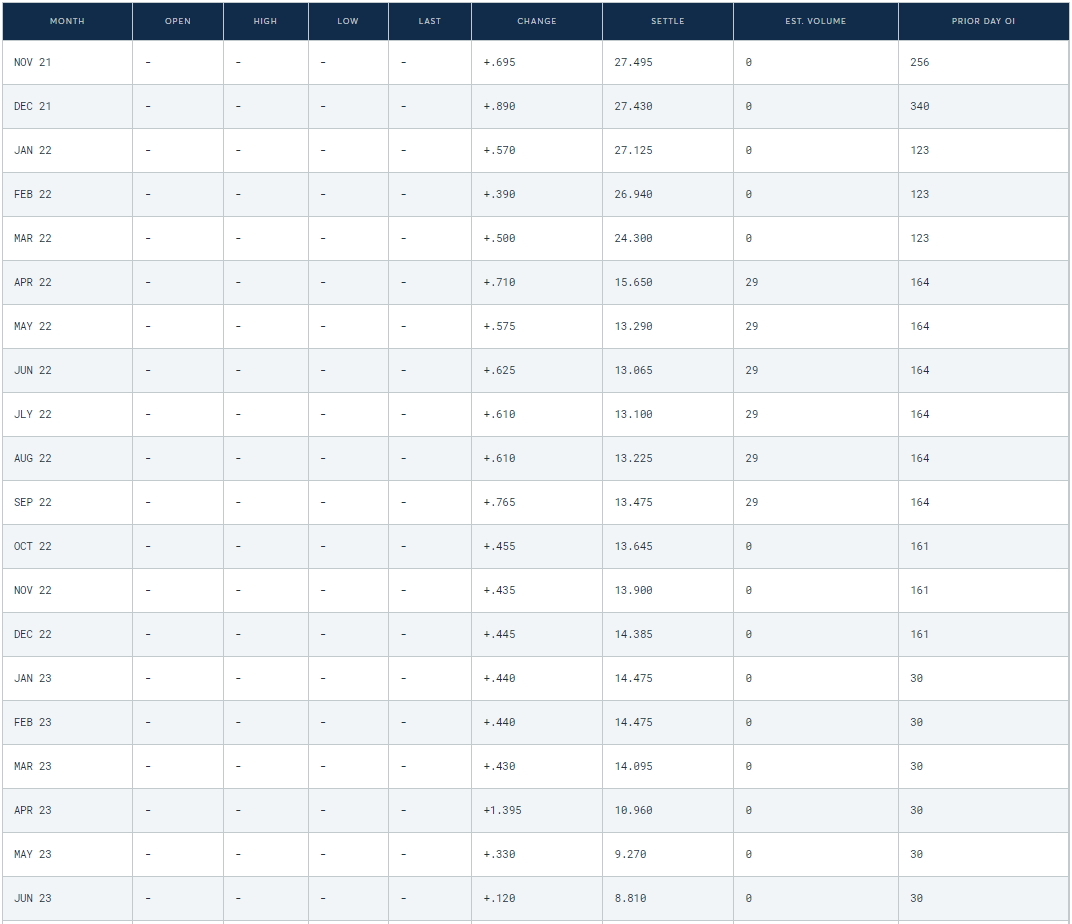 The thermal coal futures curve is not steep enough but has the same timetable: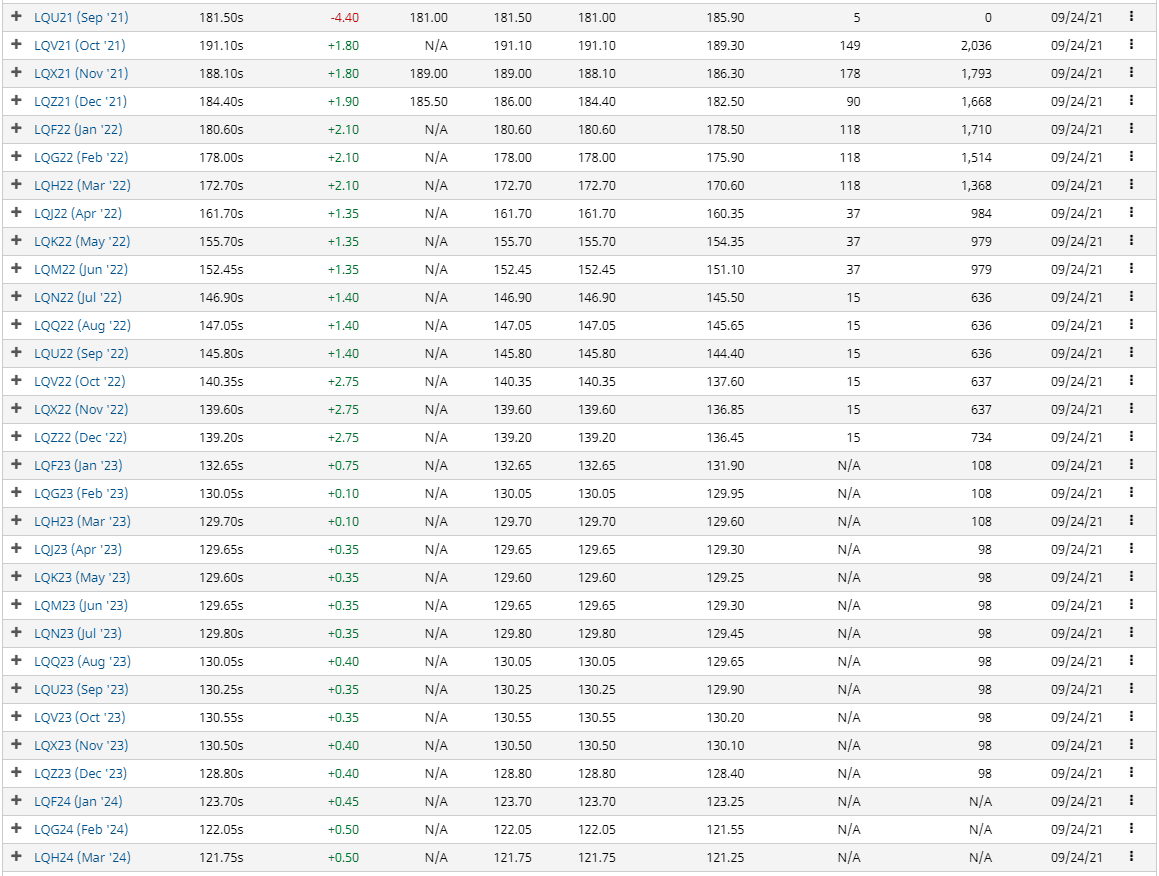 My own view is that there is no underlying shortage in energy raw materials. So I am more bearish with quicker falls for all three but the basic trend is right. As we've seen with iron ore and lumber, commodities go up the escalator and come down in the lift.
Though on this occasion it is more like up in the lift then back down in it.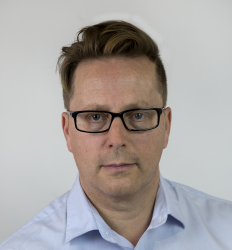 Latest posts by Houses and Holes
(see all)