The Reserve Bank of New Zealand (RBNZ) believes the nation's dwelling values are not sustainable and it is now forecasting that prices will fall in every quarter starting from Q42022 all the way through to the Q3 2024:
House prices in New Zealand have increased rapidly over the past year from an already elevated level. A confluence of factors suggests that house prices are above what is sustainable. While house price inflation has slowed in the past three months, momentum has been stronger than expected.
A moderation in house prices is expected over coming years, but the precise timing of this is uncertain.
House prices appear to be above their sustainable level
Underlying demand for housing due to population growth has declined significantly since the outbreak of COVID-19 last year. While New Zealand citizens who returned from abroad before the pandemic stayed on and others returned early in the outbreak, this inflow was short-lived. Border restrictions have since limited inward migration, and there has been a small but steady flow of departing residents. Net migration is not anticipated to return to pre-COVID-19 levels over the next few years, even as border restrictions are eased.
Meanwhile, house building is at record high levels (figure A1). Residential building consents and discussions with construction sector businesses suggest there is a significant pipeline of new housing supply coming. Previous large increases in housing supply in New Zealand, such as that during the 1970s, reduced real house prices. In recent decades, several other countries have experienced declining house prices following significant increases in supply.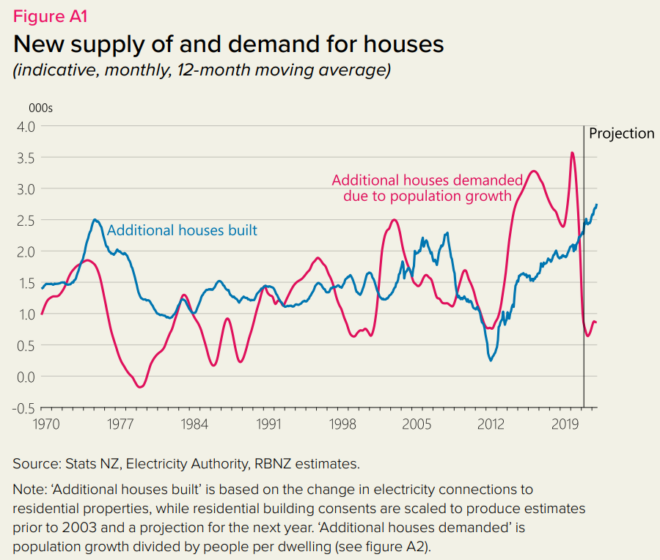 Building consents data suggest that by the middle of next year, the total number of houses will be growing at its fastest pace since data became available in the early 1960s. Policy changes that significantly ease land-use restrictions will encourage continued strong levels of
building.
Previous relaxations of land-use restrictions have contributed to sustained increases in new supply. Housing supply has not kept up with population growth over most of the past decade, increasing house prices and necessitating larger households on average. We consider this undersupply to already be reflected in current house prices. As a result, further strong house building will put downward pressure on house prices, even given the historical undersupply.
Consistent with an easing of housing market imbalances, household sizes are likely to decline (figure A2). As a hypothetical exercise, we estimate that if population growth and the construction of new dwellings continue at their current rates over the next few years, people per dwelling would return to its 2014 level by the end of 2023.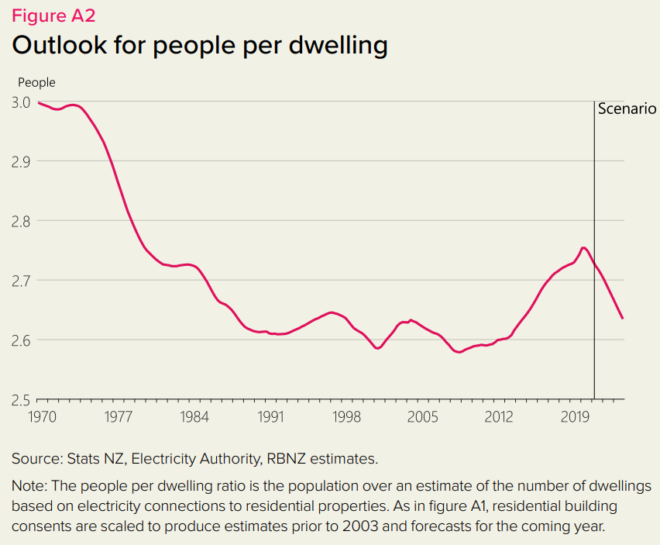 Meanwhile, a range of other factors are likely to moderate demand. The return from investment in housing will be reduced significantly by the removal of the tax deductibility of interest from rental income and the extension of the brightline test. Along with tighter LVR requirements, these policy changes have reduced investor buying activity in the housing market. The share of new mortgage lending for investment property has declined to 17 percent, from 26 percent at the beginning of 2021.
Interest rates are low relative to their neutral levels, and therefore below where they will eventually return (see chapter 4). Against the backdrop of a long-run downward trend in interest rates, monetary policy was eased at the outset of the COVID-19 pandemic to support
New Zealand's economy. As interest rates rise in response to the improving economic outlook, this will dampen demand for housing in several ways.
Higher interest rates will make investing in housing relatively less attractive than interest-bearing assets. Higher interest rates will also constrain the ability of new buyers to service debt while leaving enough income for consumption. Households are borrowing more
relative to their incomes, in part because at the current low interest rates debt servicing costs are low for new buyers. However, if interest rates increase back to a more neutral level, borrowing capacity would be reduced (figure A3). In this scenario, demand to purchase
houses at current prices would fall.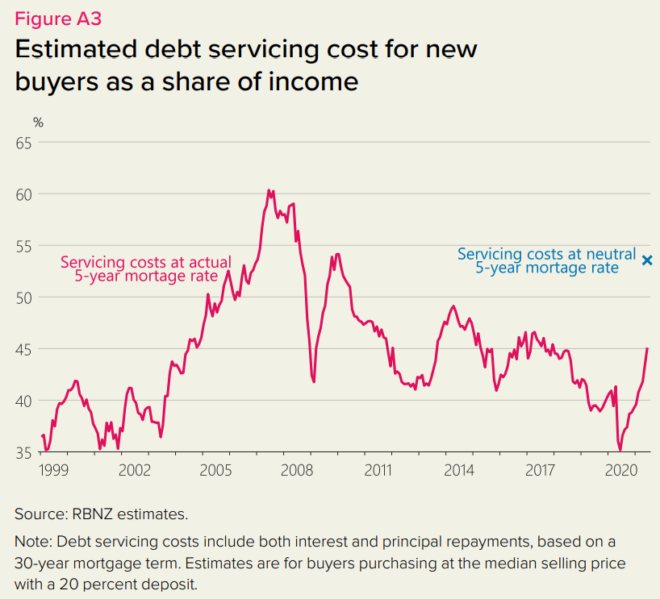 We anticipate a realignment in house prices
With house prices above what is sustainable, some form of realignment is anticipated. However, as seen recently, momentum in house price growth can persist even when prices look disconnected from the fundamental factors that should determine them. This reflects that sentiment, expectations, and prevailing narratives surrounding the housing market can have a significant bearing on housing demand and house prices. The further house prices rise above their sustainable level, the larger the required realignment will need to be.
It is not clear when and how a realignment of house prices will occur. Growth in household incomes could lift the sustainable level over time to a point where current prices would be sustainable. However, even if house prices stay at their current levels and incomes grow as they have historically, it would take eight years for house prices to return to the same level relative to incomes as in early 2020 (figure A4). Alternatively, falls in house prices could facilitate a faster adjustment towards a more sustainable level.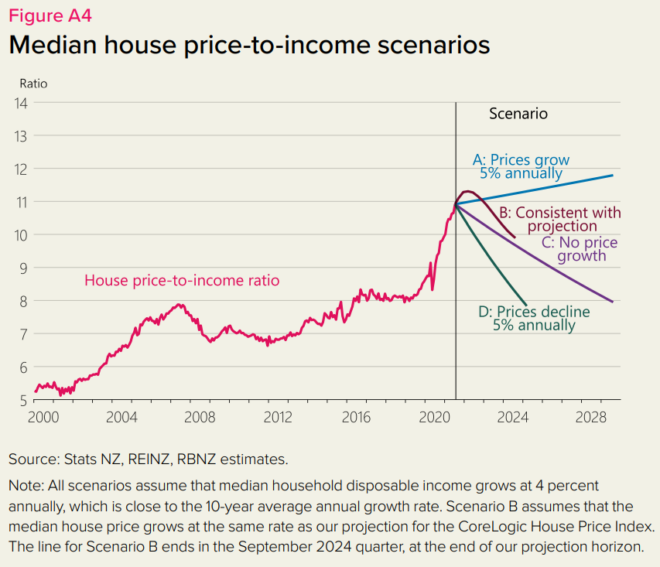 We expect house price inflation to moderate significantly over the coming quarters, consistent with the factors discussed above: low population growth, high levels of house building, higher interest rates, and tax policy changes. In our projection, house prices are assumed to begin to fall modestly from late 2022 (see figure 2.8). A more significant fall in prices is possible, but at the same time, momentum in the market could prove more resilient than we expect.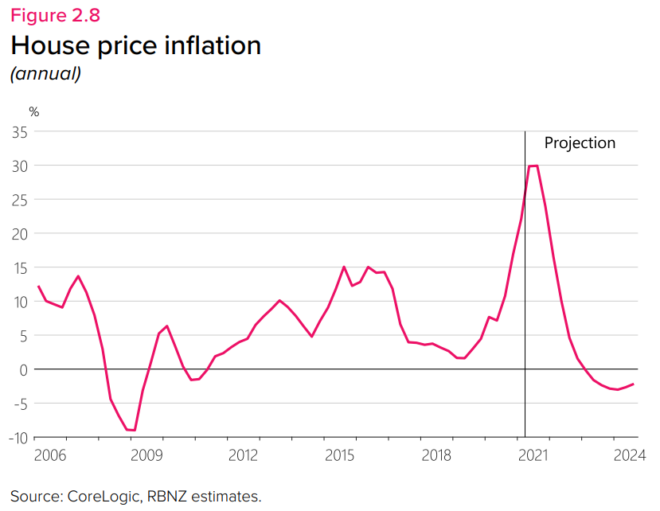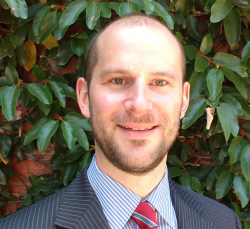 Latest posts by Unconventional Economist
(see all)