From Xi Jinping last week:
China's strongman leader Xi Jinping has threatened a "wall of steel" will confront any country that tries to bully his rising power.

Thousands of comrades cheered President Xi as he struck an aggressively nationalistic tone during a major speech on Thursday to mark the 100th anniversary of the Chinese Communist Party.

Dressed in a grey Mao-suit, Xi warned the international community that his China would never be "bullied, oppressed or subjected" by foreign forces.

"Anyone who would attempt to do so will find themselves on a collision course with a great wall of steel forged by over 1.4 billion Chinese people," said Xi to huge applause from the audience gathered in Tiananmen Square.
Whatevs, dude. The only "wall of steel" that has been erected in China is made almost entirely of Australian iron ore.
Which makes you wonder about two things.
First, why is Xi so angry? Especially towards democracies and Australia which he insults daily yet clearly needs.
The answer is simple psychology. Mr Xi protests too much. He is nowhere near as powerful as his overblown rhetoric suggests and he needs other countries much more than they need him. China can't build or feed itself without global supply chains and Xi likes to hide this fact from the Chinese people who he is trying to impress with this machismo.
Second, why do we put up with it? After all, when a pumped-up dictator uses your own commodities to threaten your freedoms over and again, should you keep sending them?
We do it for the money, especially for a few super-rich, but we don't have to. We could just say no thanks, we'll leave it in the ground. No demands. No recourse. So long and thanks for all the fish. It would be an investment for our kids.
What would happen if we did?
Firstly, politically, the CCP would be in an uproar but there is little it could actually do. It's already cut off most other exports.
We'd see cyber-attacks and other inconveniences but flushing those out would be no bad thing.
Secondly, economically, the fallout for China would be far worse than for Australia. If we left 700mt of iron ore in the ground then our GDP would take a large one-off hit, and perhaps 100k miners and associated industries lose their jobs.
But the price of iron ore in the remaining seaborne market would go up parabolically. How much is impossible to know but we'd be halving the supply in the global market so $1000 per tonne doesn't seem a stretch. Perhaps $2000 as China vacuumed up every non-Australian FE molecule in the world while we supplied everybody else.
The Aussie dollar would be belted too so the cash flood into Australia would be phenomenal, spiking income even as GDP fell.
China would counter-blockade exports to Australia which would cause congestion in some goods for a while but we'd rebuild other supply chains and our own replacement production quickly enough. Other than a paltry $15bn in tech, it's mostly cheap China crap: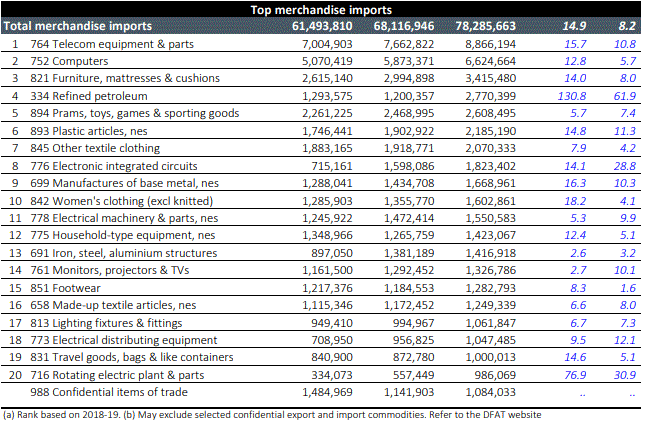 On the other hand, with steel-dependent construction activity representing 30% of China's economy, the economic blow to it would be titanic. It is likely that a financial crisis would follow and shake out all kinds of Chinese demons. The CCP's dodgy foundations would quake.
A global recession is a strong possibility as a spectacular inflation surge hit all steel products. But we'd still be far better off than most as a huge supplier and small consumer of FE products.
In the long run, we'd be accelerating Chinese withdrawal from Australian iron ore as every alternative was aggressively pursued. But that's coming anyway and we'd make more money by spiking the price in the meantime
The larger danger and opportunity is strategic. Such an act of bald-faced resistance to tyranny might goad the CCP into doing something rash. It can't invade the Pilbara. The doesn't have the capability and ANZUS would crush it.
But it could and probably would escalate conflict with the liberal bloc by moving to annex Taiwan. This may not be as bad an outcome as it appears. If the CCP is forced to move before it is ready, it may miscalculate the conflict. Moreover, a war with Taiwan could expand the Australian blockade of China into a wider global version that folds in the US, Europe and global capital markets thanks to Australia's and Taiwan's heroic example of fighting for liberalism. That would end Chinese catch-up growth and mark the peak of its strategic power as its economy entered decline.
It's a hell of a gambit so we won't be taking it. Unless Scott Morrison does it by mistake, like most else he does. And that is one argument against doing it. If ScoMo can't manage a few flu shots then how is he going to manage a conflict of such immense scale? Another argument against is wars are inherently unpredictable so it could precipitate the very great power conflict that we all hope to avert. A CCP corrupted Labor isn't able to pull its lips off Chinese jackboots long enough to even contemplate such resistance.
That said, if I were an enterprising US president, I might ask Australia to do it as a trap to draw China into a broader containment plan. And, in the long run, it's likely going to happen anyway when China does invade Taiwan.
The most important conclusion from this calculus, for the time being, is the truth that it speaks about the future of Australia and China. If you or your business are exposed to a Chinese supply chain in ANY WAY then find an alternative within the liberal bloc now. Your current relationship is going to break sooner or later and you do not know when.
The kind of Nazi/Stalinist claptrap that we saw in Tiananmen Square last week will force the free world into a fight and you want to be in position before it does.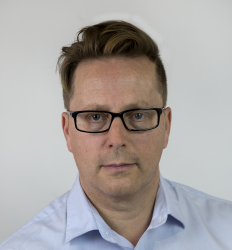 Latest posts by Houses and Holes
(see all)