TSLombard with the note.
Last September, Xi Jinping surprised the world by announcing two ambitious climate goals: that China would reach peak carbon emissions by 2030 and achieve carbon neutrality by 2060. Beyond the headline carbon objectives, the green initiative is an important domestic tool to bolster government efforts to centralize political power and allocate resources away from heavy industry towards more productive economic sectors. Beijing is leveraging climate goals to promote slower, sustainable and higher-quality growth. The 2030 and 2060 targets, together with their second-order effects, are likely to weigh on traditional infrastructure investment and support selected commodity prices and decarbonization-related equities. The political nature of decarbonization efforts means the effect on the PRC economy and aforementioned asset classes is likely to intensify in the run-up to the 20th Party Congress in Q4/22.
In March this year the 14th Five-Year Plan set the goal of reducing energy consumption and carbon emissions per unit of GDP by 13.5% and 18%, respectively, by 2025. China aims to increase the share of non-fossil energy in total energy consumption from 15.3% in 2019 to 20% in2025 and 25% in 2030. These targets signal that the green economy has become a key policy focus and has been followed by ministry-and provincial-level carbon-cutting strategies. Just this week, a far reaching draft plan by the China Iron and Steel Association (CISA), a government-backed industry group, was leaked to the press.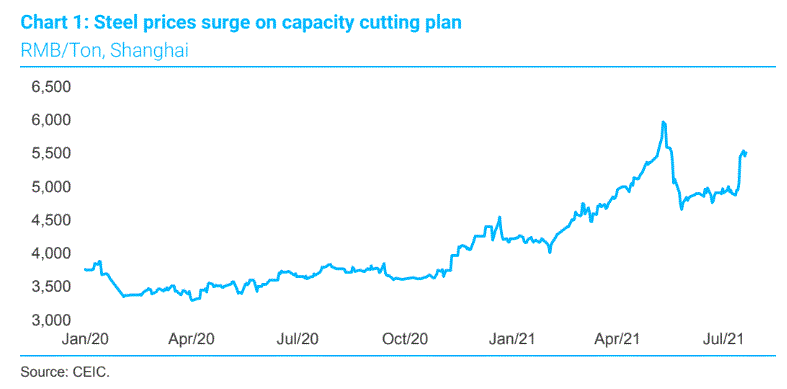 The flurry of local initiatives is a typical response to a well-telegraphed policy objective prominently associated with Xi Jinping. What is new are the parallel efforts to leverage environmental goals to centralize control over activity. To this end, Beijing has instituted a number of key reforms: 1) the Ministry of Environment and Ecology now has responsibility for collecting provincial emissions data, providing central authorities with a clear unfiltered view of local pollution and economic activity; 2) the NDRC, China's state planner, has increased the weight of environmental factors in infrastructure project approvals; and 3) the weighting of environmental targets in cadre performance metrics has been increased, too. These measures are backed by centrally controlled environmental investigation teams, which include officials from Central Commission for Discipline Inspection (CCDI), and the Organization Department, in charge of personnel movement.
The policies outlined above are the latest effort in Xi's longstanding bid to centralize power and reduce local governments' focus on infrastructure/property-led growth. Past reforms have had limited success, and we do not expect a permanent change in cadre attitude from these policy shifts alone. However, in the short term there has been a clear impact on infrastructure investment, commodity prices and equity performance.
So far in 2021, the NDRC has focused on limiting approval of infrastructure projects that fall under the "two highs"–namely, high carbon emissions and high-energy intensity. In H1/21 the commission approved just 40 projects worth 246.4 billion yuan, well below H1/20, with the majority of projects concentrated in carbon neutral-related sectors. A lack of green projects is a key factor behind the slow issuance of local government special purpose bonds and the deceleration in infrastructure FAI growth.
With regard to commodities, surging prices have held back the pace of decarbonization efforts. An initial strong push by Beijing to cap 2021 steel production at 2020 levels was quietly de-emphasized when PPI reached a 14-year high in May. Higher prices are likely to remain an impediment to capacity-reduction efforts. The news on Monday of the CISA plan triggered a 12% jump in the Shanghai traded steel futures (see Chart 1). Beijing will be hard-pressed to cut production capacity and maintain price levels in the current high-inflation environment. The recent draft plans and government rhetoric support our earlier expectation of carbon-neutral goals leading to a new round of supply-side reform targeted at China's top polluting industries: steel, cement, petrochemicals and aluminium. Compared with the 2016-18 reform efforts, the focus will be less on capacity reduction (industry utilization rates are at 90% vs 60% in 2016) and greater emphasis will be placed on consolidation and efficiency upgrading.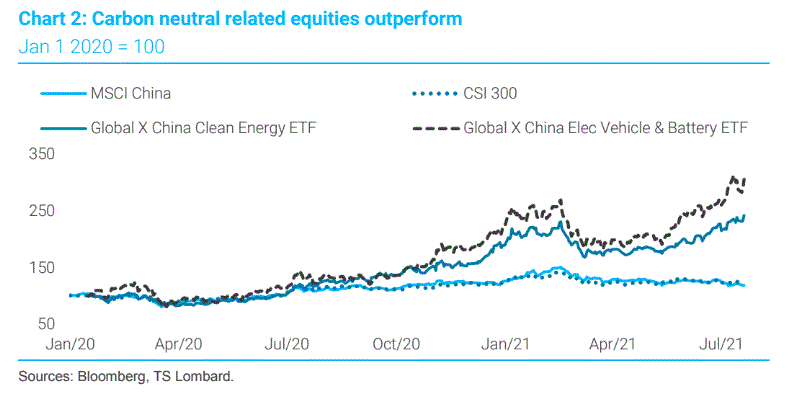 A new round of supply-side reform is positive for most industrial commodity prices. We will examine the details of supply-side reform 2.0 in a future note. In broad terms, production capacity limits are likely to shift industry towards higher-value production, leading to greater demand for better-quality and less-polluting industrial inputs and a drop-off in the use of dirtier fuels and ores. This favours steel over iron ore and coking coal over brown/thermal coal. The pace of implementation will be tempered by domestic inflation dynamics. However, as the steel market price action indicates, mere announcements suffice to trigger major increase in prices.
Like the commodity market, equities have reacted strongly to the top-down directive. Sectors and companies related to decarbonization efforts have handily outperformed the wider market (see Chart 2). Such is the extent of outperformance that Beijing warned on Tuesday of excessive exuberance in carbon-neutral stocks. Government efforts to talk down the market may cap gains over the next month; but with the pace of green policy announcements set to increase, carbon neutral-related equities are likely to outperform over the next six to 12 months. The political cycle will accelerate green developments. China operates on a personnel cycle of three to five years, with key changes made at Party Congresses every five years. The 20th Congress in Q4/22 is when Xi Jinping would normally have ended his second "term". This is not going to happen, but a host of other personnel moves will occur. Officials looking to boost their promotion prospects will need to act in the next year to burnish their green credentials. This suggests that the pace of decarbonization efforts will increase in the build-up to Q4/22, supporting commodity prices and decarbonization-related equities, while slowing the pace of traditional infrastructure spending.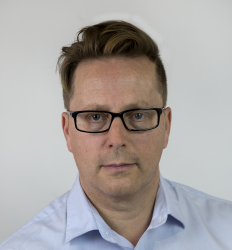 Latest posts by Houses and Holes
(see all)