Evergrande. Remember the name. Because it may just be forming the dark nucleus of an economic singulatory in China that will suck Australia across an income shock event horizon.
Throughout 2021, I've been tracking the evolution of a new policy regime for Chinese mega-developers called the "three red-lines". It aims to deleverage one of China's wildest and most indebted economic sectors to help slow over-building and encourage economic restructuring towards more productive uses of capital.
Evergrande is China's largest and most indebted developer. It has so far completely failed to meet the new constraints of the "three red-lines" policy.
As a result, its equity is in free fall:

And now, Evergrande's many and various debt conduits are closing. Increasingly, banks will no longer roll over the loans:
Three banks with $7bn in loans to Evergrande have failed to renew the credit.
Three more banks did allow the rollover but have pulled other credit lines.
Trusts are also tightening access disregarding parent guarantees of subsisidiary debt and looking for better collateral. Some are mulling pulling access altogether.
Evergrande has $20bn in offshore dollar debt it and it has sold a bond in that market in 18 months.
And, inevitably, along come the idiots of last resort to the close the loop of doom:
Fitch has cut Evergrande credit ratings to B with a negative outlook.
2025 debt is trading at 70 cents on the dollar.
Evergrande has begun to sell assets to its mates to sure up its balance sheet. But it's facing deteriorating circumstances:
"The problem is there's quite a lot of smoke around, but it's difficult to know how much actual fire," said Nigel Stevenson, an analyst at Hong Kong-based GMT Research. "It's going to be extremely difficult to refinance at the current levels, even if they were willing to pay the interest rates," he added.
The Fitch outlook is worth a read:
Shrinking Balance Sheet: Evergrande has announced plans to further reduce total debt by CNY150 billion in 2021 by speeding up sales, limiting land acquisitions and raising equity funding. We regard the plans as achievable, but subject to execution risk. We also believe the strategy could damage the company's business profile over the medium term. Leverage, measured by net debt/adjusted inventory, fell to 35% in 2020, from 44% in 2019, while total interest-bearing debt fell by CNY83 billion to CNY716 billion.

Weakened Debt Capital Market Access: Evergrande's access to debt capital markets appears limited. It has not issued any offshore bonds this year and its bonds due in 2025 are trading at around a 19% yield. It has also only raised CNY8.2 billion from domestic bond issuance, in April 2021.

However, capital market maturities for 2021 appear manageable. The company repaid more than CNY30 billion in offshore bonds so far this year, with its only remaining 2021 maturity being USD1.5 billion (CNY9.6 billion) due at the end of June. The company says it has prepared the required funds to repay the debt from property sales and equity issuance by subsidiaries.

Heavy Reliance on Trust Loans: Evergrande relies on trust financing, which we estimate accounts for around 40% of its total interest-bearing debt; compared with bank loans, trust loans are a more flexible, but less stable source of funding. The government's continued tightening of trust-financing measures suggests that Evergrande may need to find alternative funding channels for land acquisitions and property development. This may prove challenging given the poor debt-market sentiment.
This where Australia comes in. Evergrande is only the tip of the iceberg of the fallout from the "three red-lines" policy. The entire sector is now a bath of blood: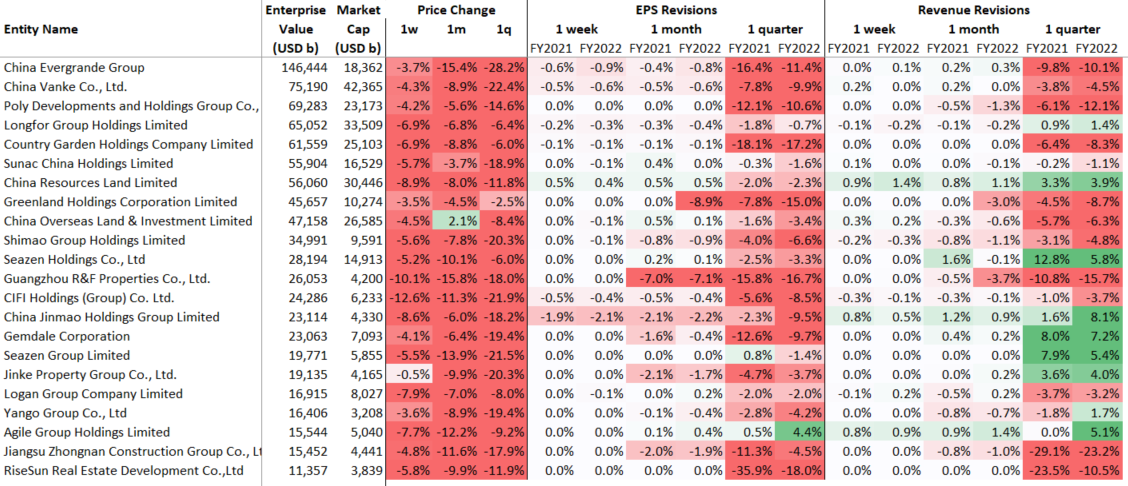 Whomsoever buys Evergrande's assets is not going to pay top dollar and we can expect more developers to follow it into distress as the three red-lines tighten, meaning a sectoral cycle of lower volumes and prices for land and apartment projects leading to less activity.
This already began in January and has continued ever since with floor area starts down 7% from 2019 and about to turn negative year on year despite the massive 2020 COVID hit: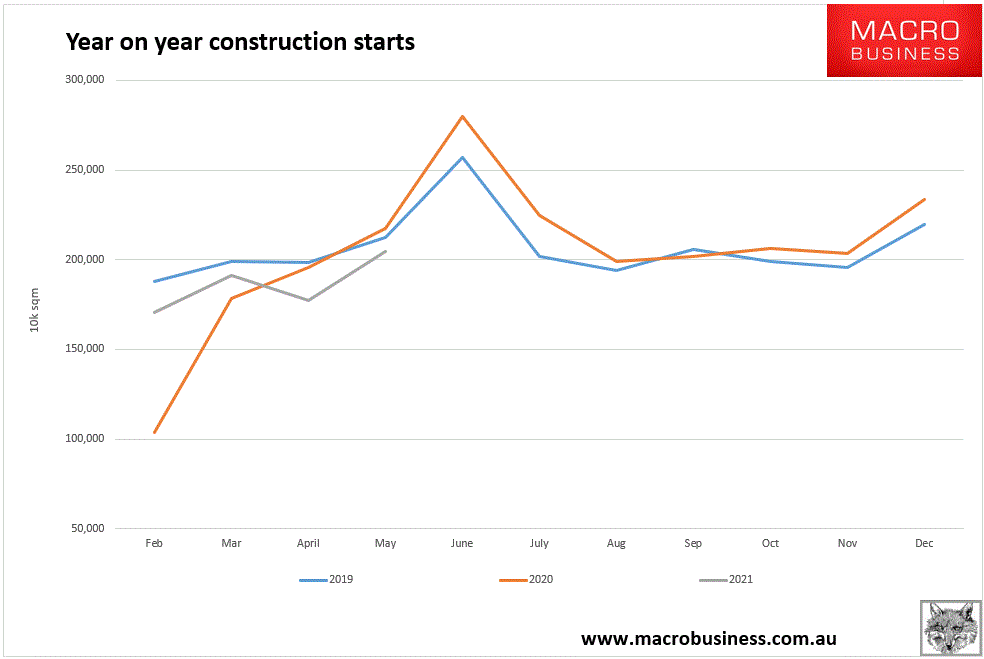 Chinese developers are the largest consumers of iron ore on earth: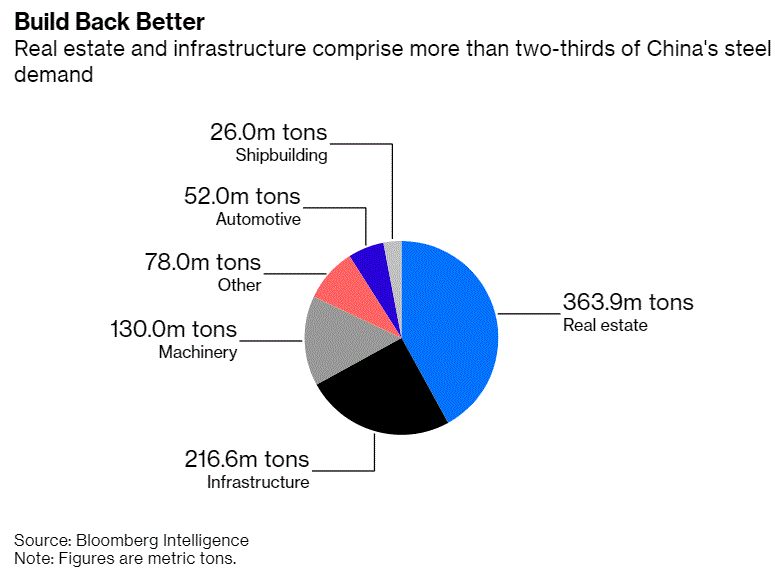 That's the equivalent of one-third of the demand that drives the seaborne iron ore market entering a shakeout. With up to a half at risk if infrastructure is dragged in via Chinese local government relationships to developers.
You do the math.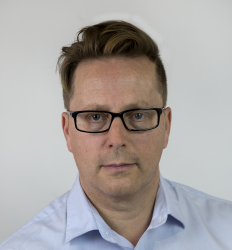 Latest posts by Houses and Holes
(see all)