TSLombard with the note:
Property investment slump. Real estate investment is set to slow in H2/21 on tighter credit and higher input costs. Falling land sales will hit local government revenue and investment. Beijing will welcome a property FAI slowdown as officials battle to rebalance the economy and curb soaring China PPI.
After leading the recovery last year, real estate investment is set to decelerate under macro and sector specific deleveraging campaigns and higher input costs. We expect property FAI to reach 3% yoy in H2/21 a record low. The slowdown will affect local government financing and investment. The combined impact on property and local government funding is negative for growth and commodity prices. Nevertheless, we think Beijing will welcome a real estate FAI slowdown, as authorities look to rebalance the post-covid economy and take some of the heat out of PPI.
Land sales and developer access to funding are key leading indicators of real estate FAI typically by 6-9 months(chart 1). Financing and land purchases have both slowed noticeably since the "three red lines" on property developer leverage were unveiled in October (here for our explainer and here for credit/equity implications). The impact is most evident in land purchases which are typically highly leveraged. New purchases by real estate firms have slipped to-9.5%yoy vs 2019 in April.
Developer credit has proved more resilient. Although the PBoC is tapering monetary policy support, mortgage rates remain low and household savings are at a pandemic induced high. Property firms have profited by increasing their funding from the household sector (pre-sales, deposits and mortgages). Institutional direct and indirect financing has also been supportive in2021 as annual lending quotas reset in January.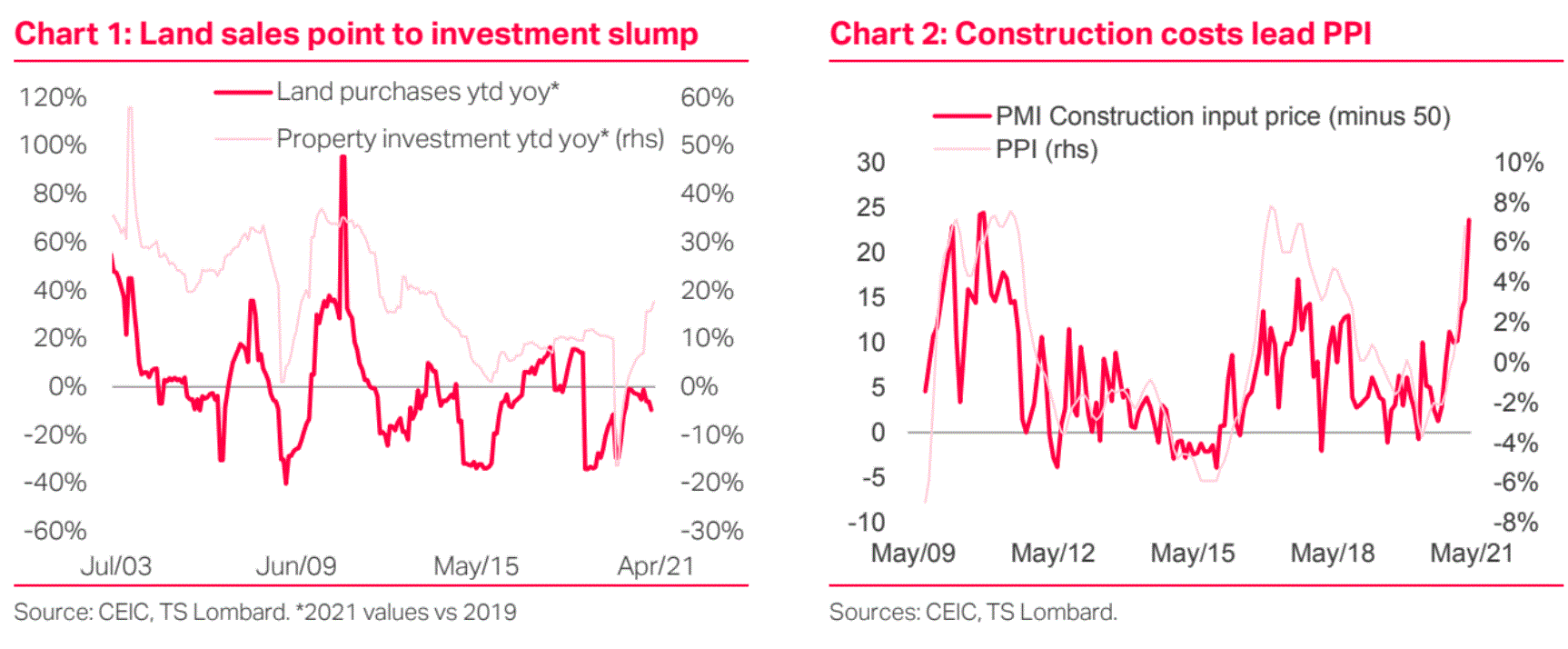 Credit contraction underway. Pressure on direct and indirect financing is building. After blowout lending in January and February regulators stepped in to provide strong "window guidance" to banks to slow the pace of loan growth particularly of credit suspected to be heading into the property sector. In the bond market, spreads have risen as total credit to the economy falls and weaker institutions begin to reveal financing difficulties leading to increased risk premiums and financing costs for most developers. The share of self-raised funds (bonds and equity) in total developer credit has plummeted by 7 ppts.
Household's the key source of funds. Deposits, advanced sales and mortgages (DAM), have accounted for just under half of developer funding since 2017. With loans and bonds under pressure the share of DAM in total financing is now at an all-time high of 53%. Pre-sales have moved ahead to become the largest fund raising method for developers. Advanced sales are exempt from the three red lines debt metric and will remain the key source of capital for developers. However, pressure on household funding is also increasing as authorities tighten mortgage lending quotas, raise rates, and price gains start to slow lowering the incentive to payup front.
Taken together tighter bank, bond and household financing will begin to show in weaker investment over H2/21. We expect the rate of real estate investment to drop to 3% yoy in H2/21. A slowdown in property investment, which accounts for around a quarter of total FAI in China, will weigh on growth and industrial prices. Including suppliers, employees and related subsectors, real estate accounts for 20-25% of GDP, and approximately 35% of PRC steel consumption. Chart 2 above shows the close link between property construction and the commodity sub component of PPI.
Land purchases will continue to fall. Strong government rhetoric and window guidance to financial institutions makes it clear pressure on developers is here to stay. Real estate firms are largely in balance sheet and inventory contraction mode. Acquisitions of new development plots, the most debt intensive part of the production process are a low priority. Weaker landsales will hit local government revenue and investment. Sub national authorities rely on land receipts for the bulk of their funds and weakness here will compound the impact of the real estate investment deceleration on PPI.
Beijing will welcome a property sector slowdown, as policy efforts focus on rebalancing the economy and curbing the impact of higher commodity prices. Real estate investment is growing at 17% yoy vs 2019, well ahead of the recovery in services and household consumption, retail sales slowed from11.8% vs 2019in March to8.4%in April. Taperingdemand for commodity inputs will also help take some of the heat out of PPI, an increasingly important goal for Beijing. Therefore, we do not expect adjustment to strict curbs on developer financing or access to mortgages. However, soaring input costs means further PBoC tightening is on hold. Beijing is also rolling out selective fiscal support measures(tax and fee reductions) for SMEs and policy favoured sectors(advanced manufacturing).
Rising prices of upstream materials and power is threatening the recovery of private sector manufacturing profits, output and capex. Industrial profit data for April indicate clear pressure on goods manufacturers' gross margins as sales prices failed to keep pace with material costs. Official and private manufacturing PMIs showed input costs at ten year highs. Meanwhile, power supplies are already forcing production delays in southern provinces.
In short, policy pressure will finally have an impact on real estate investment in H2/21. Central authorities are likely to welcome falling property FAI and its second order effects-weaker local government investment and tapering industrial commodity demand-as they battle soaring PPI and a lopsided economic recovery.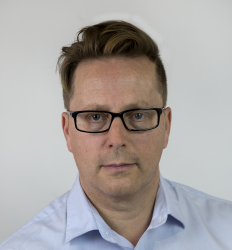 Latest posts by Houses and Holes
(see all)