TS Lombard with the note:
Beijing is concerned about the impact of higher commodity prices on the Chinese economy and the possibility of cost-push inflation raising CPI. However, for the first time in over 20 years the driver of the commodity cycle is not China. Central authorities view DM stimulus and Covid-19-related supply shocks as the main cause of higher prices. These are new drivers and they need a new policy reaction function. Instead of tightening, the PBoC is holding a neutral stance: we expect the authorities to keep TSF growth and interbank rates stable to offset the demand destruction impact of higher prices.The next stage of policy normalization will be financial sector de-risking.

China is taking a two track approach to the inflation battle. The first track combats speculative behaviour in onshore markets and improves supply. SinceMarch, the central authorities have ramped up administrative and political efforts to halt price gains. The latest measures include sales of metals from strategic reserves for the first time since 2011. But these moves are insufficient to alter supply and demand fundamentals; for instance total projected reserve sales of copper and aluminium are, respectively, just 2% and 1.6% of annual production. Nevertheless, they have successfully taken some of the speculative heat out of the market.

The second track focuses on policy to offset the demand destruction impact of higher commodity prices. On the fiscal side, targeted easing measures such as subsidies and tax and fee cuts have been rolled out to SMEs and policy-favoured sectors, namely agriculture and advanced manufacturing.

On monetary policy, we expect the deceleration in TSF growth to pause at 11%yoy over Q3/21. Although the authorities are concerned about inflation, the PBoC firmly views DM stimulus and global supply shocks as the core drivers. The Bank sees little role for Chinese monetary policy in curbing imported inflation.

The PBoC is not actively easing. Officials are taking pains to avoid addinge excessive liquidity and are focused on keeping inter bank rates broadly stable (we think longend rates will rise on increased issuance). Thursday was the first net OMO injection since March and followed a spike in the interbank repo rate to 3.6%–the highest since the January liquidity squeeze before the Chinese New Year. To keep repo rates stable the bank will need to increase the frequency of injections in Q3/21 as the pace of local government bond issuance quickens.

While taking a neutral stance, the PBoC is preparing for the next stage of policy normalization–a renewed focus on de-risking. In a recent speech, PBoC Party Secretary and CBIRC Chairman Guo Shuqing highlighted a number of key areas including bond market discipline, shadow banking, the property sector, and NPL recognition. The past month also saw an increase in financial regulation and enforcement efforts centred: on wealth management products, contingency plans for financial institution insolvency, illicit property-sector lending and local government debt. Officials actions and rhetoric indicate the next shift in monetary policy is a focus on improving the quality and allocation of credit rather than reducing the quantity, as has been the case for the past nine months. The changing emphasis is likely to ramp up after the 100-year anniversary.

The policy adjustment will compound the financing difficulties for property developers. Smaller banks with less balance-sheet capacity to absorb higher NPLs will also face pressure on lending activity. For markets, an emphasis on 'bond market discipline' and local government solvency, when combined with higher bond issuance and limited net liquidity injections, should add upward pressure to yield spreads. As Chart4 shows, spreads over CGBs are near five-year lows and will face pressure to widen from current tight levels.

What could push the two-track approach off the rails?From a purely domestic perspective, PPI is at or near its peak. China's credit impulse rolled over in October last year, investment growth has decelerated, and commodity imports by volume have continued to decline. Base effects will also turn less inflationary from July. CPI is set to riseg gradually over H2/21, as wages and consumer confidence slowly improve and the service sector reopens. Housing and food components of CPI will provide a disinflationary anchor.

Higher global commodity prices are the big risk. Our strategy and commodity team see a further upside to industrial metal and agricultural prices, but expects the pace of gains to slow. Beijing has few palatable options should imported inflation surge higher. In such a scenario, the commodity crackdown would intensify, with the likelihood of greater pressure on upstream producers to limit price gains, while spikes in consumer goods and food prices could push the PBoC to a tightening bias.

We expect the dual-track approach to continue over H2/21 with the intensity of commodity crackdown and monetary policy normalization adjusted according to the strength of global commodity prices and the risk of cost-push inflation. De-risking is the next shift in monetary policy, with the impact on spread widening and small banks' lending likely to emerge in Q3.
I very much doubt that Chinese officials are stupid enough to believe this 'DM stimulus has spiked commodity prices' drivel. Except to the extent that they'll blame the Fed for being so loose and ramping up the financial bid into dirt.
It may be that Chinese officials need to pretend that its DM stimulus is to blame so that inconveniences like the trade war on Australia don't crop up as causes.
But underneath they know the truth. A super spike in Chinese credit launched commodity prices out of COVID and will deflate them in due course. That is why credit has been tightened so very, very sharply: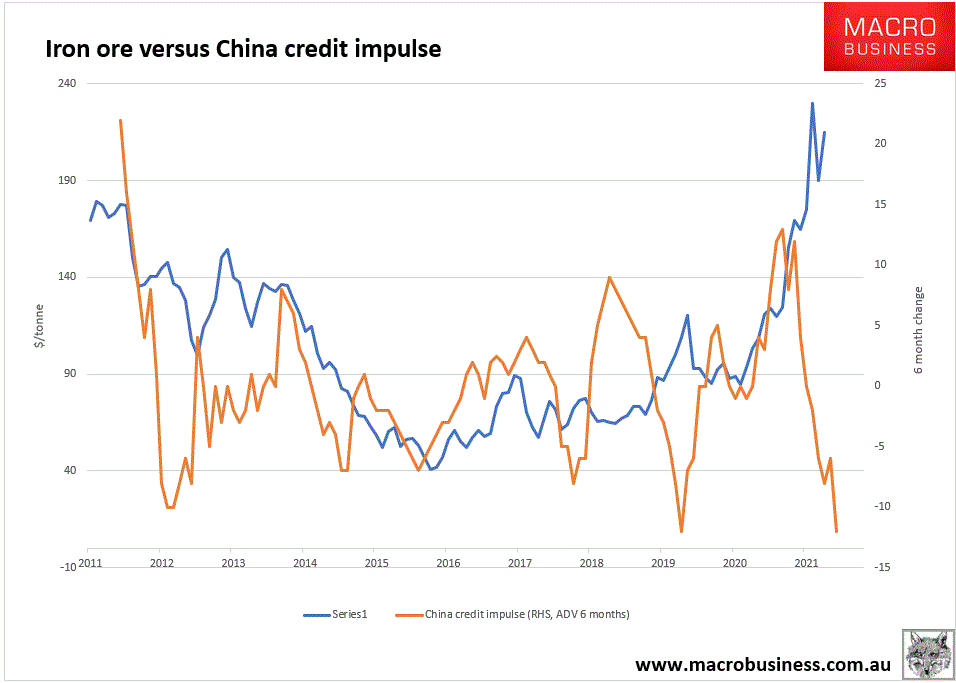 And will continue to be so until the commodity bust comes.
In my view, the tightening is probably already enough to the job before very long. If not there'll be more.
Either way, before long we'll be discussing the need for more stimulus not less.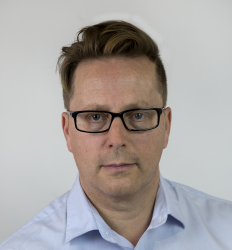 Latest posts by Houses and Holes
(see all)