Hugh White normally writes for the AFR. But last week it fully embraced Morrison China warmongering so on Saturday he took his message to a new audience at The Saturday Paper where he no doubt scared the pants off the armchair left.
There was nothing new in his dark vision for Australia's future. His argument ran like this:
Morrison warmongering over Taiwan is about domestic politics.
Any such conflict was would be catastrophic and is certain to end in nuclear catastrophe.
China wants a new world order with itself at the top.
The US (and Australia) want Chinese containment.
But nothing will hold a global coalition together against China, least of all liberal ideas of democracy or rules-based orders.
Containment will become impossible because by 2030 the Chinese economy will be twice the size of the US.
Asian nations will all want to be friends with China for cash.
Any war over Taiwan would be lost and end US primacy in Asia.
He did not repeat it but previously Hugh has also said if the US does not protect Taiwan then it will also end US primacy.
Australia must kowtow now.
Hugh doesn't tell us which of the 14 Chinese conditions to end Australian freedom that he endorses.
Not that it matters. What does is how flimsy are White's arguments for doing so.
I agree completely with White that fighting the Taiwan war is folly. Infinitely more importantly, so does The Pentagon. And the White House. Its Indo-Pacific point man, Kurt Campbell, last week affirmed the US policy of "strategic ambiguity" towards Taiwan, hardly an endorsement of support in imminent war.
The reason is simple. Pretty much all simulations of that war end in a loss for the US, unless it is prepared to nuke China back into the Stone Age, a preposterous notion unless the greatest maniac in history rises in Washington (and no, that is not Donald Trump).
So, the first point to make is that the US is highly unlikely to fight the Taiwan war directly. Even if accidents occur. It will be a proxy war if it is fought at all.
If so, and assuming that Taiwan loses, then all of Asia will fear that they are next on Bejing's hitlist and all will rush to Washington the sure up alliances. US strategic primacy will not only be absolutely fine, it will bloom.
The second of Hugh's assumptions is that Taiwan war or not, the US will never be able to contain China economically because it will double the US' size by 2030.
White has been spouting this rubbish for nearly a decade, right through China's structural economic slowdown.
Here's what respective GDP looks like for China and the US as the latter grows at 3% under Biden stimulus then reverts to 2% to 2035 while the former sees its growth taper to 3% gradually over the same period, on precisely its current flight path to lower growth: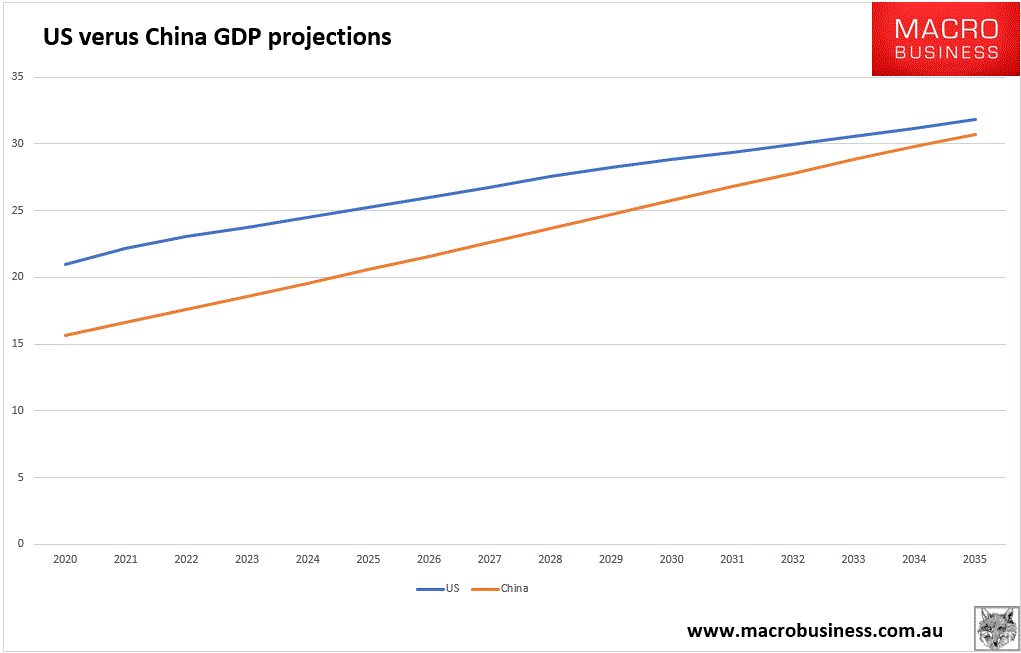 The US economy is still larger than the Chinese in 2035. Arguably, this is being generous to the Chinese side. The key growth driver of urbanisation will be all but over by 2030. Population shrinkage and aging will be strangling productive capacity as ever more resources are dedicated to supporting the drastically aging population. And let's not forget that Chinese growth embeds 1-2% of fake output by failing to write down its dud investments. That is, it cheats.
Perhaps White would counter that he is using purchasing power parity GDP to discuss volumes. But PPP arguments don't stack up, either. We live in a nominally priced world, especially so in the developing era of technological primacy.
Who cares if China has some areas where it produces more volumes than the US in fidget toys and empty apartments? If it can't deliver a JDAM within a few meters with a guidance system driven by an advanced chip then the output has no strategic power.
And that's before we include the US alliance network in the calculations. The output of the free world will still be more than twice China's size in 2035. As we saw this week, the US will likely bring Europe along for the ride as a liberal power block when and if a Taiwan war transpires.
Alone, the US could do serious harm to the Chinese economy by boycotting exports and capital. As the leader of a liberal world block, it could destroy it, with $1.2tr of exports cut off and capital access starved.
Who will China turn to then? Russia? Iran? North Korea? Good luck. It will disintegrate as local instability overruns the CCP.
Containment will absolutely succeed if it is determined. The assets are in place and need only to be used. This is the message that the free world should be sending (and is starting to send) to the CCP right now. Annex Taiwan and be excised from the global economy.
This brings me to White's final, and most important, false assumption. Because he accepts the inevitability of Chinese development (oddly, much more so than CCP officials do), the idea of liberalism has no power nor worth in his worldview. For White, this fight is about big, dumb numbers not ideas.
In White's world, liberalism is not the cornerstone of our economic success, living standards nor power. It something worthless to discard in return for Beijing's imperial favour.
To be kind, this notion is breathtakingly short of historical rigour.
Western powers did not rise with the industrial revolution by accident. It is the ideas of liberalism that drove it. The CCP itself recognised this when it stole features of the liberal system in the 1990s. That is also why it wants to usurp the US at the top of a laissez–faire global economy today, rather than destroy it. To become rich.
The US and Europe have ridden the dividends of rising liberalism for two centuries. China has only done the easy bit, accelerating out of poverty for two decades, juiced by the favour and capital of foreigners. Its dictatorial political system and central planning are completely untested in a contest of highly productive innovation.
To be blunt, it remains to be seen whether illiberal regimes are able to refresh and renew cycle-after-cycle as technology, demographics and the world change. The higher up the value chain you get, the more essential such flexibility becomes.
The CCP itself recognises this. It is written all over the latest Five Year Plan which aims to address it. It will doubtless succeed in shifting parts of its economy up the value chain. But, it will mostly fail, as we have seen for a decade, building useless stuff directly into the middle-income trap, right along with its geopolitical power.
Herein is the ultimate irony of Hugh White's black fantasies. To assuage his fears of doom, White wants to give Beijing the very thing that gives us the power to resist it.
Our freedom.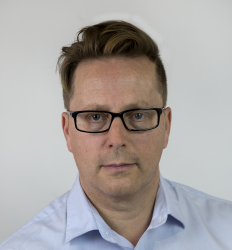 Latest posts by David Llewellyn-Smith
(see all)