Iron ore is off and running with spot above $200, paper still going higher overnight and steel out of control:

How high we get now is anybody's guess. Post-Q1 seasonal supply is yet to rebound: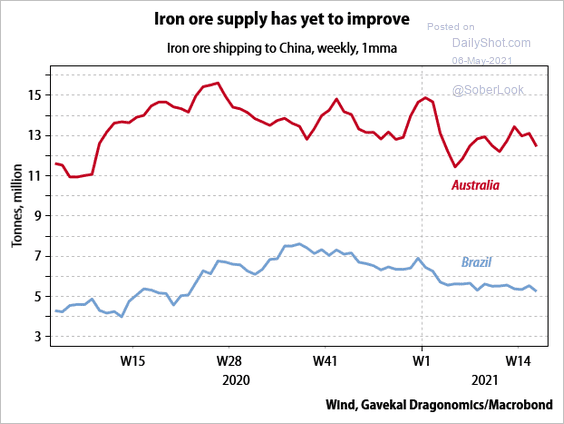 It should roar higher than 2020 in short order. Just as Chinese seasonal weakness hits in May/June owing to southern rains limiting construction.
Even so, we're now into some kind of wild blow-off phase of panic buying and hoarding as the entire context of Australia/China relations collapses. Chinese port inventories are still only moderate so if mills get spooked and restock then prices could do anything in the near term.
That said, I am unmoved about what comes shortly afterward as supply returns and China slows. The higher we go, the further we will fall.
More broadly, recently Kevin Rudd revived his long-dead idea for an iron ore super profits tax. It was greeted with the scorn it deserves. Not because it is a bad idea. On the contrary. Because the notion of it getting up under the corrupt Morrison Government is absurd.
Yet, when we place the idea in context, it is not only compelling but essential. How so?
Without a doubt, this is the last Australian iron ore boom. Ahead are earth-shattering headwinds for Aussie iron ore prices and volumes:
The Chinese development model is running out of puff as urbanisation is well past its peak. Ahead is slower and less commodity-intensive growth forever.
Climate change mitigation everywhere, within China in particular, will shift steel production dramatically towards scrap inputs.
Australia's China divorce has now turned violent. At the very first opportunity, China will dump Aussie iron ore. The worst case for China is five years as it develops Simandou. But it may pull the trigger earlier with draconian market interventions.
Finally, if China does seek to annex Taiwan, that will end the iron ore trade permanently.
In short, Australia is now embarked upon a course of iron ore sector doom. One way or another, and probably via all paths, China is going to end its Downunder iron ore dependence in the next few years.
Obviously enough, in the name of fiscal sense, intergenerational equity and economic stability, Australia should be taxing the living shit out of this final boom and stuffing all proceeds into the Future Fund or similar offshore.
Yeh, nah. Bid that house, matey!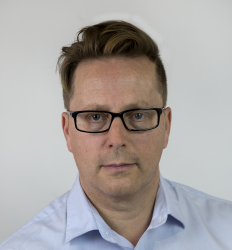 Latest posts by David Llewellyn-Smith
(see all)