See the latest Australian dollar analysis here:
JPM was last onto this boat but it's making up for lost time with a new note:
Inflation hedging was a big theme in 2010. At the time, the Fed's Quantitative Easing increased its balance sheet above $2T. Many investors thought it will inevitably lead to inflation. There was a rush to buy commodities, gold and other inflation hedges. However, the post-GFC recovery was weak, and new crises kept on emerging–the European sovereign debt crisis, EM and China crisis, global trade war, global manufacturing recession and global pandemic. As no inflation materialized over the past decade, inflation hedgers threw in the towel, and inflation-sensitive exposures were shorted as investors piled on deflationary themes (e.g., secular growth, low volatility, ESG,etc.). Driven by deflationary trends, bonds nearly doubled and the S&P500 quadrupled since 2010, while Commodity indices significantly declined. Since 2010, the Fed's balance sheet nearly quadrupled to $7.8T, and outside of the US, central banks instituted negative interest rates. Fiscal measures ranging from infrastructure to direct payments injected trillions. For instance, just this year, the new US administration proposed $6T of new stimulus measures.

If one stretches rubber too long, it eventually snaps. With the end of pandemic this year–global growth, bond yields, and inflation are making a sharp turn. At the same time, easy monetary and fiscal policies will likely persist for a while. In addition, there are various temporary frictions related to supply chains, reopening, as well as political and business decisions that may compound inflation. On financial asset allocation, we expect the market to be late in recognizing the inflection, which we believe already happened in November last year. For over a decade, only deflationary (long duration) trades were working, and many of today's investment managers have never experienced a rise in yields, commodities,value stocks,or inflation in any meaningful way. A significant shift of allocations towards growth, ESG and low volatility styles over the past decade (all of which have negative correlation to inflation) left most portfolios vulnerable to a potential inflation shock.

With inflation on the rise, the current debate is how long this trend will persist. The question that matters the most is if asset managers will make a significant change in allocations to express an increased probability of a more persistent inflation. We think that this shift in allocation will happen (regardless of how temporary inflation is), and new data points related to inflation will on margin cause investors to short en duration, move from low volatility to value, and increase allocations to direct inflation hedges such as commodities. We expect this trend to persist during the reopening of global economies in the second half of this year. Given the still high unemployment, and a decade of inflation undershoot, central banks will likely tolerate higher inflation and see it as temporary. Portfolio managers likely will not take chances and will reposition portfolios. The interplay of low market liquidity, systematic and macro/fundamental flows, the sheer size of financial assets that need to be rotated or hedges for inflation put on, may cause outsized impact on inflationary and reflationary themes over the next year.

Figure 2 below shows US CPI, S&P GSCI commodity index, and S&P500 Energy index since 2007. One can see that they all closely track each other. After a decade of declines, the question is whether inflation will rise above its spike in 2008.

How can investors reposition their portfolio for the risk of more persistent inflation?First, one should shorten duration and reallocate from bonds to commodities and equities. Commodity indices (suchasS&PGSCI) are perhaps the most direct inflation hedge. Commodities are also cheap in a historical context–they are the only major asset classes that declined in absolute terms over the past decade (underperformance is significant and largely due to the drop in energy prices). Since 2010, theS&P500 quadrupled and S&PGSC Iindex declined almost 40%. Within equities, investors should buy value and short low volatility style. Growth and quality also have negative correlation to inflation. Investors should also be cognizant that by embracing ESG they introduced additional short inflation exposure into portfolios (e.g.,via long tech and short energy exposure).

While our highest conviction is for rotation towards relation, inflation, rising yields and reopening themes, we remain overall positive on equities (S&P 500YE price target of 4400). Exposure of Systematic investors has been gradually increasing, but is still in the~35th percentile. Hedge funds reduced effective equity beta (net equity exposure) over the past few weeks from ~75th to~45th percentile. Markets with higher exposure to value, cyclical, commodities and inflation such as EM, Europe, and Japan should outperform the S&P500 due to their sector and style composition. Our views on relation also reflect our positive outlook on the pandemic–COVID-19 cases have been rapidly declining in the US. Cases are now declining in most of Europe and EMs (Brazil, Turkey). Growth of cases in India appears to be leveling off and we are hopeful for an improvement there in the near future.
It must some new level of thin-sliced analysis to write an entire note dedicated to commodities inflation without once mentioning China: the single largest demand source for commodities in the history of the world.
The comparison to 2010/11 is the right one. As it did then, China has re-embarked upon structural reform and the rest is history for commodity deflation: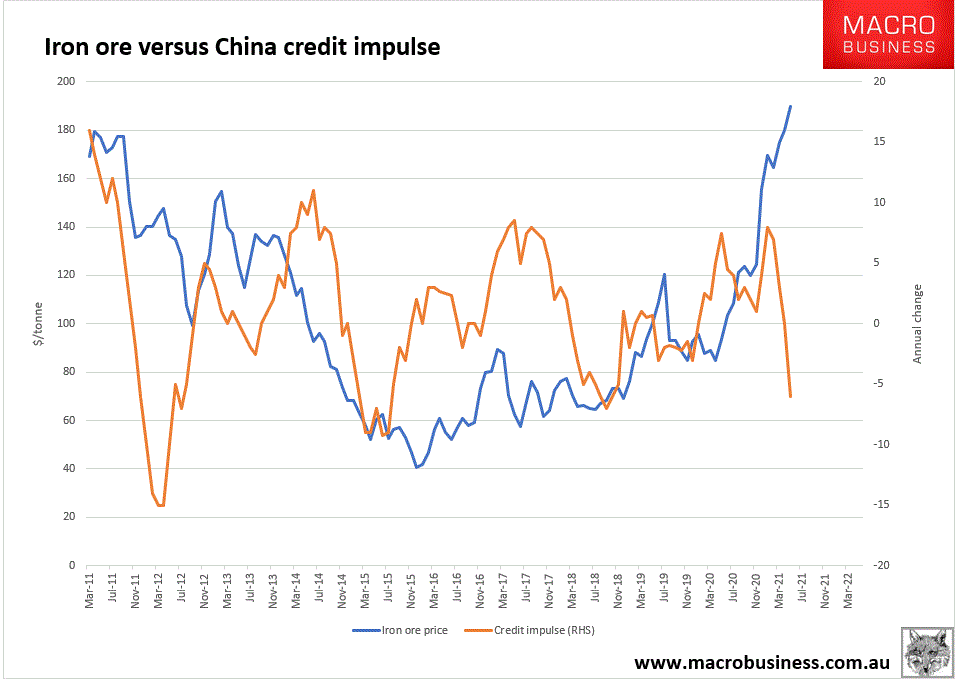 Commodities are at or near the peak, irrespective of US inflation. In fact, given China is going to slow materially ahead, while the US leads the cycle, we are also going to see a strong USD, also commodities bearish. Especially so, given only $600bn or the $4tr US fiscal tailwind will aid construction.
I agree that US inflation is going to be stronger this cycle. But global inflation is going to be just as weak. Which will also cap the former.
So, for now, I am on board with the equities rotation to value but the strong USD and weakening China leads me to conclude that EM and commodities are a damnd good sell right now while their bond markets may shortly represent good value.
As this great commodity disappointment transpires we, therefore, also need to have a watching brief for a rotation back into growth assets before too long.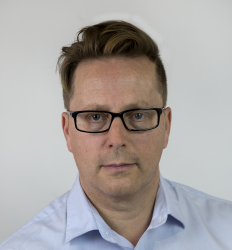 Latest posts by David Llewellyn-Smith
(see all)