The tech heavy NASDAQ is up nearly 58% in the last twelve months, leading the way against other stock markets – all of which are enjoying bull market conditions with 20-30% annual gains. But is the top coming from an unlikely source?
Apple posted its latest quarterly earnings overnight that had two big surpsies – namely a huge uptick in expected earnings, but more importantly a stark warning that the global computer chip shortage is really starting to bit.
Details on AAPL here from Yahoo:
Apple (AAPL) came out with quarterly earnings of $1.40 per share, beating the Zacks Consensus Estimate of $1 per share. This compares to earnings of $0.64 per share a year ago. These figures are adjusted for non-recurring items.

This quarterly report represents an earnings surprise of 40%. A quarter ago, it was expected that this maker of iPhones, iPads and other products would post earnings of $1.41 per share when it actually produced earnings of $1.68, delivering a surprise of 19.15%.

After a blockbuster second quarter, Apple Chief Financial Officer Luca Maestri warned supply constraints are crimping sales of iPads and Macs, two products that performed especially well during lockdowns. Maestri said this will knock $3 billion to $4 billion off revenue during the fiscal third quarter.

Over the last four quarters, the company has surpassed consensus EPS estimates four times.
So while Apple sit on a mountain of cash, it can't magically produce new semiconductors out of the air as the shortage crisis is now moving towards the major car manufacturers as Honda, BMW and Ford all announced overnight a cut in production of their major plants.
From Bloomberg:
In a dizzying 12-hour stretch, Honda Motor Co. said it will halt production at three plants in Japan; BMW AG cut shifts at factories in Germany and England; and Ford Motor Co. reduced its full-year earnings forecast due to the scarcity of chips it sees extending into next year. Caterpillar Inc. later flagged it may be unable to meet demand for machinery used by the construction and mining industries.

At Ford, the shortage will likely reduce production by 1.1 million vehicles this year, CFO John Lawler said on a call with reporters. The carmaker expects a $2.5 billion hit to earnings due to scarce chip supplies.

Tesla Inc. CEO Elon Musk earlier this week called the chip shortage a "huge problem." NXP Semiconductors NV said it's expecting supply to be tight all year and warned constraints for the auto industry could extend into 2022.

In just the past week, Jaguar Land Rover Automotive Plc, Volvo Group and Mitsubishi Motors Corp. have joined the list of manufacturers idling factories.

Samsung, which is both a producer and user of chips, said Thursday that component shortages will contribute to a slide in revenue and profit this quarter at its mobile division, which produces its marquee Galaxy smartphones.
Time to buy semiconductor stocks and rotate out of cars? Or is it too late as supply is unable to keep up with demand for not just the automakers, but the bigger consumer electronics industry.
Watch South Korean stocks closely in particular for signs of a rollover ahead, as they have almost always proven a harbinger of trouble in the global supply chain: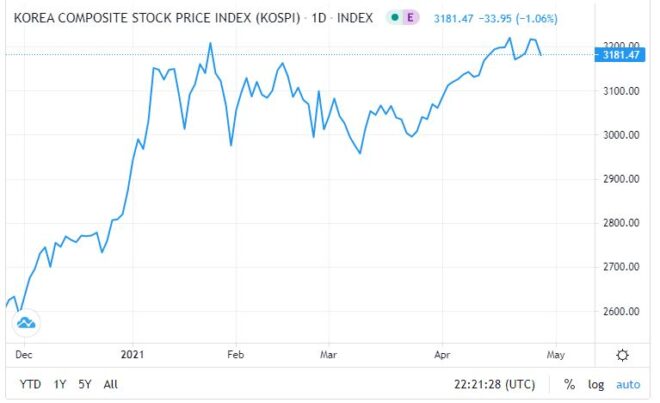 No chips for you!
Latest posts by Chris Becker
(see all)